Locations Overview is your new homepage for monitoring local SEO performance and the first thing you'll see when you log into BrightLocal.
Right away, you'll be able to see key metrics across all your Locations, and how those metrics have changed so you can quickly figure out where you need to spend your time.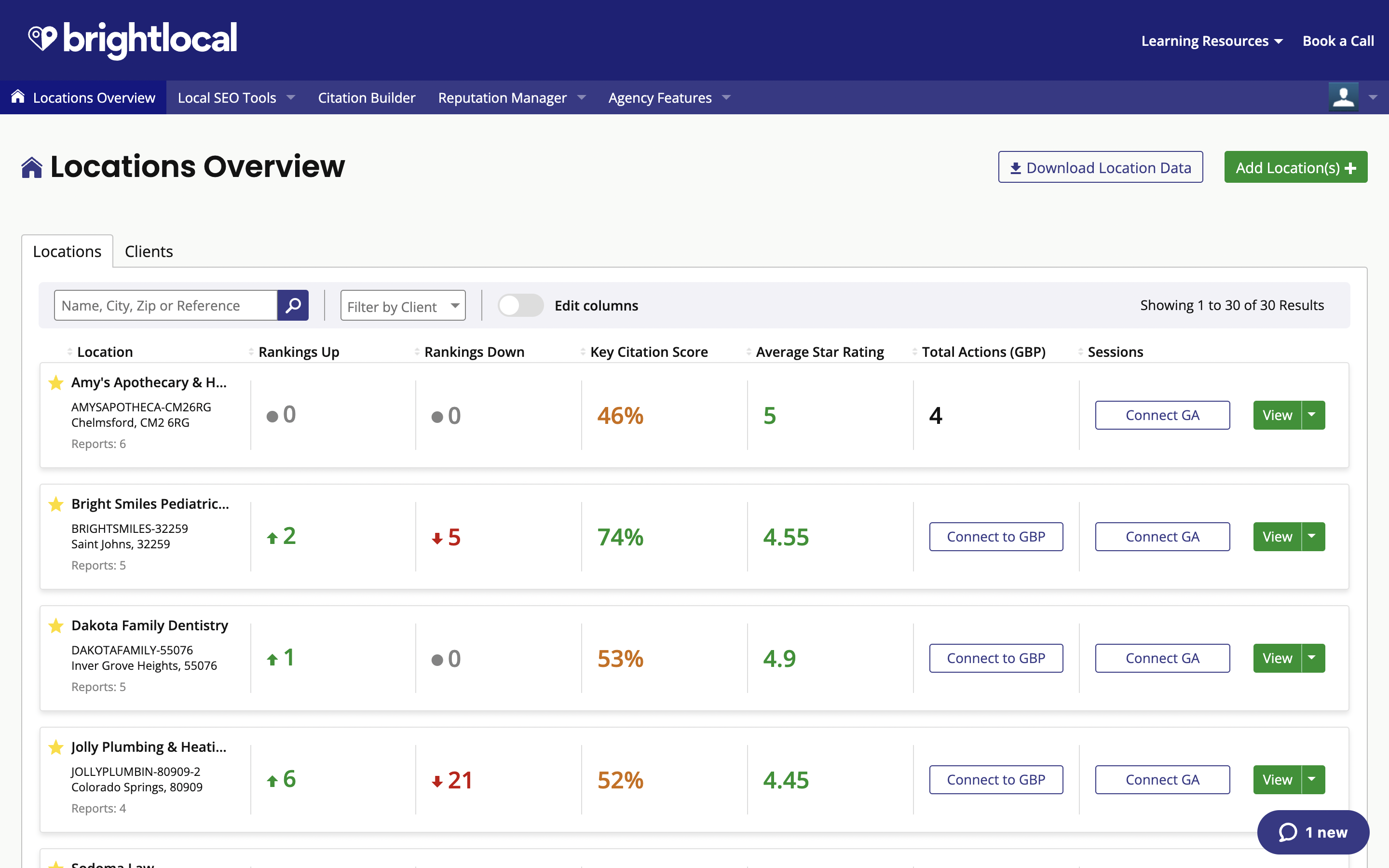 The first time you use 'Locations Overview', you'll see that we've auto-populated your dashboard key metrics for each Location with Rankings Up, Rankings Down, Key Citation Score, Average Star Rating, and Calls (GBP).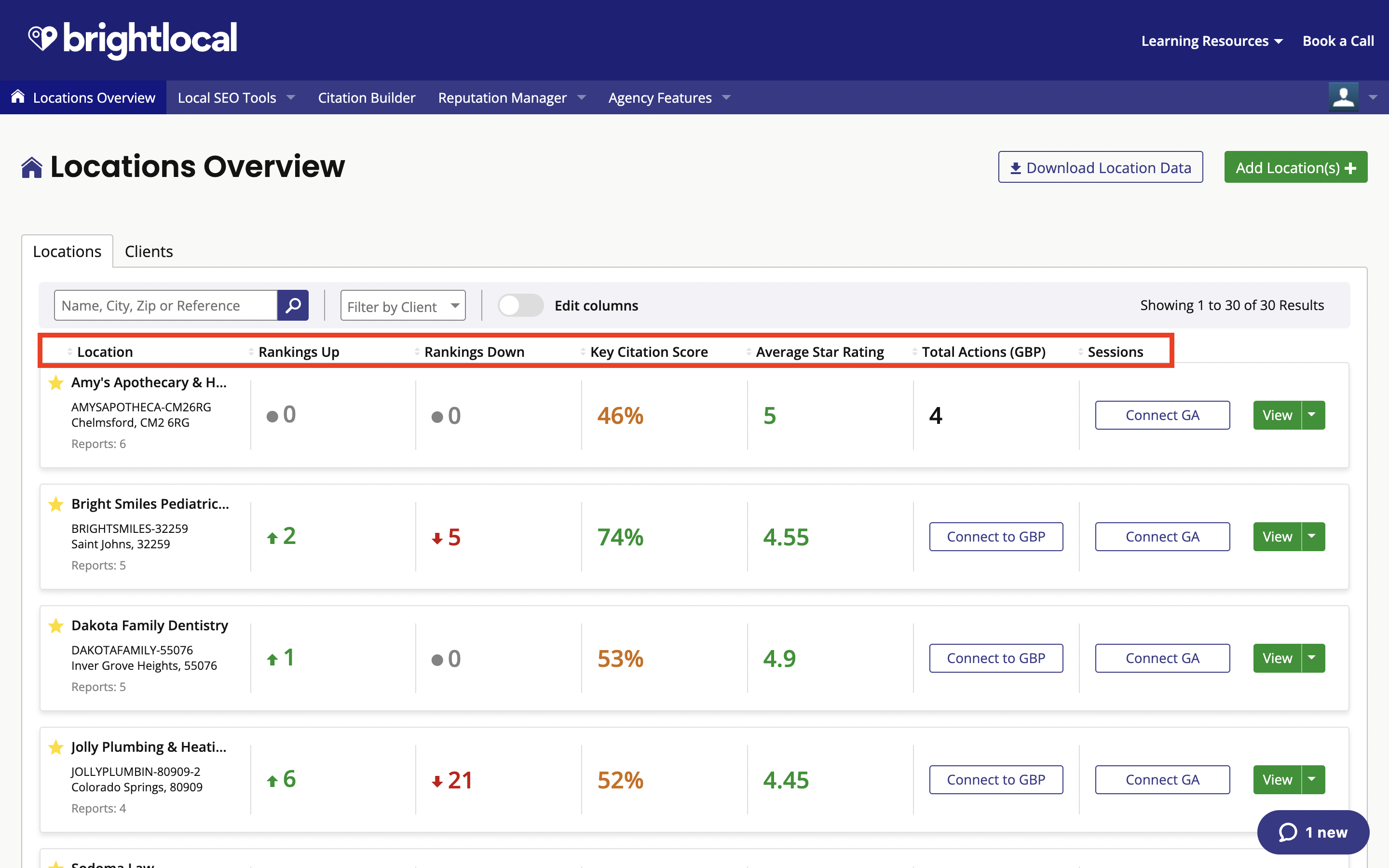 If you turn on 'Edit Display Metrics' you can change the data that's displayed so you only see the metrics that matter most to you for each Location.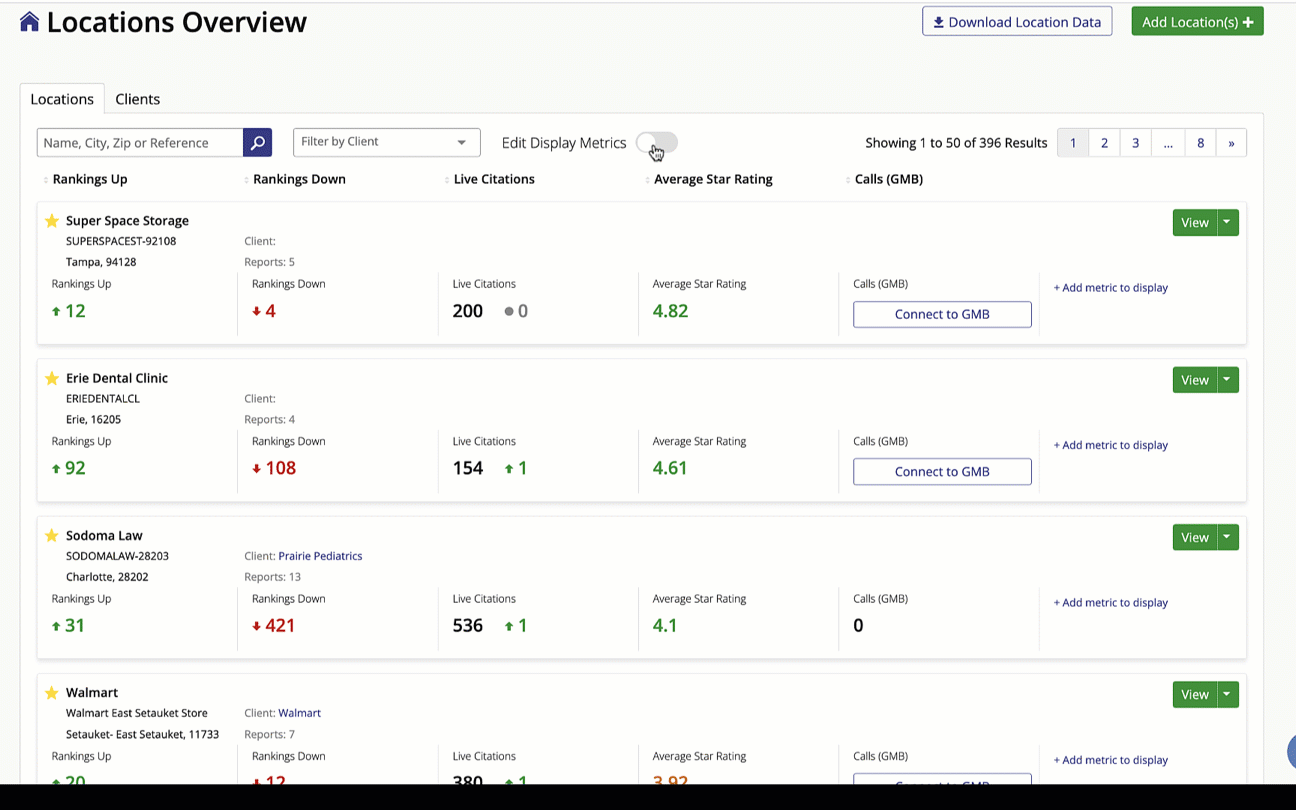 Want to bring in data from another BrightLocal report? Simply drag the metric from the selection at the top into the Metrics Display Toolbar.
Want to switch up the order they appear in? Just drag the boxes in the Metrics Display Toolbar left and right until you're happy. You'll see the order change in the table below right before your eyes!
Want access to a data point but don't have a report set up? Drag the metric into the Toolbar and you'll be prompted to set up a new report or connect to a platform to bring in this data.
Use 'Locations Overview' to:
Identify underperforming Locations - Click a column heading to sort Locations by performance in that metric. 
React quicker to changes - Seeing multiple performance metrics side-by-side allows you to spot issues with the entire marketing funnel, from rankings to calls through GMB.
Find problem areas that deserve investigation - Found a Location that's underperforming? Just hover over the metric that's suffering and click the "link" icon to head straight to the relevant BrightLocal report and start your investigation.
Connect the dots more easily - With an overview of key metrics in one place, you can see which ones are driving performance. Rankings going up? How's that affecting web sessions and calls through GBP? If it's not, time to look into how those things can be improved.
Discover data blindspots - If you haven't got every angle of local SEO performance covered, you'll see directly in the report where there's an opportunity to set up a new BrightLocal report or to connect a platform to gather more valuable data.
Active and Ad-hoc Locations
Active Locations are a must for the ongoing management and reporting for clients and locations. With Active Locations, you can schedule recurring reports. Active Locations come out of your plan's Active Location Allowance.
Ad-hoc Locations, on the other hand, are perfect for one-off business audits and prospecting potential clients.
With Ad-hoc Locations you:
✅ Can only run manual reports
❌ Can't schedule recurring reports
❌ Can't use Get Reviews, Showcase Reviews, Active Sync, and GBP Post Scheduler
✅ Can run Citation Builder campaigns
✅ Can change to Active status at any time
Each manual report run uses an Ad-hoc Report Run.