Yes, you can — we return results for the top 10 local businesses straight from Google Business Profiles for any search term by undertaking a search lookup using the search terms you've supplied.
Each keyword added in the report's settings will have its own tab here, which will give the same types of information for every keyword.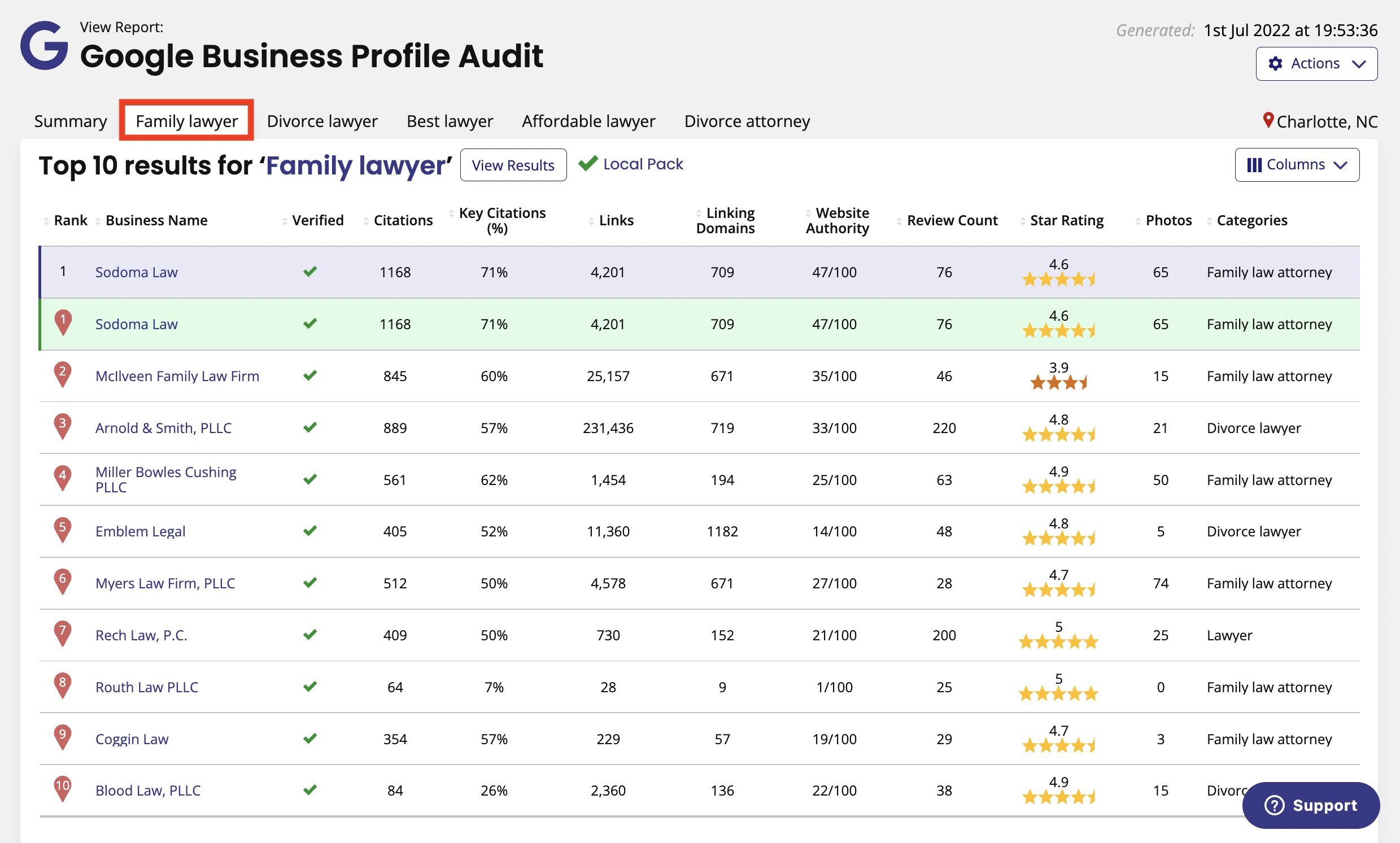 We display a table of the top 10 companies who are ranking for each keyword in your chosen search location.
The location (which is the subject of the report) will always be at the top of this list to help you to compare its performance to those within the top 10.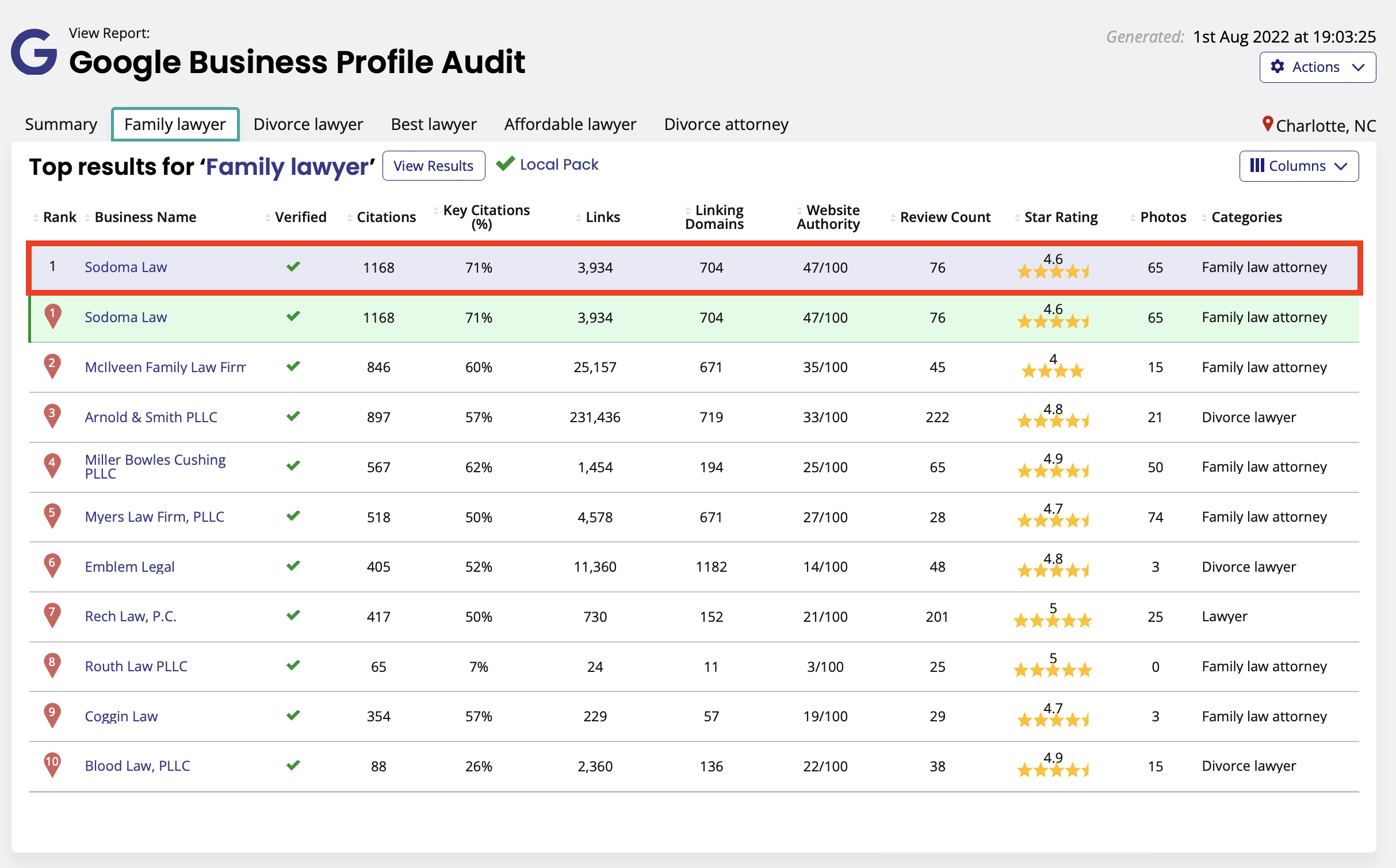 Here's a summary of the key terms used in the table:
Rank: This shows where the business is ranking for the keyword and search location.
Business Name: This is the business name as it appears on the Google Business Profile (GBP).
Verified: This will show a green tick or a red cross, depending on if it's a verified GBP account.
Citations: This pulls in citations using Google to identify listings, and performs a real-time lookup of citations each time the report runs. It will not match the Citation Tracker report, as that has a far more complex and dedicated process for identifying citations that uses an extended list of searches, APIs, and filters. The Citation Tracker also stores and reuses citations from one report run to the next, rather than performing a fresh citation lookup each time.
Key Citations: This shows the percentage of citations found that are "top citations", which are citations that have more value. You can see more in the Citations Matrix, which is the section below.
Links: This shows how many links are found on the website listed under the GBP — if it's very high, it usually means they have connected their Facebook or another social media page. We gather this data through Moz.
Linking Domains: Total linking root domains count taken from Moz.
Website Authority: Authority score is similar to 'Page Rank' — this score is a measure of the 'rankabillity' of a website that considers over 150 different SEO signals. The higher the Authority score, the higher the potential ranking of a website.
Review Count: This is the number of reviews found under this GBP.
Star Rating: This is the average star rating of reviews under the GBP
Photos: Number of photos found against the GBP.
Categories: The main category under the GBP.
If needed, you can filter out any of these columns by clicking the 'Columns' dropdown menu.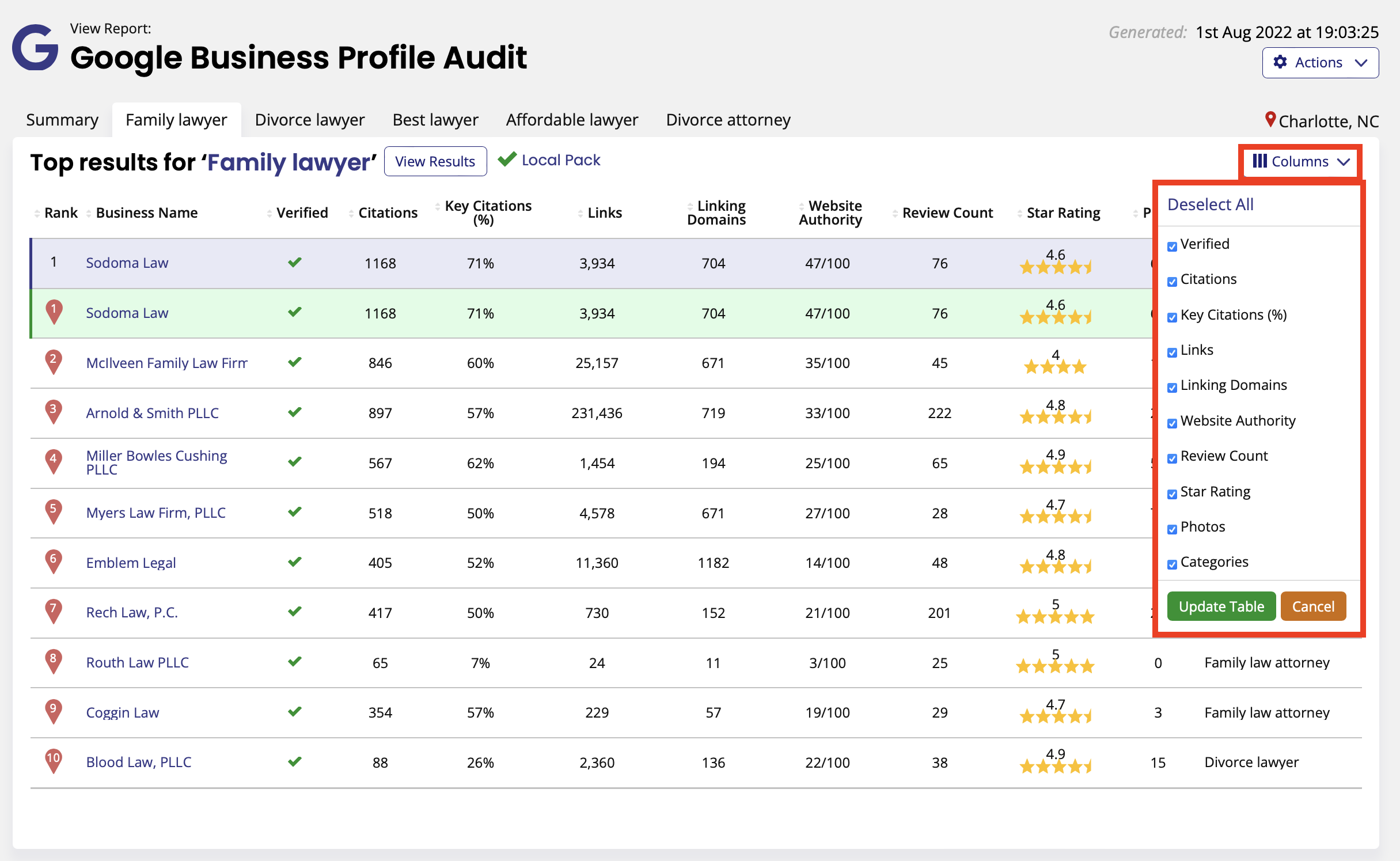 Learn How to Do Kickass Competitor Analysis with BrightLocal here>
Enroll on the free How to Do Insightful Competitor Analysis for Local SEO course here>