You can use Citation Tracker to discover duplicate listings for local businesses.
First, head to the Citation Tracker tool by clicking 'Citation Tracker' in the Location sidebar menu.
If this is your first time using Citation Tracker, check out these guides.
In your Citation Tracker report, click the 'Actions' dropdown and then 'Edit Report'. This will take you to the Citation Tracker report settings.
In the 'Your Business Details' section of the report settings, you'll find a field called 'Look for citations with an old business name, address or phone number?'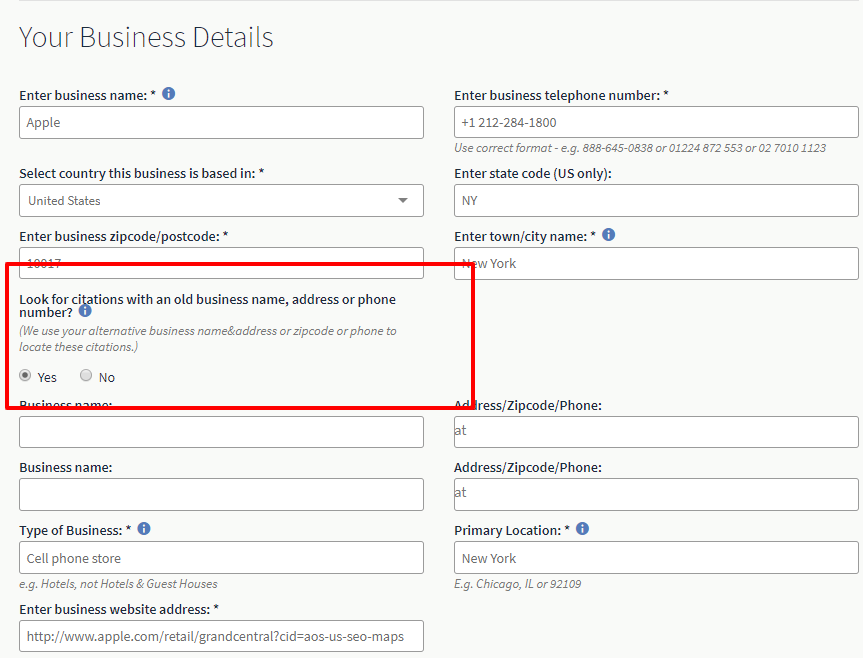 This is where you can provide details of alternative business names and different addresses and phone numbers that are different from the main details you provided just above this field.
We will use this alternative information to identify citations on the sites we scan. If we find more than one listing on a site, and we validate that this citation is a match to the business, then we will display it as a duplicate in the report.
How to View Duplicates in the Citation Tracker Report
Once the Citation Tracker report has run, you will see the 'Key Citations' tab and the 'Live Citations' tab.
Both of these tabs display your lie citations. The 'Key Citations' tab includes an audit of the name, address and phone number displayed on the most important citation sites.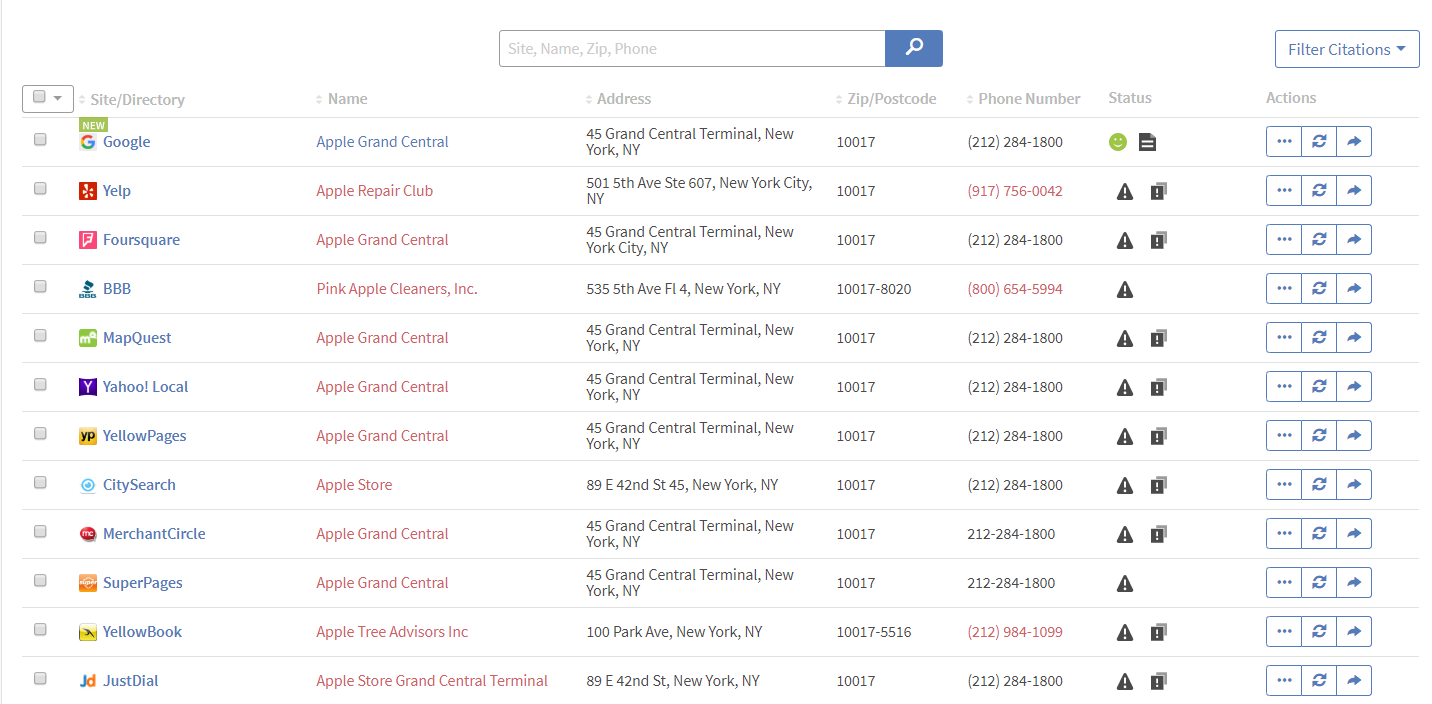 In the table on each tab is a column marked 'Status'.
If you see the below 'Duplicate' icon within this column, then this directory has more than one listing or page that contains business information that matches the business on the Citation Tracker report.

How to View and Manage Duplicate Listings
Clicking on the 'Duplicate' icon opens a popup that displays more information about the citations we found.
At the top of the popup we display the NAP data for the listing that we believe is the closet match to the business. This is called the Primary Citation.
In the 'Possible Duplicates' section we display information about any duplicate listings we found, including
a) URL of the listing

b) Name, address, phone number (if we are able to extract this from the page on this site)
If you think that one of the duplicate listings should be the Primary listing you can set it as such clicking the 'Make Primary' button. This will swap it with the Primary citation.
If you find a duplicate that isn't a genuine duplicate you can remove it from the report by clicking 'Dismiss Duplicate'.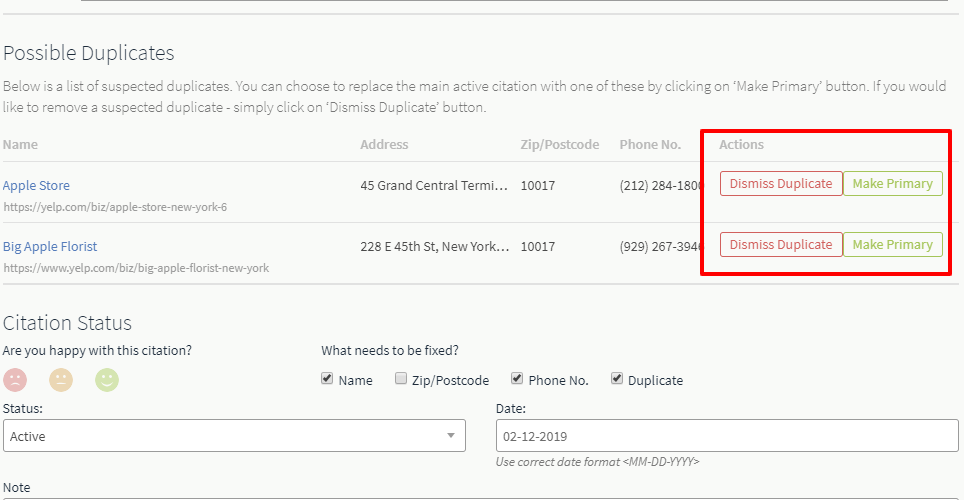 You can also use this popup to make notes about each citation site and give them a rating, which many customers find helpful if they manage their citations themselves.
How to Remove Duplicate Listings
Duplicate listings can negatively affect your local ranking, so it's strongly recommended that you get them removed from the citation site.
As Citation Tracker only reports on citations, rather than allowing you to control them, there are two options for getting rid of duplicate citations:
Fix them yourself directly on the directories
You can visit each web page containing your citations directly from your report by clicking the 'View Citation' button. Some directories will allow you to claim and edit the listings. However, some directories will require you to contact the site editors and provide evidence of duplicate listings. The more information you provide, the easier it is for the editors to make a decision to remove the duplicates.
Create a Citation Builder campaign and we'll take of the duplicates for you!
You can easily manage citations and remove duplicates by using our Citation Burst service. Just click the 'Create Citation Campaign' Button at the top of your report. You will need to select how many sites you want us to work on and also select the 'Find and Remove Duplicate Listings' option.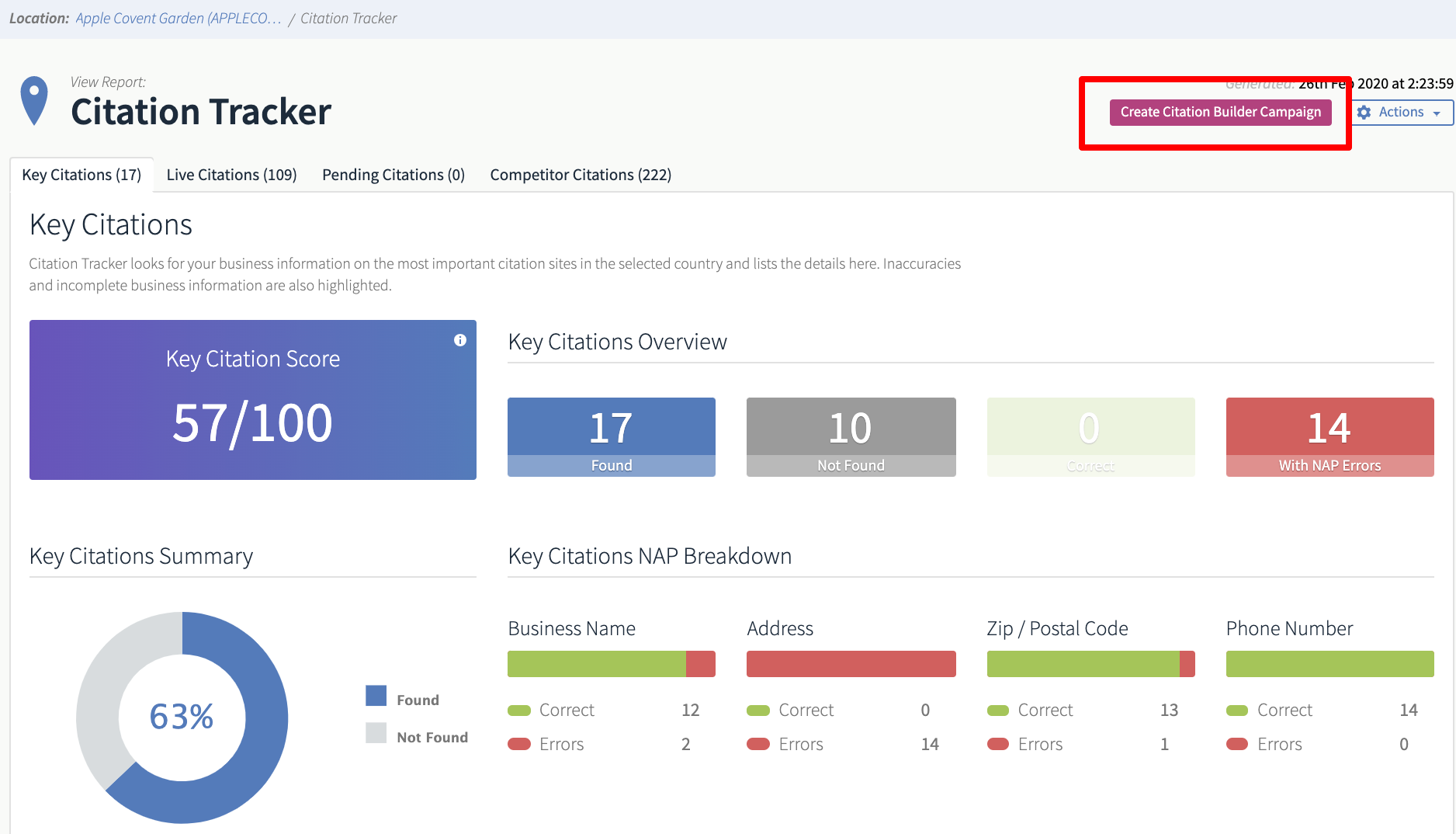 Please be aware that we do not offer duplicate removal as a standalone service; it must be purchased as part of a Citation Builder campaign with manual submissions.
Duplicate removal costs an additional 10% of your campaign cost. So if you select a 25 citation campaign = 25 x US$3 = US$75 + 20% = US$82.5
Please also be aware that there are some sites displayed in the Citation Tracker report that we are not able to submit to, update or remove duplicates on, due to restrictions with some sites or because they charge a fee for completing these actions. Look out for the purple '3-pin' icon to see which citation sites are compatible with Citation Builder.
Click here to find out more about our Citation Builder service.