If we find a listing (aka a citation) on a directory which we believe is for your business we will display it on your report.
If the listing is incorrect, or displays incorrect information, there are a few steps you can take to manage your listings, depending on the situation:
Listing displayed is not for my business
It is possible that we identified a listing which we think is your business but it isn't. This happens more frequently if the business name is common or contains common terms (e.g. 'Chicago Plumbers, Inc.').

In this situation, you can simply remove it from the report, which ensures that this particular citation (but not the directory) isn't included in future report runs.

To remove a citation from a Citation Tracker report:

1. Select the checkbox to the left of the citation(s) you want to remove.

2. Click on the arrow in the checkbox dropdown at the top of the checkbox column.

3. Click 'Delete from report' to delete all selected citations from this report and remove them from all future report runs.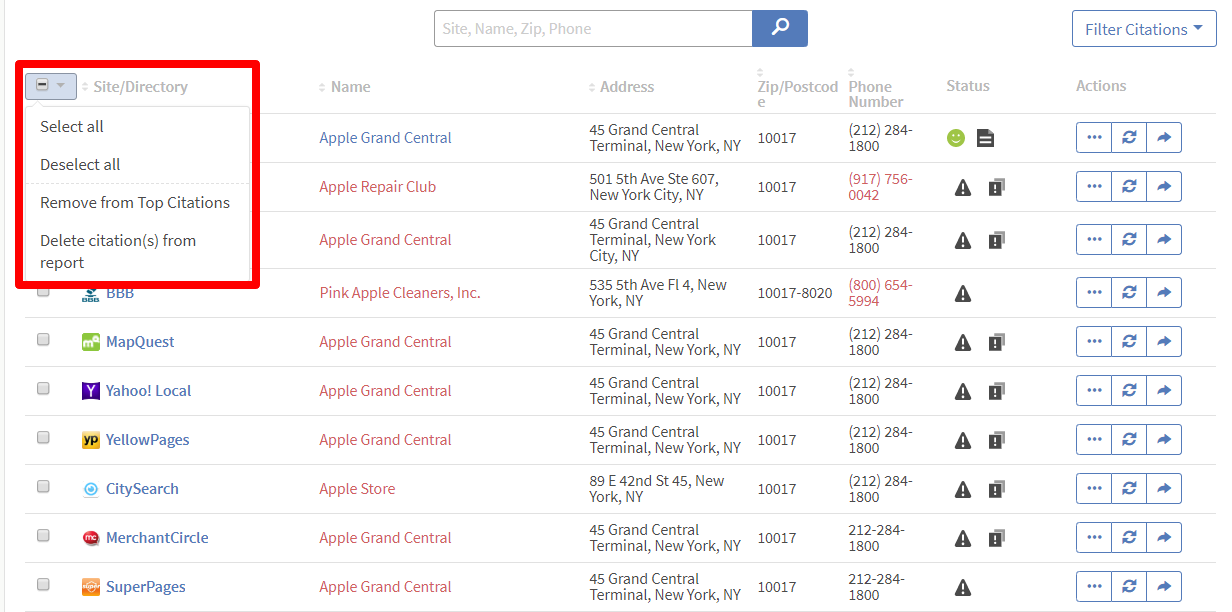 Listing displays incorrect information
You are not able to update the actual information contained on a listing from within the Citation Tracker report.
In order to update listings with correct information, there are two options:
1. Fix them yourself directly on the directories. You can do this by visiting the citation directly from your report by clicking the 'View Citation' icon in the 'Actions' column. You can then manually claim and edit the listing directly on the citation site, and update any data that is incorrect.
2. Create a Citation Builder campaign and we'll fix them for you! Just click on the pink 'Create Citation Campaign' button at the top of your report, purchase a campaign, and our expert citation submission team will take care of your edits and submissions for you. (Each listing updated or created costs US $3.)
Click here to learn more about our Citation Builder service