If you've purchased a Citation Builder campaign and the submissions have been completed, but you're still seeing errors next to citations in your Citation Tracker report, it could be because you need to re-run your Citation Tracker report.
To do this go to the Citation Tracker report that you want to re-run and click the 'Actions' button in the top right corner. Then select 'Re-run Report'.

If you've re-run your Citation Tracker report and are still seeing errors then this could be because we only update the citation sites that were selected in the Citation Builder campaign.
There are two reasons why the citations might not have been selected as part of the campaign:
1. The citations weren't found in our Citation Builder database and weren't available to be selected. For example, the following sites would not be available through Citation Builder, but may show on a Citation Tracker report:
Sites that are exclusive to Yext

Sites where submissions are paid for

Sites that do not accept direct submissions (i.e. they get their data directly from aggregators or other sources)
Click here to learn more about how our citation database is built.
2. The citations were available in Citation Builder but you missed them when selecting citations to update.
When setting up a Citation Builder campaign, we show you whatever citations are available and live in our database, as well as niche sites that are relevant to the business category you enter.
This is different from the citations shown in a Citation Tracker report, which shows the same Key Citations to everyone based on the country and business type.
You can check which citations were included in your Citation Builder campaign by opening your Citation Builder campaign report. Click 'Citation Builder' in the top menu and select the 'View' button next to the business name.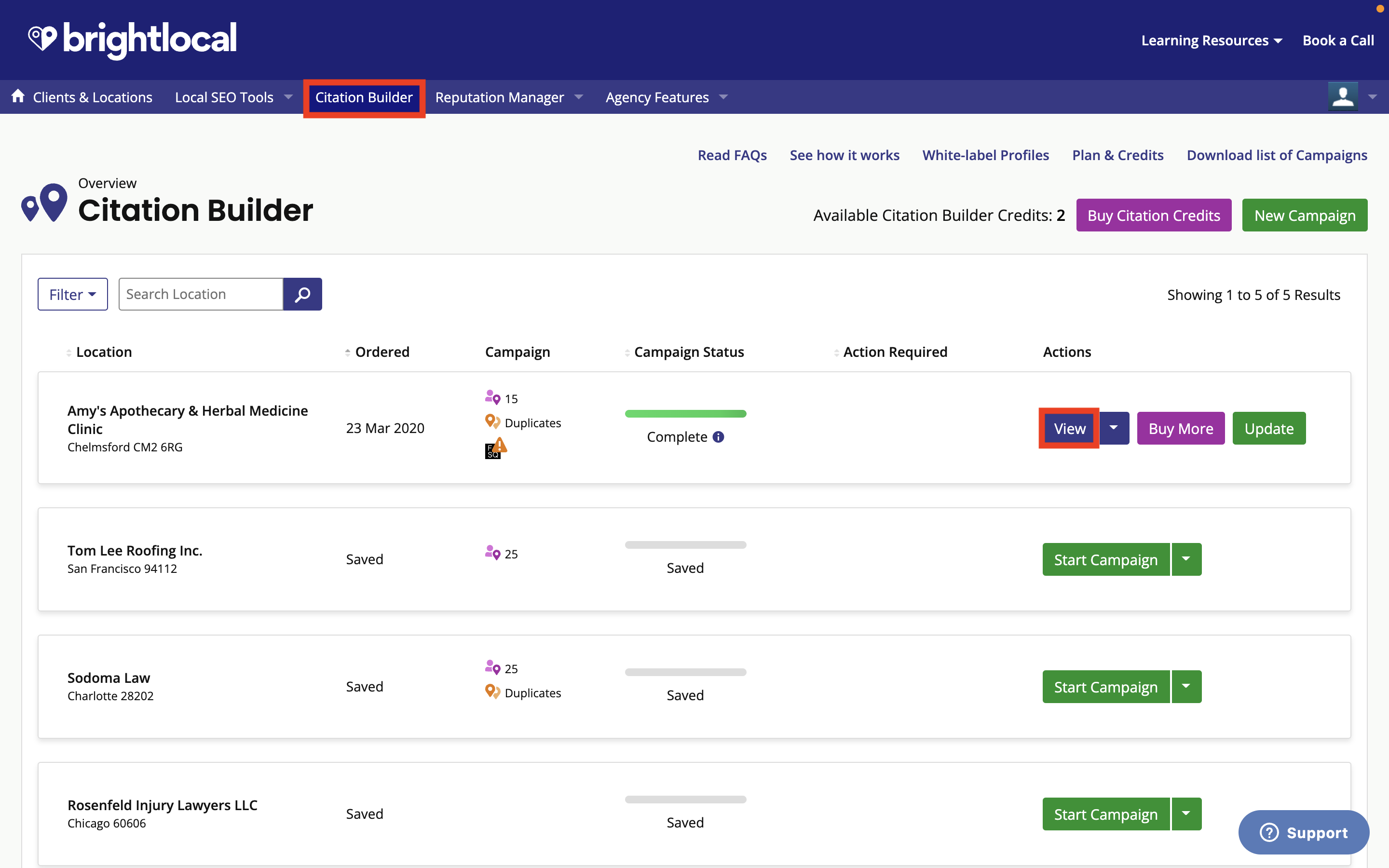 When your report opens, scroll down to see the list of citations/directories were included in your campaign.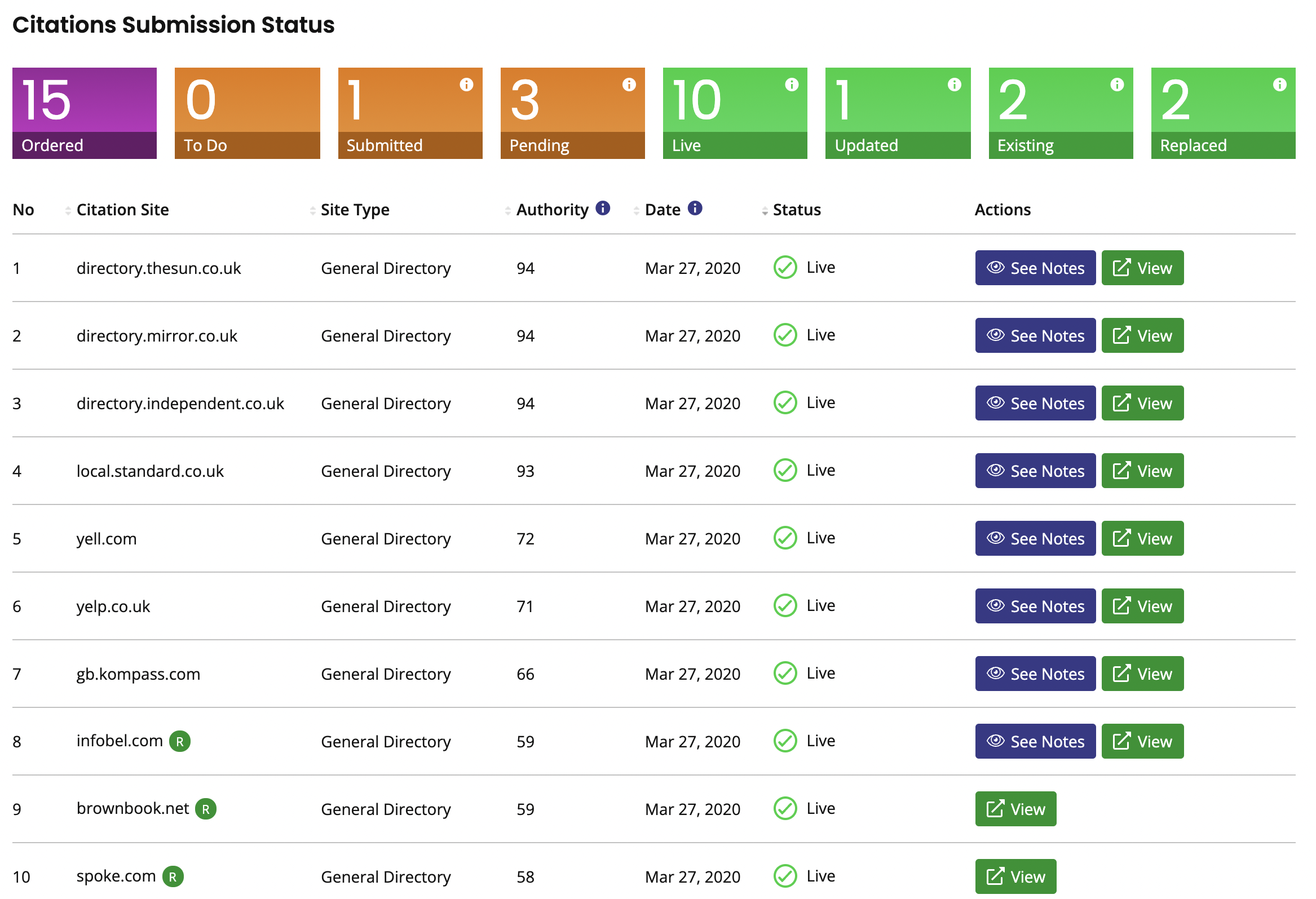 If you'd like to get new citations, like those from your Citation Tracker report, simply click the 'Buy More Citations' button at the top of your report and follow these instructions.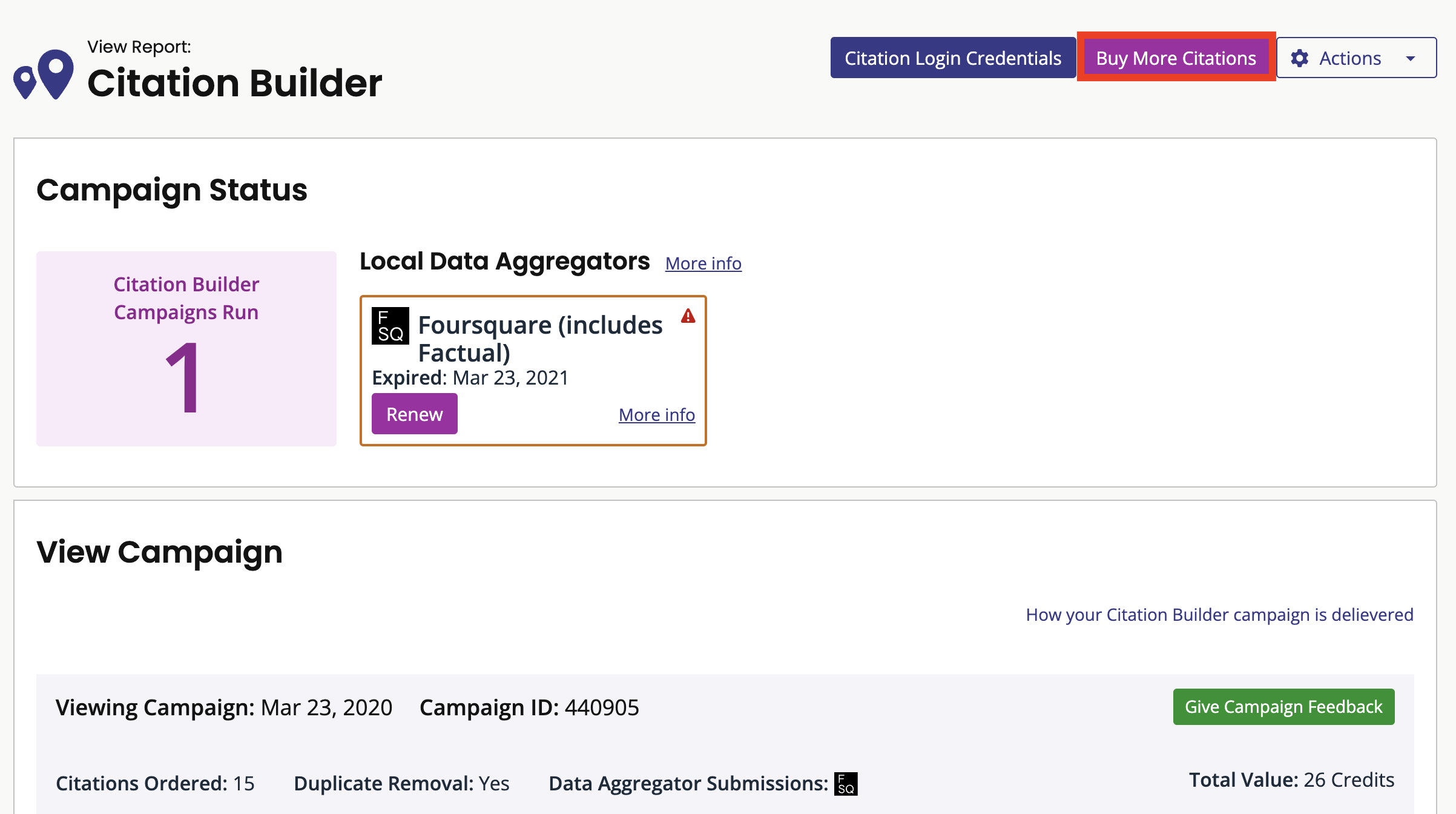 If, when you check your Citation Builder campaign report, you see that you did select a citation but it hasn't been updated it could be because:
Our citation builder team was unable to submit it. This can be for various reasons, such as they weren't given the login details for the citation site and can't claim the listing.

The listing is pending approval. This means that the citation site hasn't made the listing live yet. If it goes live before the campaign is finished, we will update your report to show this. See this article for further detail: How long is my Citation Builder Campaign report updated for?
Read our article on how to understand a Citation Builder campaign report to learn more.