The Local Search Audit ('LSA' for short) examines the most important SEO and local SEO factors that influence your ability to rank in search (e.g. Google).
Its top-level summary provides a really useful guide to SEO performance and provides jump-links to the corresponding report sections. Each section is color-coded so you can quickly see which areas of your local strategy need the most attention.

Background

To rank effectively in search results (organic and local results), a business needs to invest time and effort to make itself relevant, prominent, and authoritative on the web.
By doing this, search engines (e.g. Google) can discover more about businesses and then ultimately trust that the information is correct — for example:
What it does

What it specializes in

Where it's located
This all goes towards helping the search engines associate the business with relevant keywords or search terms.
In addition to knowing what the business does, Google also wants to know if the business is a well-known 'authority' in its industry. The more trust Google can establish in businesses, the more confident it is in displaying the business higher up the search results.
All businesses would like higher rankings in order to attract more customers and clients, which is where the Local Search Audit becomes an invaluable tool. Identifying areas that may need improvement, illustrating how well-optimized a business is versus competitors, and highlighting areas that are going well, all provide valuable feedback.
Who uses the Local Search Audit, and why?
The Local Search Audit is very popular with in-house SEOs and agencies, who use the data to prepare and maintain strategies, showcase work required to prospective clients, or highlight the value of their work to current clients.
For example:
Sales Report: Agencies create a Local Search Audit report for new prospects then send or share it with them as part of the pitch process. The reports can be completely white-labeled with the agency logo and color scheme, and customized to include only the sections that an agency wants to share with their prospects.

Lead-Gen Report: Agencies can add our Lead-Gen widget to their website, which captures data about the lead (which they enter within the widget) and creates a Local Search Audit that the lead can have presented to them. The agency gets the contact details of the lead, and can follow up with them to pitch their services.

Benchmark Audit: SEOs generate a Local Search Audit report to help them determine where to focus their efforts with a new client

— t

he report highlights areas in need of most attention, enabling SEOs to focus on these first.
LSA Report: seven areas of Local SEO are audited

The Local Search Audit provides a snapshot view of your local SEO performance.
Each report is divided into seven sections, with each section isolating and reporting on a different area of local SEO.
The report provides a score for each section and presents these in a clear, color-coded format which lets you instantly see which areas are performing well / badly — ranging from green for 'good' to red for 'needing improvement'.

The Local Search Audit uses a simple set of formulas to calculate the score for each section, which look at the performance of the business and how it compares to local competitors who rank at the top end of the search.
The report contains information about each section and its SEO metric. Users can view these to gain a better understanding of each section by simply clicking the '?' symbol to view these explanations.
The sections of the Local Search Audit include:
Links & Website Authority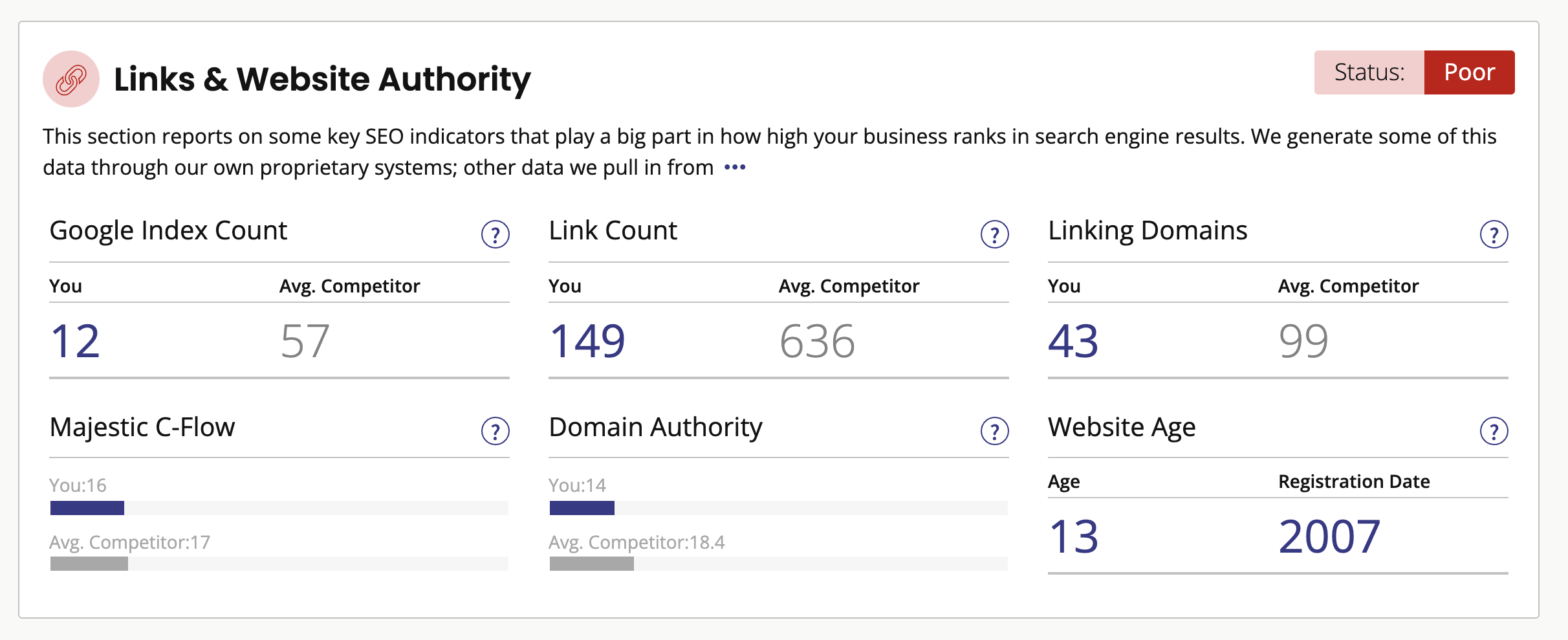 This section reports on some of the most important 'traditional' SEO factors which influence search.
Some of these metrics are generated directly by BrightLocal, while some are pulled in from recognized specialist link-tracking tools, Moz and Majestic SEO, to supplement and reinforce our own data.
Search Rankings
The search rankings data illustrates where the website (or GBP listing) of a business ranks for the business category's top five most relevant keywords.
The report shows rankings on the largest search engines (Google and Bing) along with their more localized equivalents (Google Local and Bing Local).
Local Business Listings
For local businesses, it's critical that their address and contact information is correct and consistent online — this provides reliable information to Google about the business and also ensures that customers have an anchor point to visit the business.
This section shows the most powerful and relevant online directories and citation sites, reporting on whether a listing for that business is found. If there is a listing, we check if the information is correct and consistent, then highlight any errors which might need attention.
Reviews and Ratings
This section analyzes your reputation on the most powerful review sites — a critical component in local SEO.
You can quickly see the current review count, average star rating, and latest 10 reviews on the sites which really matter to local consumers, all aggregated in one place.
Google Business Profile
It's extremely important for the business's Google Business Profile (formerly known as Google My Business) to be accurate and up to date for local search.
This section analyzes the Google Business Profile optimization, looking at a number of influential factors and benchmarks against the top 10 ranked businesses in the search area based on business category.
On-Site SEO Report
Here, the report analyzes the On-Site SEO factors which may affect your ability to rank in local search.
On-Site SEO factors are elements of the business website, either visible on the page itself or in the coding of the site (which you can't see, but the search engines can) — all of which can affect the site's search rankings. It's much easier to improve SEO factors on your own site (as you have control over it), so the insight found in this section of the Local Search Audit can highlight any issues holding the business back.
Social Channels
This section examines the business's presence on Facebook and Twitter.
If a profile is found on either social channel, the report highlights followers, likes, and visit metrics.
Appendix
The appendix contains full details of the On-Site SEO audit with a page-by-page breakdown of details such as page titles, meta descriptions, keywords, links, and much more.
It also shows where we identified errors on the site, such as slow loading and error pages or missing and duplicate meta content.
The expanded Appendix section is color-coded so you can easily identify the site's errors.
To learn about how to uncover the biggest optmization opportunities with Local Search Audit, enroll in BrightLocal Academy for free today. Or if you'd like some help with auditing a multi-location business, check out this course: How to Perform Local SEO Audits for Multi-location Businesses