In this guide, we will explain how to create a Citation Builder campaign. If this is your first campaign, you'll need to set up a Location before you can begin, find out how to do that here.
---
1) Initial Setup
There are two ways to create a new Citation Builder campaign. Clicking on 'Citation Builder' in the top menu will open the Citation Builder overview page and show a list of all existing campaigns.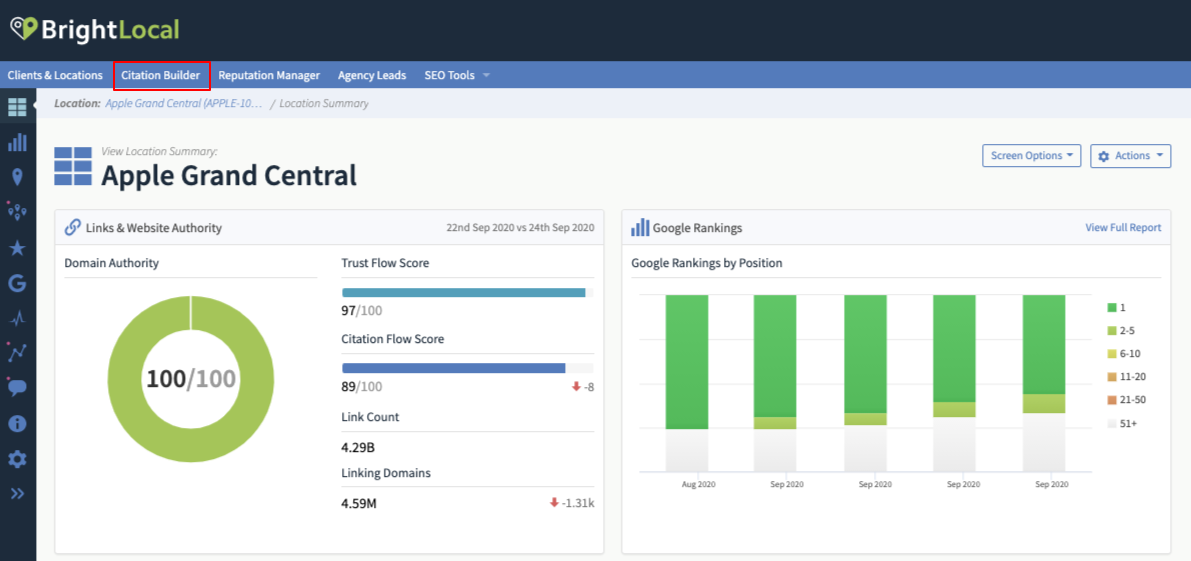 Next, click the green 'Start New Campaign' button to set up a new campaign.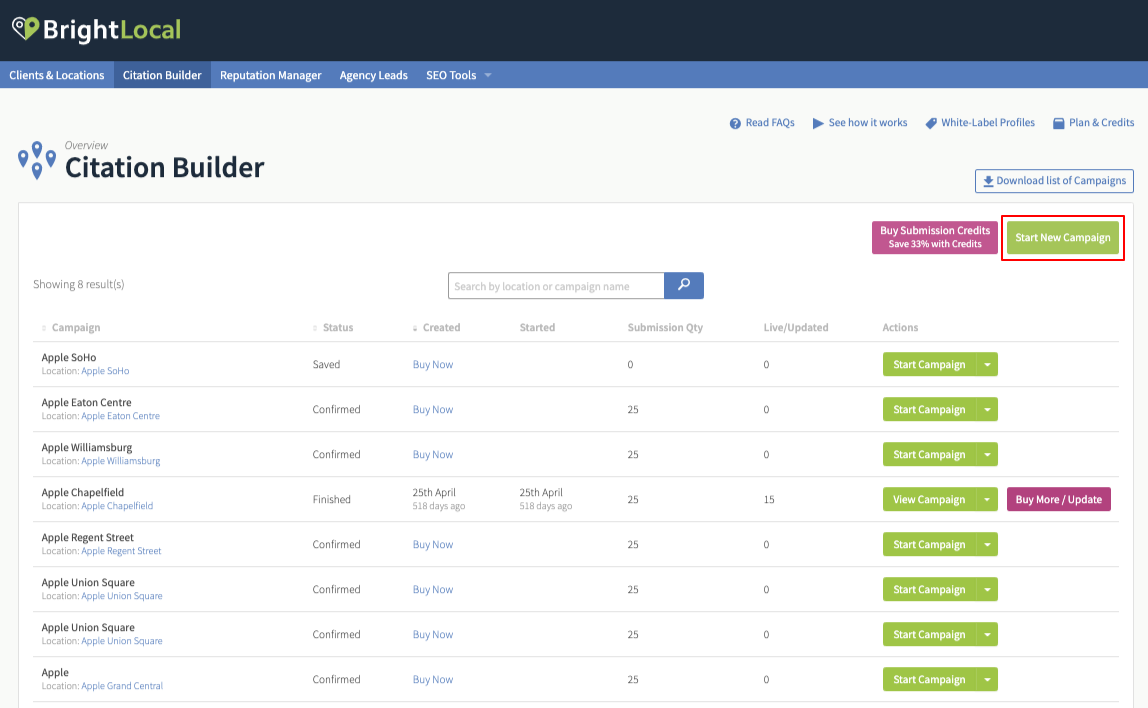 Alternatively, you can start creating a campaign from inside a Location Dashboard, provided that the Location does not yet have a campaign set up. Just click on 'Citation Builder' from the sidebar to begin the process.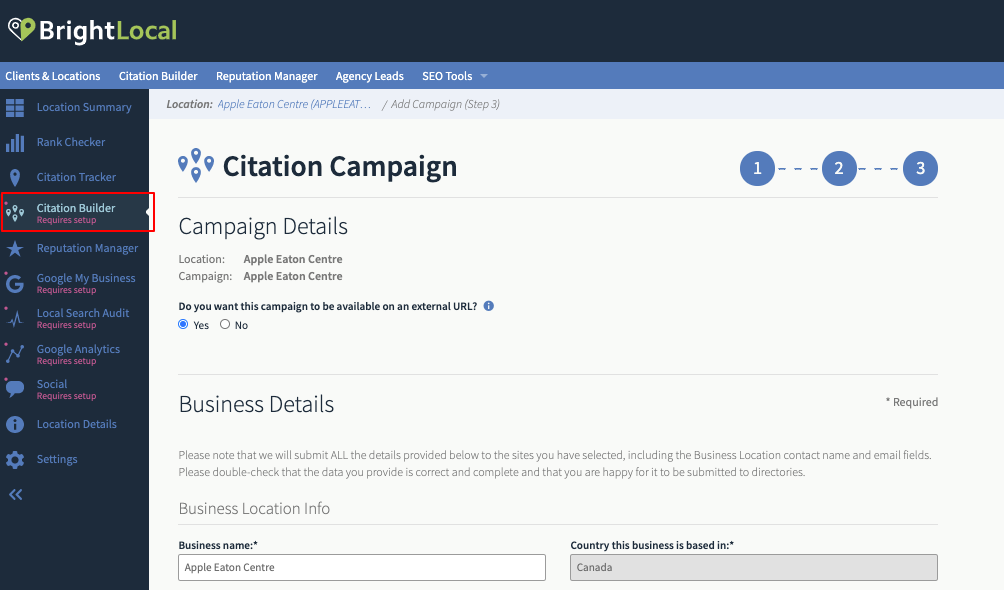 2) Campaign Setup: Step 1
There is a 3 step process for creating a Citation Builder campaign.
a)

Campaign Details
If you're creating a new campaign from the Citation Builder Overview page, you'll need to pick a Location from the dropdown menu.
If you're setting up a campaign for an existing Location, from within the Location Dashboard, this information will already be populated for you.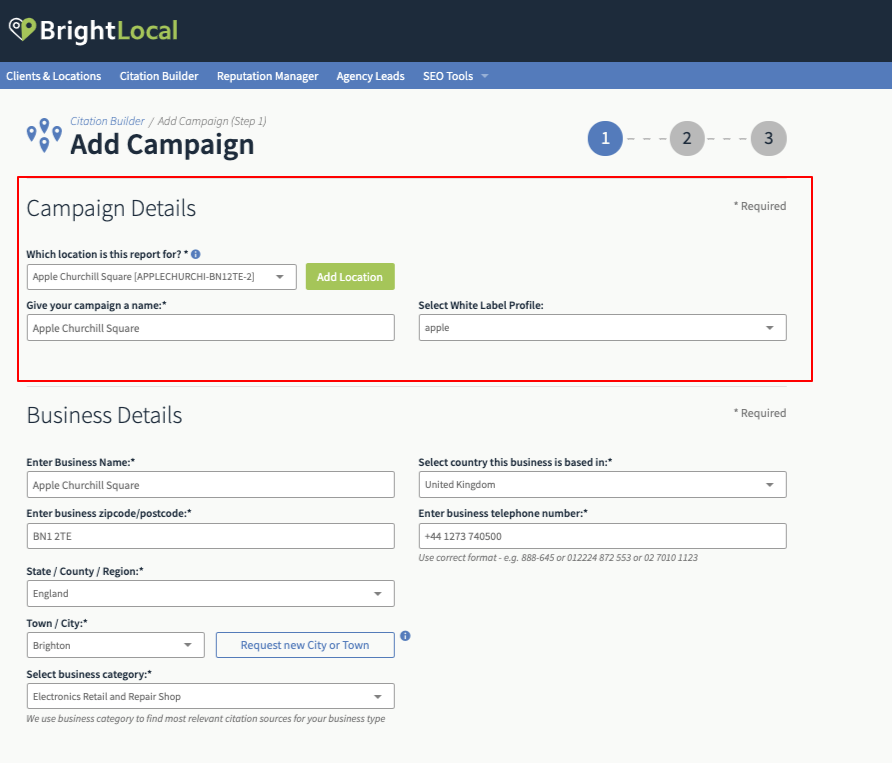 Give your campaign a name: Enter the name of the campaign so that it can be identified within your BrightLocal account.
Select White Label Profile: You can have multiple white label profiles set up at once. Here you can select the white label profile you'd like to use for this campaign, if applicable.
Learn more about white labelling reports here.
b) Business Details
All fields in this section will be populated from the Location's existing business details, but it's a good idea to double check everything before we publish this information to multiple directories. If anything doesn't look right, you can make updates or corrections in this section.
c) Alternative Business Details
We use the alternative business details to find any outdated or incorrect listings for your business, so if you have an old business name, address or phone number, we can use these details to find any out of date listings that need to be updated.
Once all data has been entered click 'Done! Go to Step 2'.
We then filter our citation database to find relevant sites for your business and identify any existing listings on these sites.
3) Build Your Campaign: Step 2
Once the filtering process is complete, it's time to setup your campaign, select the type and quantity of manual submissions you need and add data aggregators or our duplicate removal service.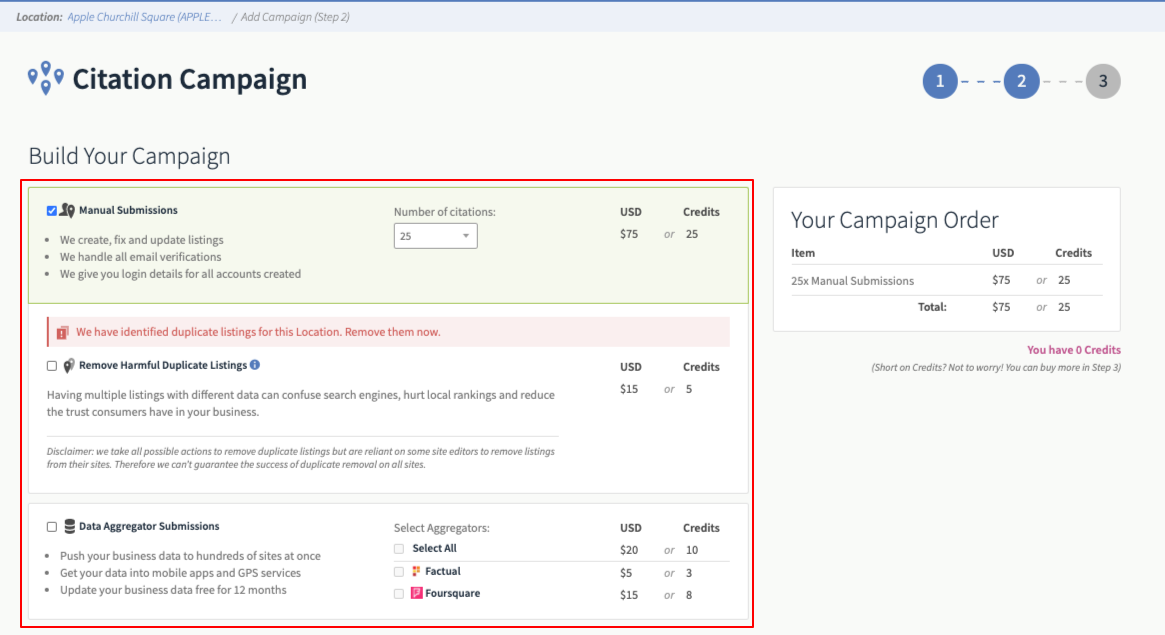 a) Submission Options:
Here you can select the type and quantity of submissions needed for your campaign.
Manual Submissions: From the drop-down menu, select the number of submissions you need. You can select package sizes of: 10, 15, 25, 30, 50, 75 or 100. The number of available, new listings will vary depending on the business category, location and the number of correct listings that already exist. So if you see 50 as the maximum number of citations available, that is the number of citations that we have in our database that are relevant for this particular business.
Duplicate Removals: You can also request duplicate removal on the citation sites that you will select for the campaign. All you need to do is make sure that 'Find and Remove Duplicate Listings' is selected, and our submissions team will know that they should conduct a thorough search, identify, and then remove any possible duplicates. We will take all possible action to remove duplicates, however, we are often reliant on the site editors to complete the removal. Therefore, we can't provide a 100% guarantee that all duplicates will be removed by the end of the campaign.
Data Aggregators: adding aggregators to your order is a powerful way to ensure that your listings will be pushed out to the wider local search ecosystem, as well the specific directories that you select. Read more about aggregators here.
It is possible to order aggregators only, or a combination of aggregators and manual submissions.
Aggregators are priced separately, however, if all four are purchased together in a bundle, a 14% discount is offered.
b) Existing Citations
This section will show you the existing citations for the business that our tool has identified automatically.
If the business details are incorrect, the text will be highlighted in red. If you believe that a specific citation has been identified incorrectly or has no connection to the business, you can move it to the 'Available New Citations' section by clicking the 'X' button next to the citation, on the right-hand side.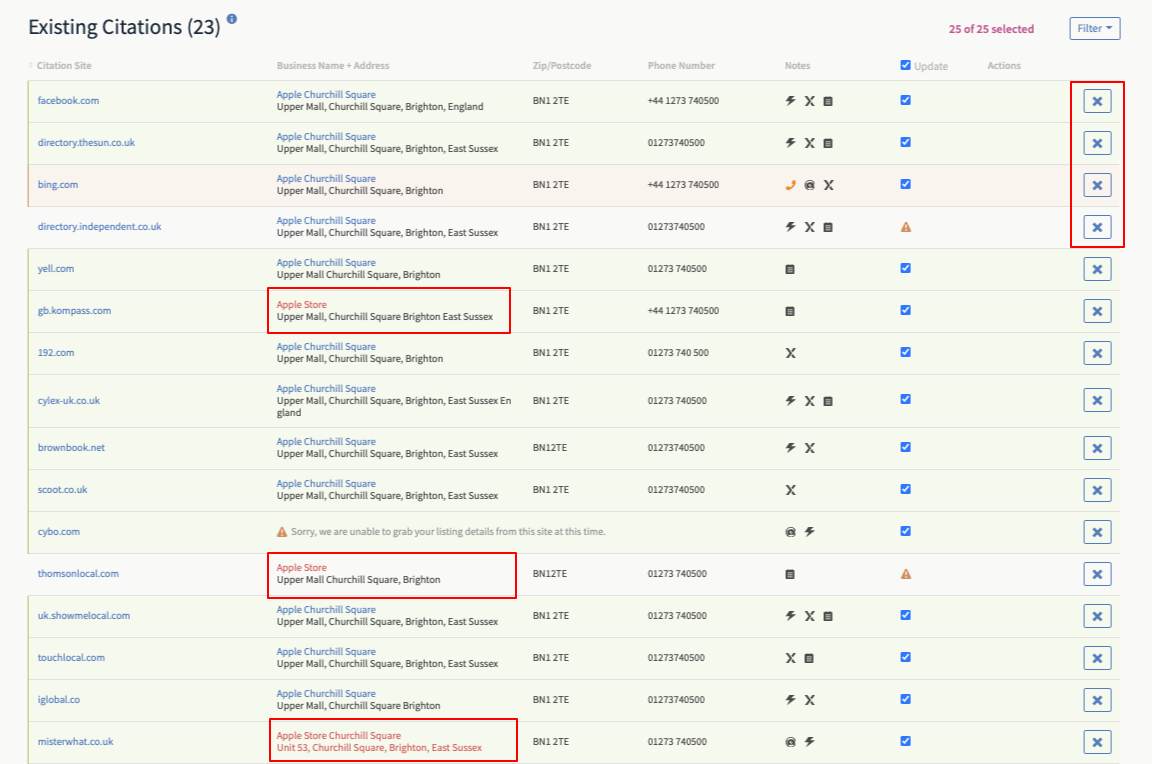 In some cases, there are citation sites where we are unable to update the existing listing. For example, when the edits or updates are a paid feature. You will not be able to select these for the campaign and instead of a checkbox, they will display the exclamation mark within a triangle. If you hover above this, a message will be displayed that explains the issue.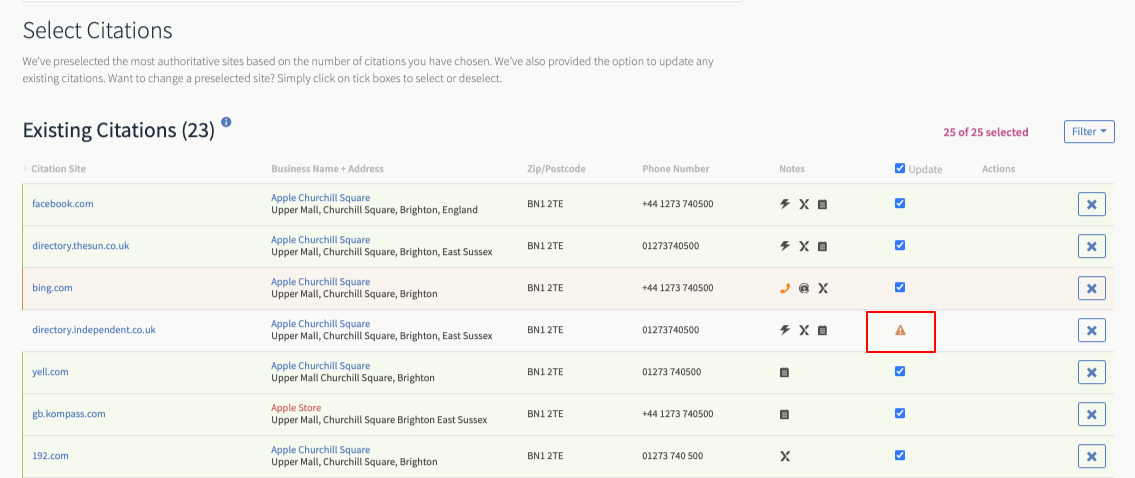 c) Available New Citations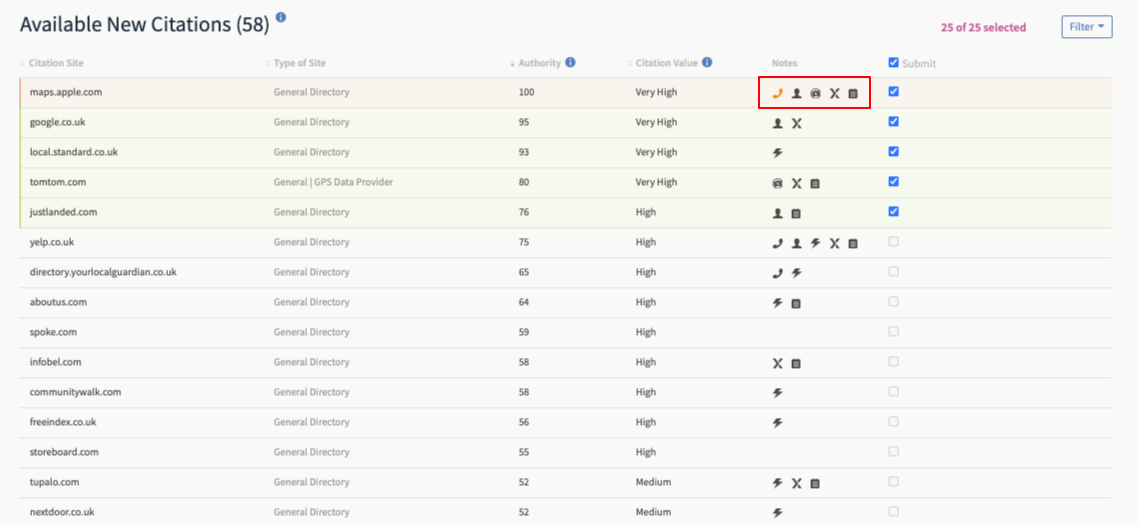 This section offers a selection of citations where the business is not yet listed. The list will show the directory's URL, its type - whether it is a niche or a general directory, domain authority, citation value, and a notes section.
Within the notes section, you will see a lot of different symbols. They provide more detailed information about the citation - whether it requires phone verification, allows you to add photos, if it is part of the Yext network, etc. Hovering above each symbol will show you a more detailed meaning behind them.
You can also filter the citations list based on the criteria that match your requirements.

If you click on a 'Filter' button at the top right you will see the available filter options - you can select the ones you need and then see the list of citations that exclude, for example, sites that are in the Yext network or sites that require phone verification.
Once you have selected the citations you would like us to create and update you can then either proceed to Step 3 or save the campaign at this stage and come back to it later.

The saved campaign will be then stored in the Citation Builder section of your dashboard:
The 'Status' column will show the stage that your campaign is at. 'Saved' means the campaign is saved at Step 2 and 'Confirmed' means it is saved at Step 3. You can learn more about the statuses of Citation Builder campaigns here.
4) Campaign Setup: Step 3
Step 3 allows you to add any additional content to your Citation Builder campaign.
At the very top, you will see the campaign name and the name of the Location. You will then be given an option to choose whether you would like for this report to be available on an external URL:
You can read more about external reports here.
a) Business Details
The next section contains business information:
Business Location Info: This will be filled in automatically based on the data that you entered in Step 1, as well as in the 'Location Details' section of the dashboard. All that you will need to do here is check the existing information and add any that might be missing.
Business Location Contact Info: Here you will need to add the information that potential customers can use to contact the business directly. This data is optional, but if provided, it will be published on the citations that were selected for the campaign.
b) About The Business
This section contains additional content that is accepted by various directories, that can make your listings stand out.
Business categories, description and working hours are mandatory fields and are marked with an asterisk. The number of employees, year of formation, opening hours, services and payment methods are all optional fields, but it can be very useful to fill these in.
Some information will be pre-filled, but won't allow any edits and the field will be dark grey:
If you would like to change or correct this information you will need to go to the 'Location Details' section, make edits there and when saving these changes, ensure that you select the option to update all reports as well. Then simply return to your saved Citation Builder report and check it - the data should have been updated.
c) Business Images
You can add a logo and generic images that will be published on citation sites. This, again, is optional, but will definitely make your listing look more complete.
Images can either be uploaded as files (max size 2MB) or in URL format. If you are attaching the files, please make sure that they are not too small.
To add the image in URL format, first make sure that 'Fetch images from URLs' is selected, add the URL of your image, and click 'Fetch':
d)

Social Media Links
You can also provide the links to your social media pages. We can publish these on the listings for you, so potential customers can see more content about your business.
e) Campaign Notes
This field allows you to leave a comment or instruction to our submissions team about the campaign. For example, you can use this section to provide login details for your existing listings, or let us know if your business is a service area business and you need to hide the address on your citations. We will make sure that your instructions here are followed.
If you don't have any special instructions for us, simply enter 'N/A' as this is a required field.
f) Receive Email Alerts
Within this section, you can add your email address and we will send you an email reminder, notifying you when the campaign has been completed. This is optional and if you don't want to receive email notifications, simply select 'No'
g) Campaign Details & Cost
At this stage, you can do two things - you can buy more credits if needed, or you can change your order if you have changed your mind about some selected citations.
Clicking on the 'Buy More Credits' button will open up a pop-up window that allows you to purchase one of our credit packages:
Clicking the 'Change Order' button will take you back to Step 2, where you can make changes to your order.
Terms & Conditions: The final section of Step 3 contains our T&Cs that you must accept before proceeding further:
You then have several options - you can save the report and come back to it later, you can return to Step 2, or you can pay for the campaign either using credits or your credit card.
Choosing 'Confirm and Pay (Credits)' will automatically deduct the required number of credits from your existing credit balance.
'Confirm and Pay' will open a pop-up window, where you will be asked to enter your card details or use PayPal:
Once you have paid for the campaign, it will go to our submissions team who will check the data and reach out to you if they have any questions.
You will be able to see your campaign immediately in the 'Citation Builder' tab of your account. The campaign will be in 'Paid' status, you will see all citations that you selected and their status will be 'To Do'.
If you have agreed to receive email notifications at Step 3 you will receive an email from us letting you know when the submission stage has been completed and then again, when the whole campaign is finished.