Credits are a type of BrightLocal currency. You can use them to run certain types of reports and campaigns in BrightLocal.
Bundled allowances
Each subscription plan comes with certain allowances that don't require credits. These allowances don't roll over to the next month if unused.
For more information on your bundled allowances see this FAQ: What is included in my subscription plan?
Recurring addons are available if you run out of your bundled allowances. To find out more about the type of addons that are available and how to purchase them, take a look at our FAQ on Which addons are available on my plan?
What types of credits are there?
Here's a quick outline of the different types of credits available:
Local Search Grid
The Local Search Grid report runs on credits. Each of the 3 main subscription plans includes a number of these credits with the bundled allowance.
Extra credits that don't renew or expire can also be purchased if needed. See this FAQ for more information: How do pricing and credits work for Local Search Grid?
Local Search Audit
These credits are used by the Agency Lead Generator widget, as it generates Local Search Audit reports.
The subscription plans include a number of Local Search Audit reports as part of the bundled allowance. If extra credits are needed, there are 2 options:
Addons: You may purchase a recurring addon that extends your bundled credits. This is billed monthly (or annually) and the allowance does not roll over each month.
Ad hoc credits: These credits don't expire, so they will stay in your account until you need them. They also don't renew each month — once used, they are gone for good.
To purchase these credits visit the Local Search Audit overview page and click 'Buy Credits'.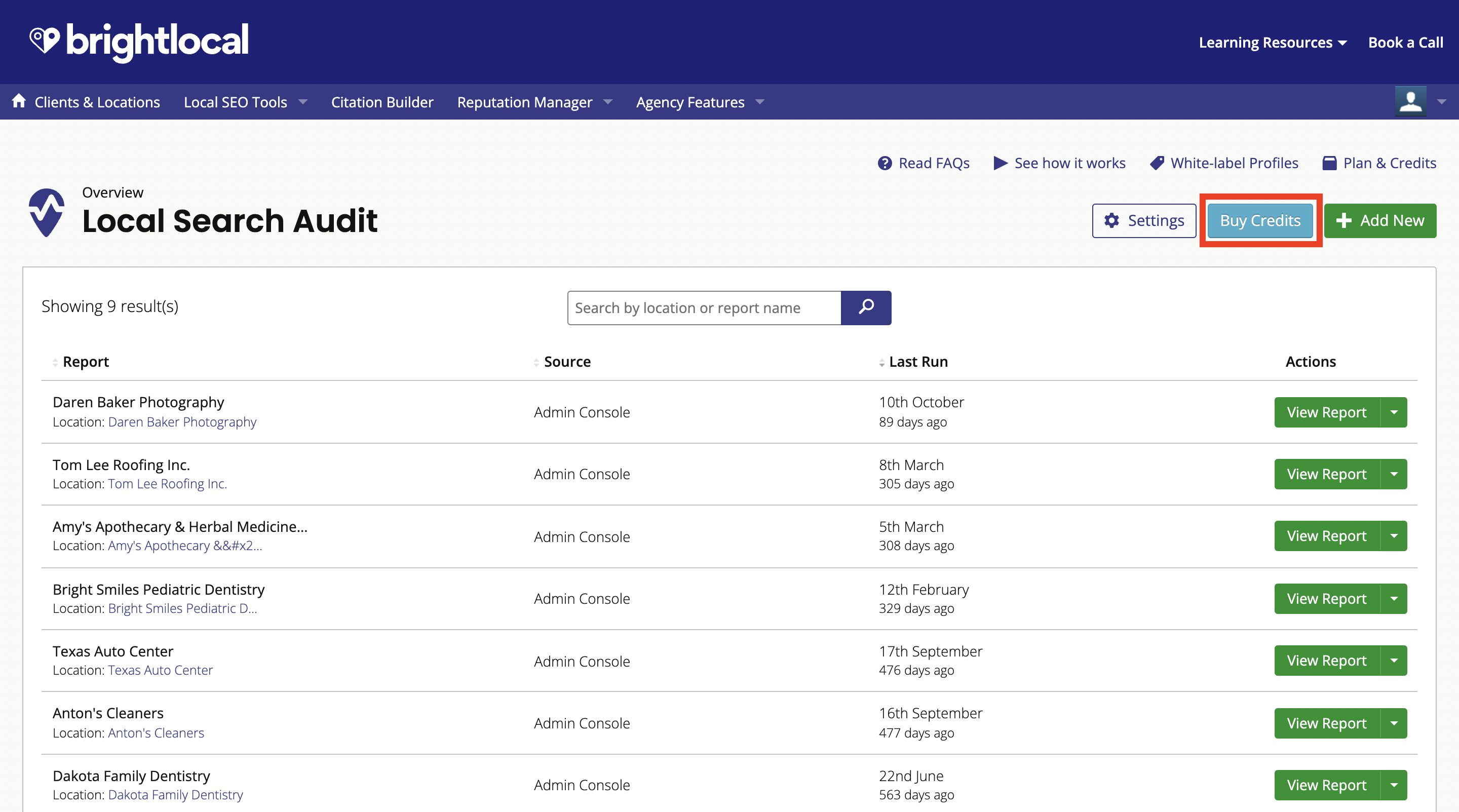 Reputation Manager: SMS Mode
Credits for SMS Mode are not included in the subscription plans, but these can be purchased separately if desired. For information see this FAQ: Do I have to pay to use SMS Mode?
Citation Builder
Citation Builder differs from the subscription-based toolset as Citation Builder is a separate, standalone service that works on a pay-as-you-go basis and does not require a subscription.
It is possible to pay for each campaign separately either via credit card or Paypal, and this costs $3 per manual submission/update.
We also offer the option to purchase Citation Builder credits in bulk to save money. Each credit can be used for one listing submission/update. Citation Builder credits cost just $2 per credit, with a minimum purchase of 500 credits - that's a saving of 33%!
Read more about Citation Builder pricing here.