In this useful overview, we will explain how to understand the results of your Local Search Grid report.
A Local Search Grid report will look like this, once complete: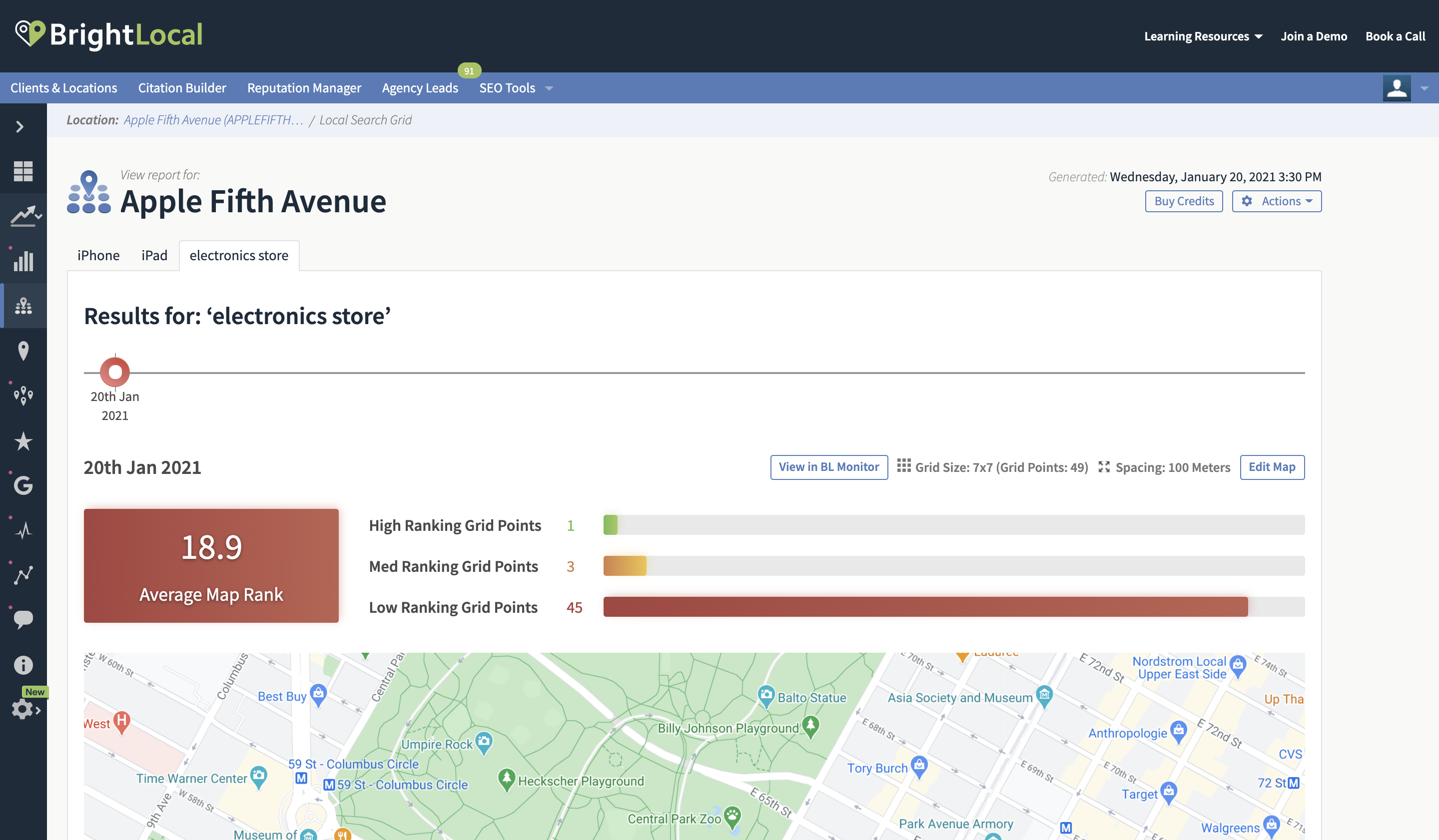 You can find the report by clicking 'SEO Tools' in the top navigation bar, then selecting 'Local Search Grid'. It is also accessible from the Location's sidebar menu, as shown below.
Once opened, you will see a tab for each of the keywords that you entered when setting up the report.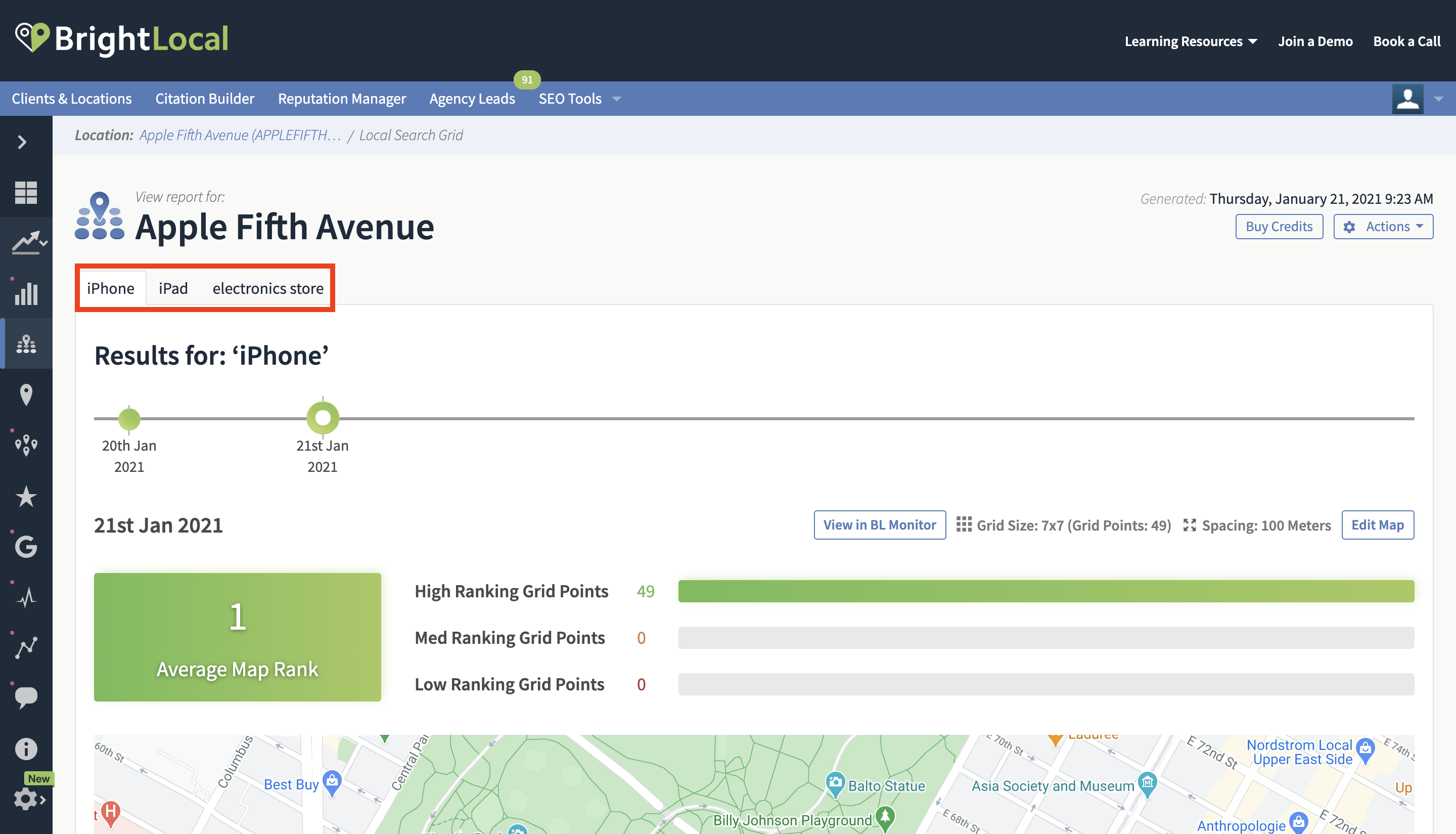 In each tab, you can see how well you're ranking for that keyword in your chosen geographical area.
For example, for the keyword 'iPad' this business is ranking first in every single grid point.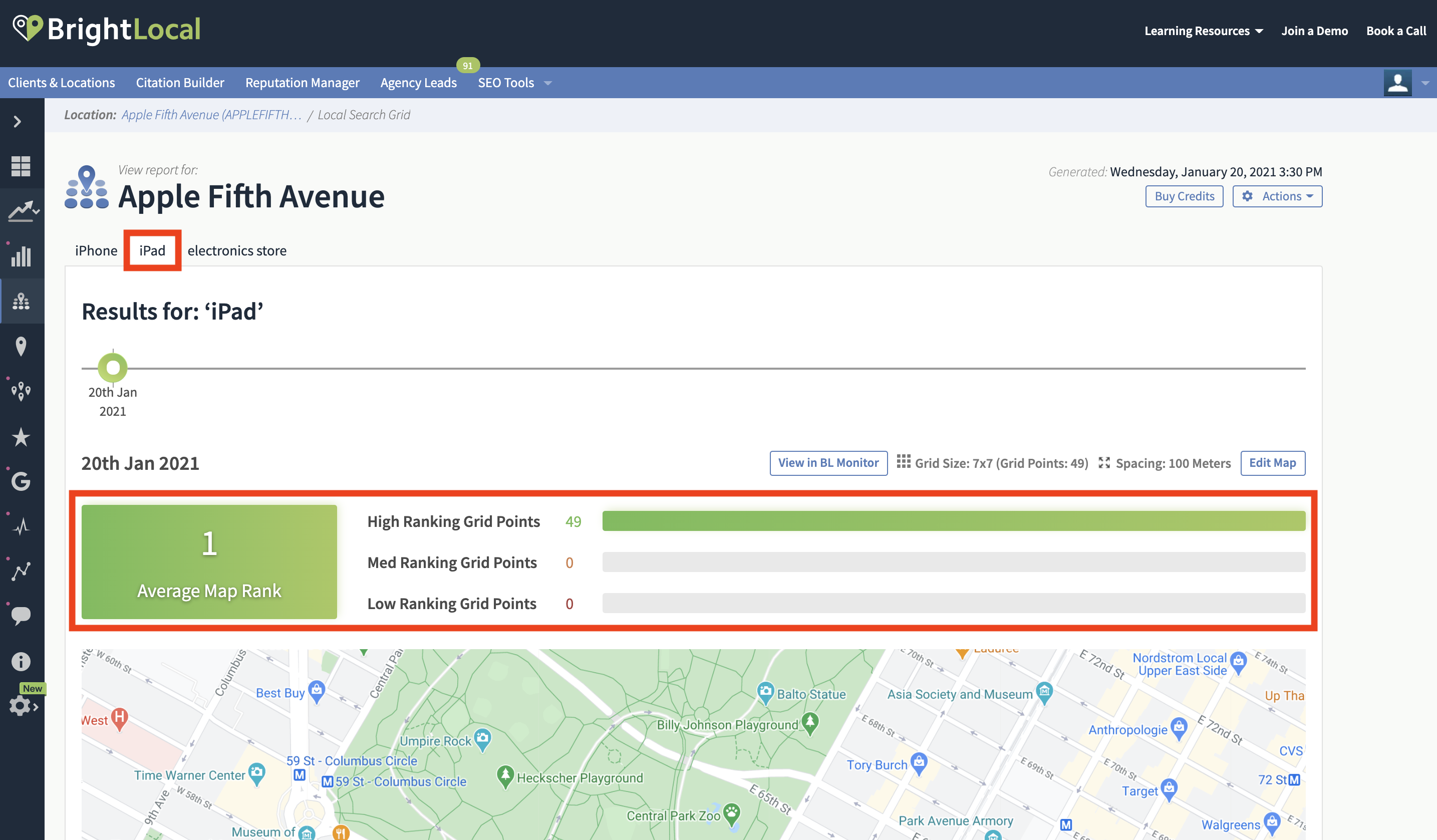 But they aren't ranking as well for the keyword 'electronic store'. So this is where they'd need to put their efforts.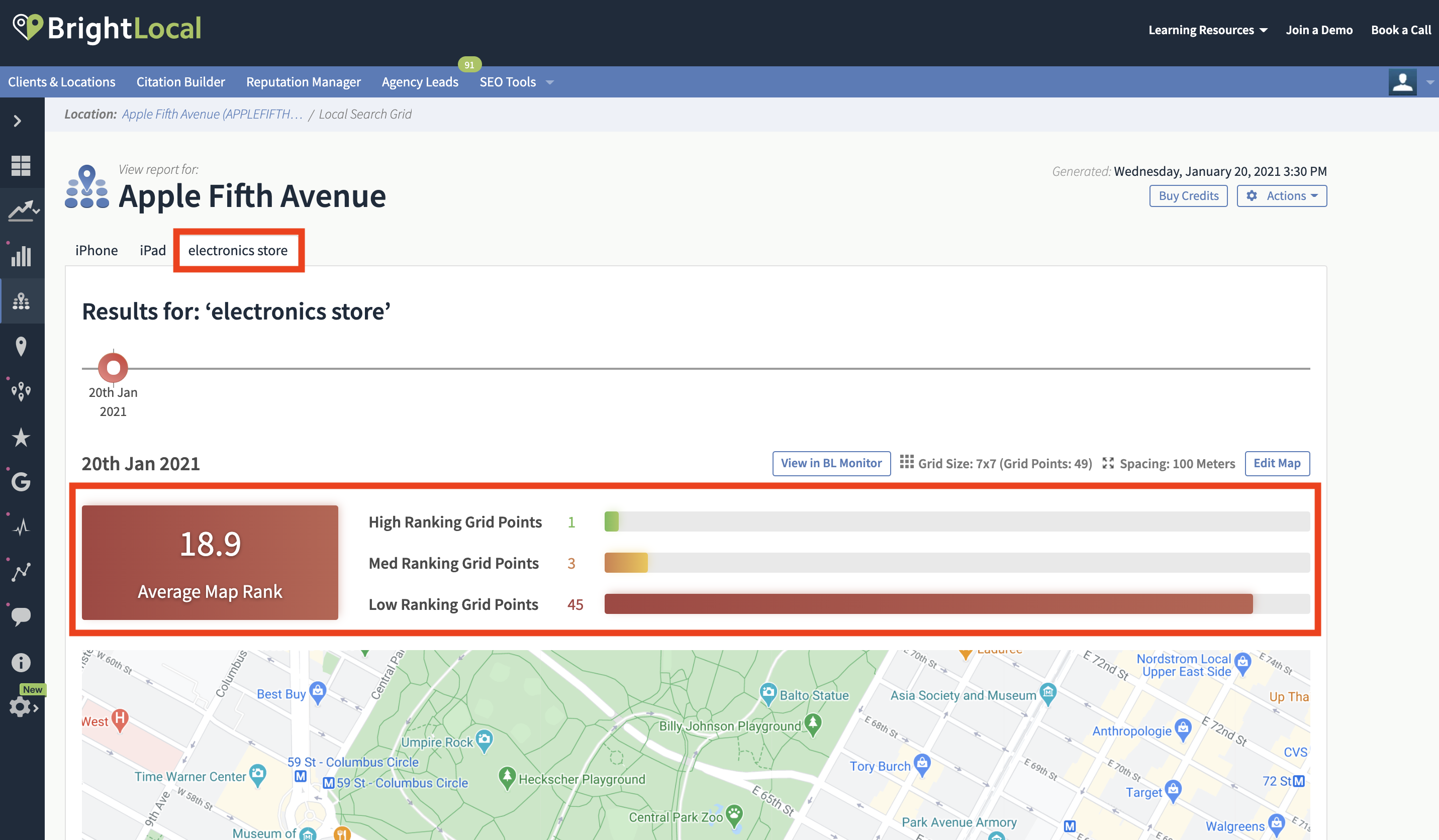 In each keywords tab, we can see a timeline. Each time the report is run another data point is added creating a visual representation of performance over time.

This is useful if you work for an agency and want to show your clients how your efforts are paying off. The data points are clickable making it easy to jump between reports and colour coded according to the reports Average Map Rank. Green for positions 1-3, orange for positions 4-10 and red for positions 10+.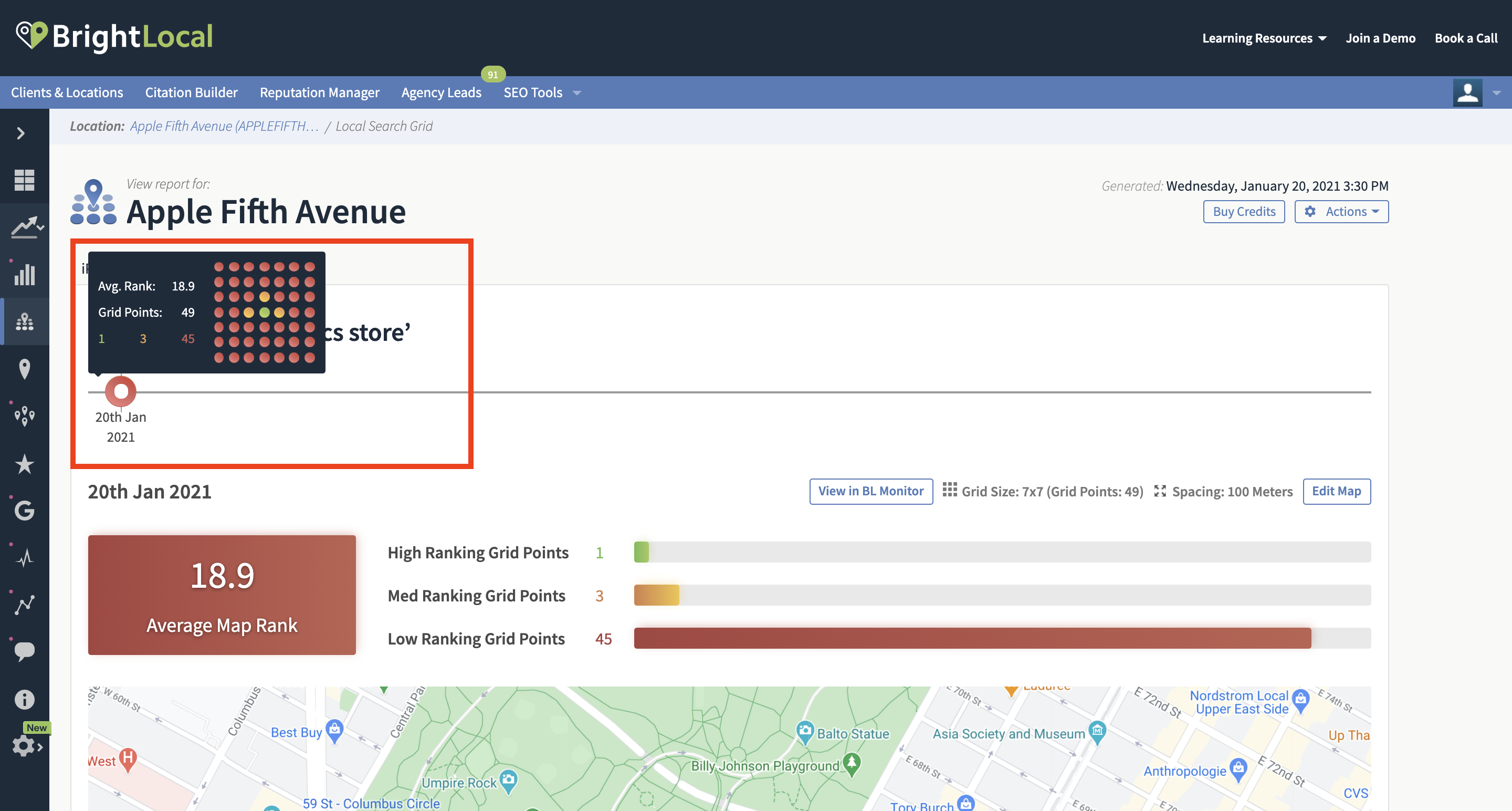 Below that is the Average Map Rank, this is calculated to show what the average ranking position is for a business. To find out this is calculated, click here.
You can also see the number of high, medium and low ranking grid points.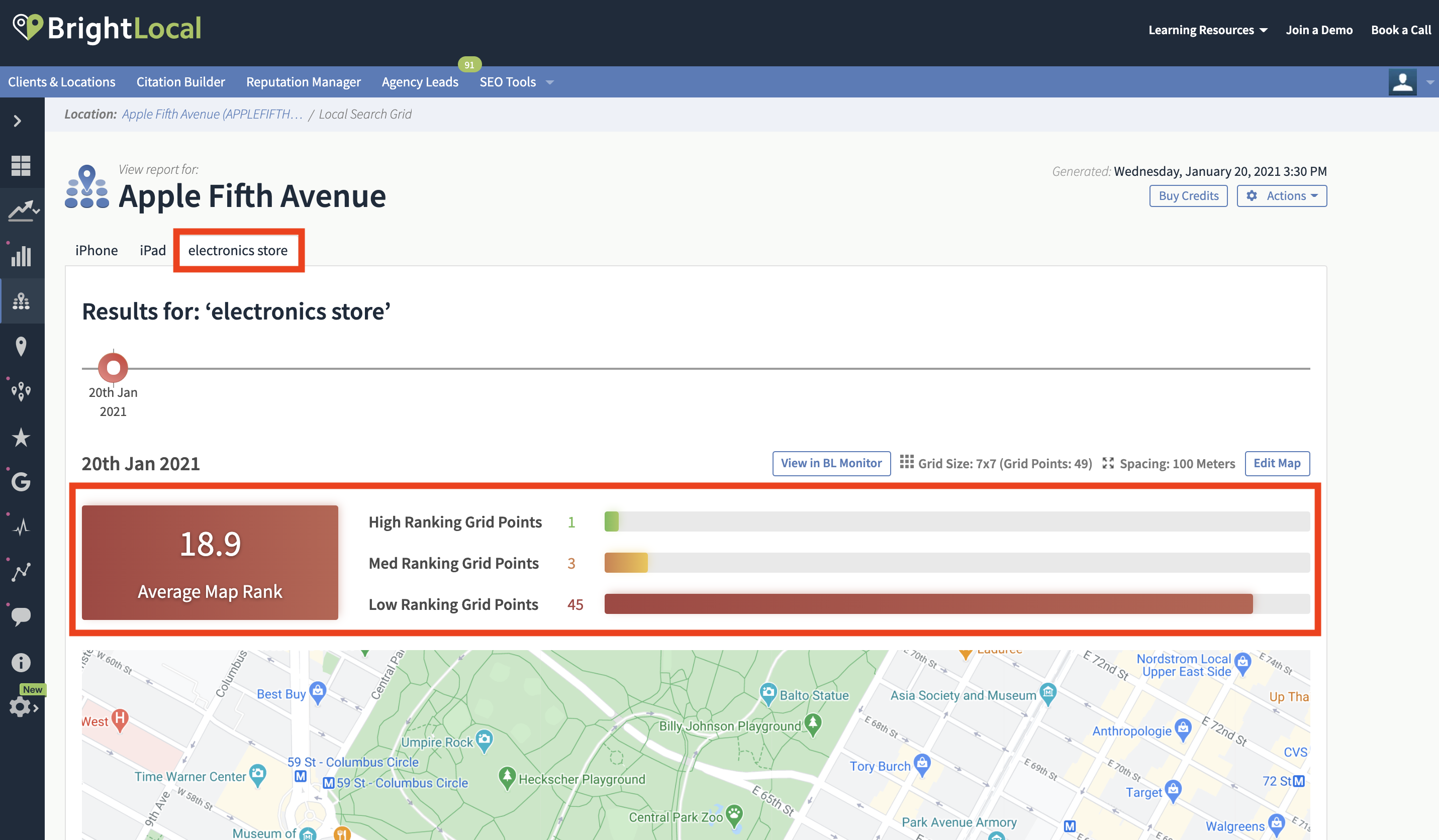 The map below shows you where you're ranking at different places on the map. Green for positions 1-3, orange for positions 4-10 and red for positions 10+.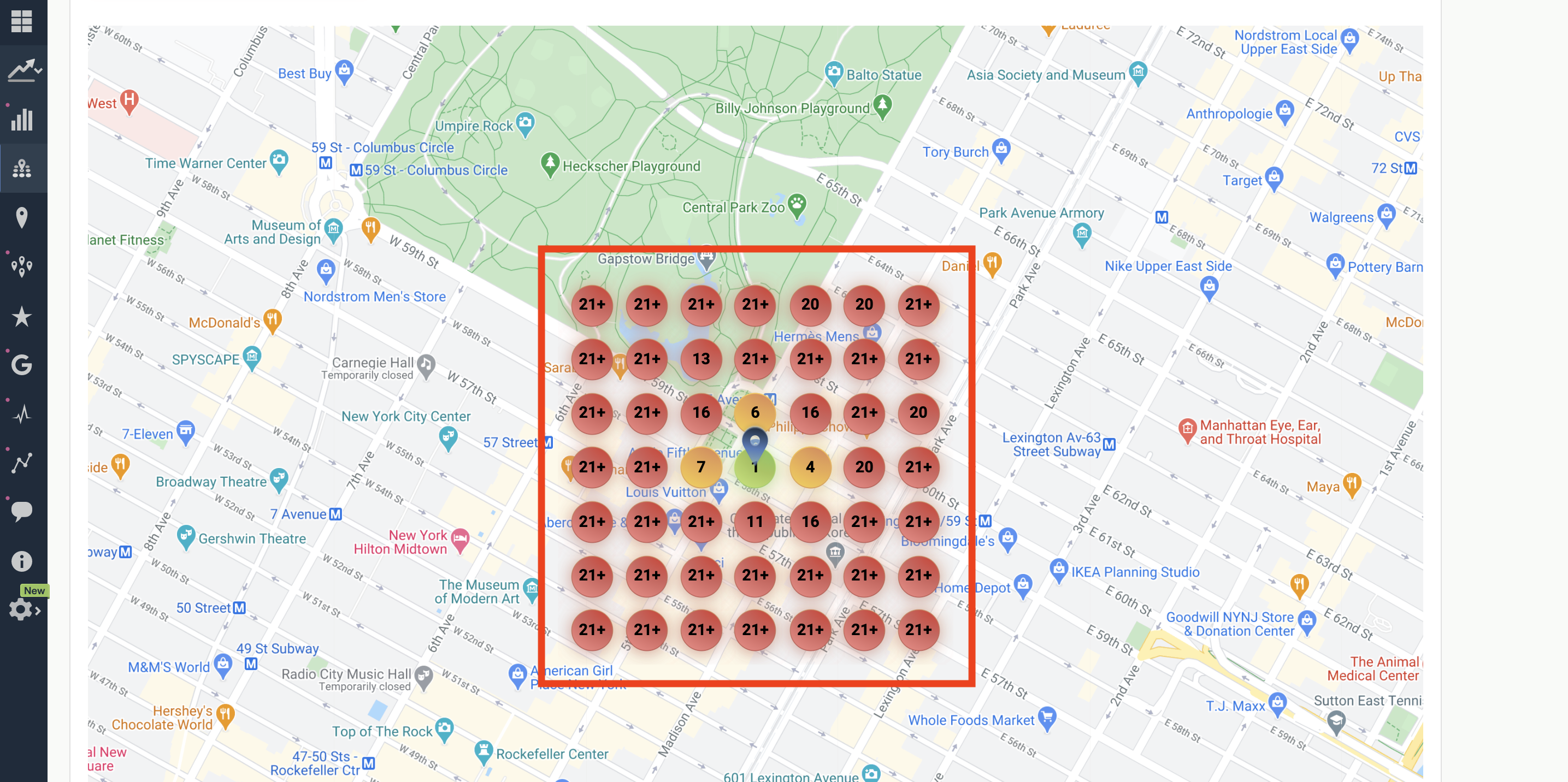 Hovering over the individual grid points reveals who the competitors are for each one.
If you see the letters NF here they stand for 'Not Found'. This means that Google was unable to find your business in the top 20 results for this grid point.
If your business isn't the top 20 results, but we have more than one page we will show it as 21+ plus. This is because we only look at the data pulled in on page 1 results, anything greater than 21+ is not a good score to get on Google Maps.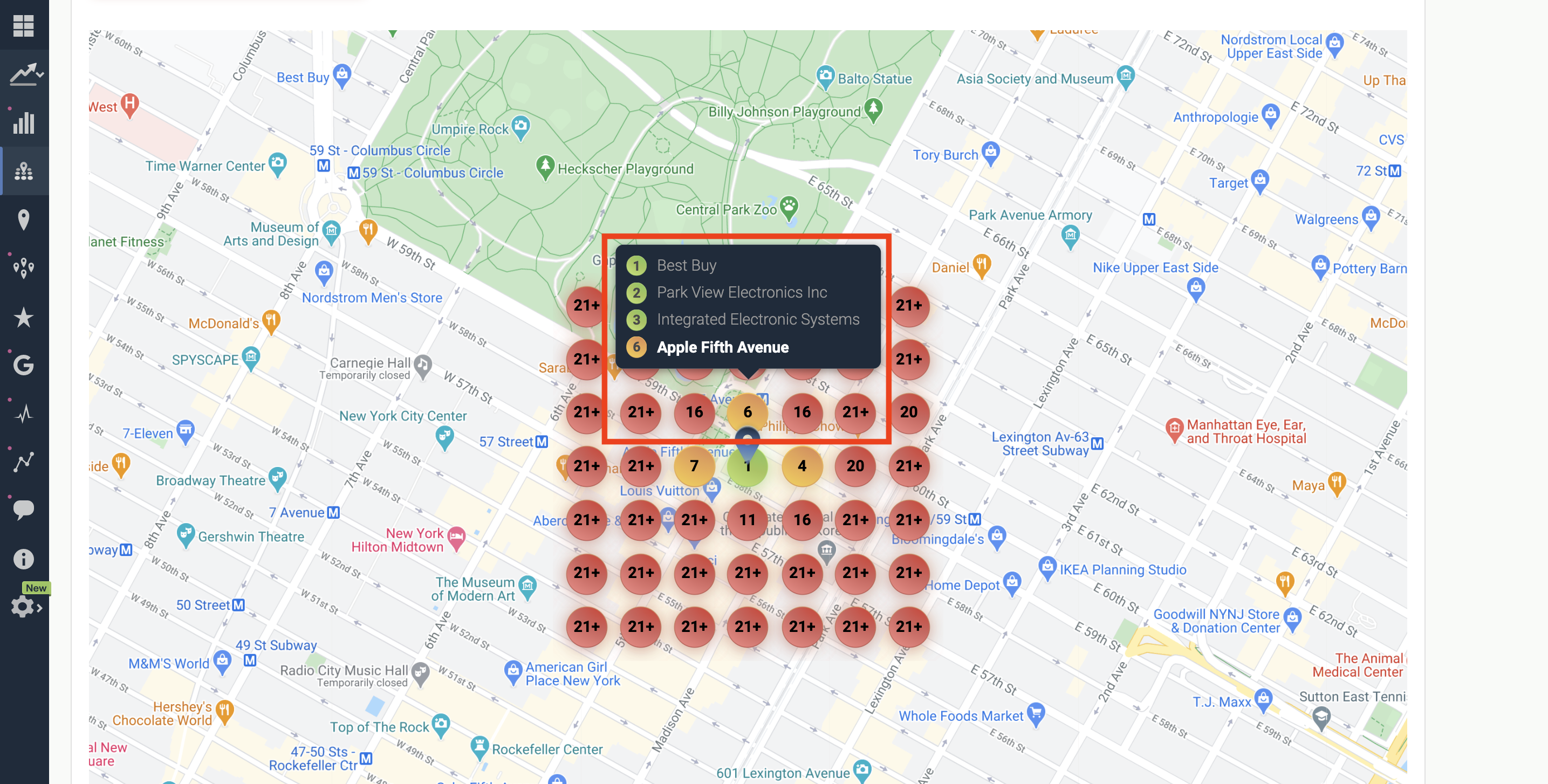 You can also click the grid points and pop up will appear (see image below) giving you further details on your competitors, such as their proximity to your business and how many reviews they have.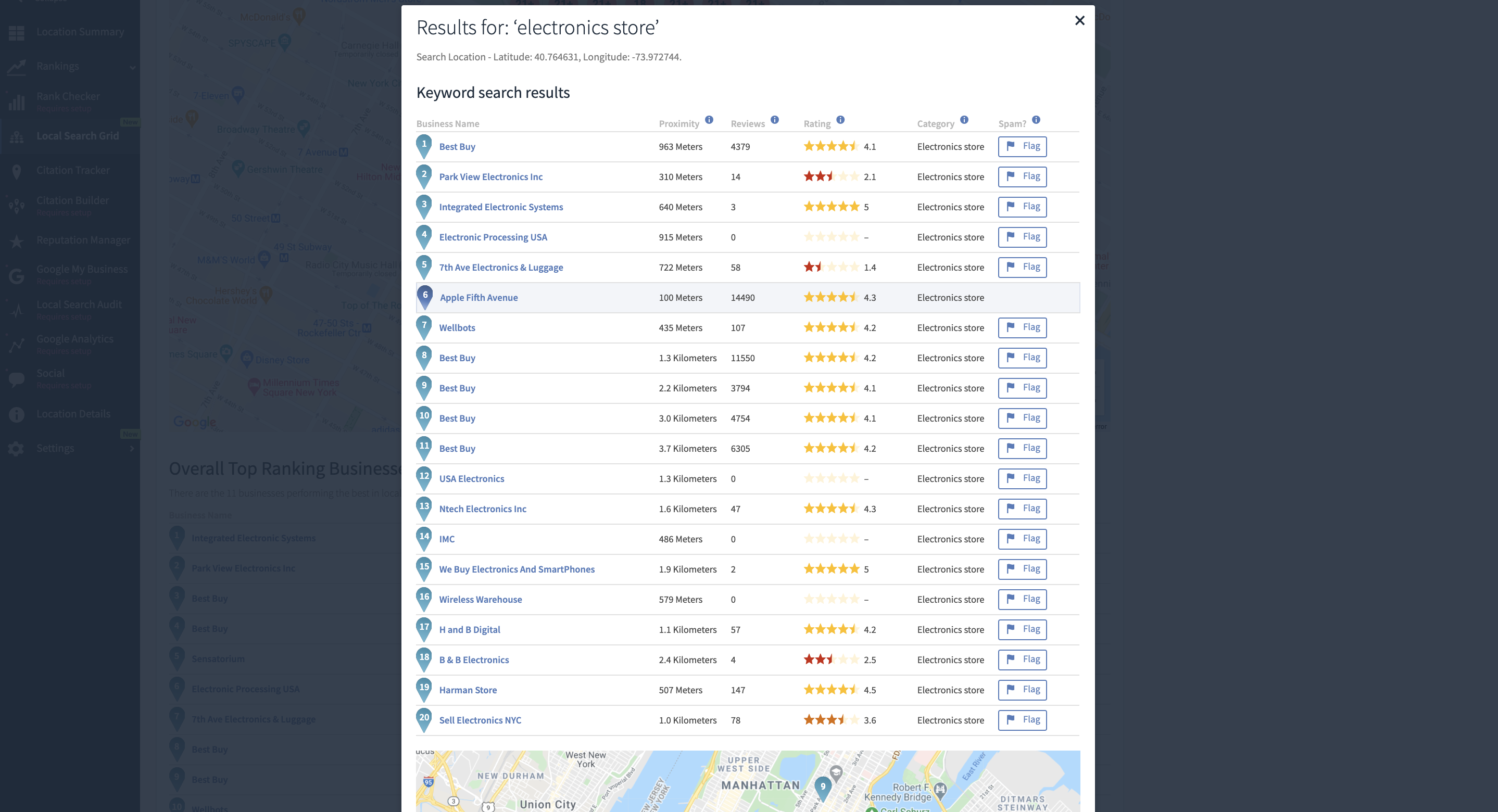 Scrolling down, the next table gives you an even better idea of who you're actually competing against so you can start to build a strategy for improvement.
Business Name: This is the business name of the competitor.
Avg Rank: Tells you the competitor's average ranking score.
Reviews: Gives you the number of customer reviews the competitor has.
Rating: Lets you know the competitor's average star rating.
Category: Gives you the primary category a competitor is using in their Google My Business profile.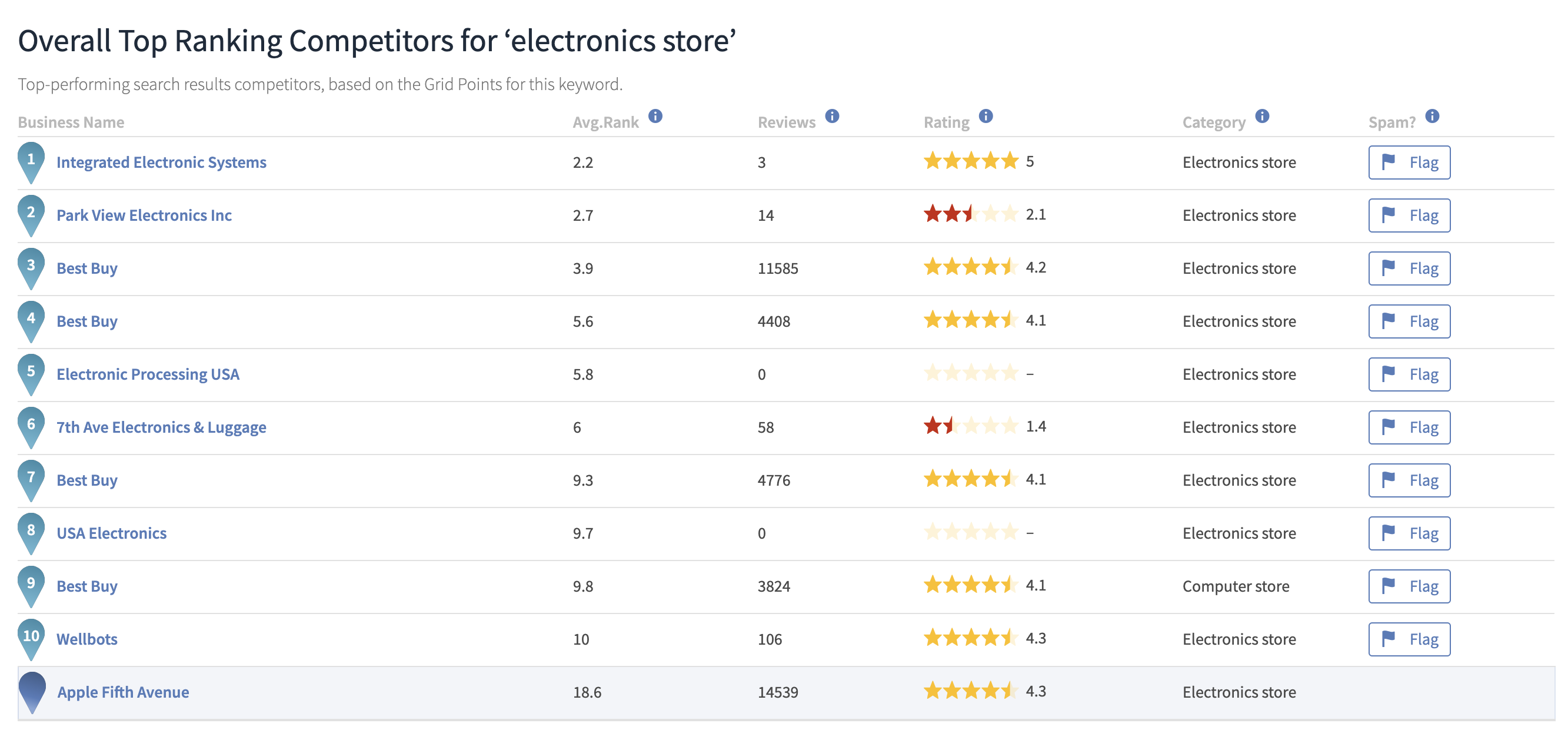 For example, if you notice in your own report that you have a similar number of reviews and star-ratings as your top competitors but that your category is set to something completely different, you might think about changing the primary category in your Google My Business profile to match theirs so you can try to rank higher.
For a side-by-side comparison and to see a competitor's rankings on a grid, click on a competitor's name in the table (as shown in the red box below).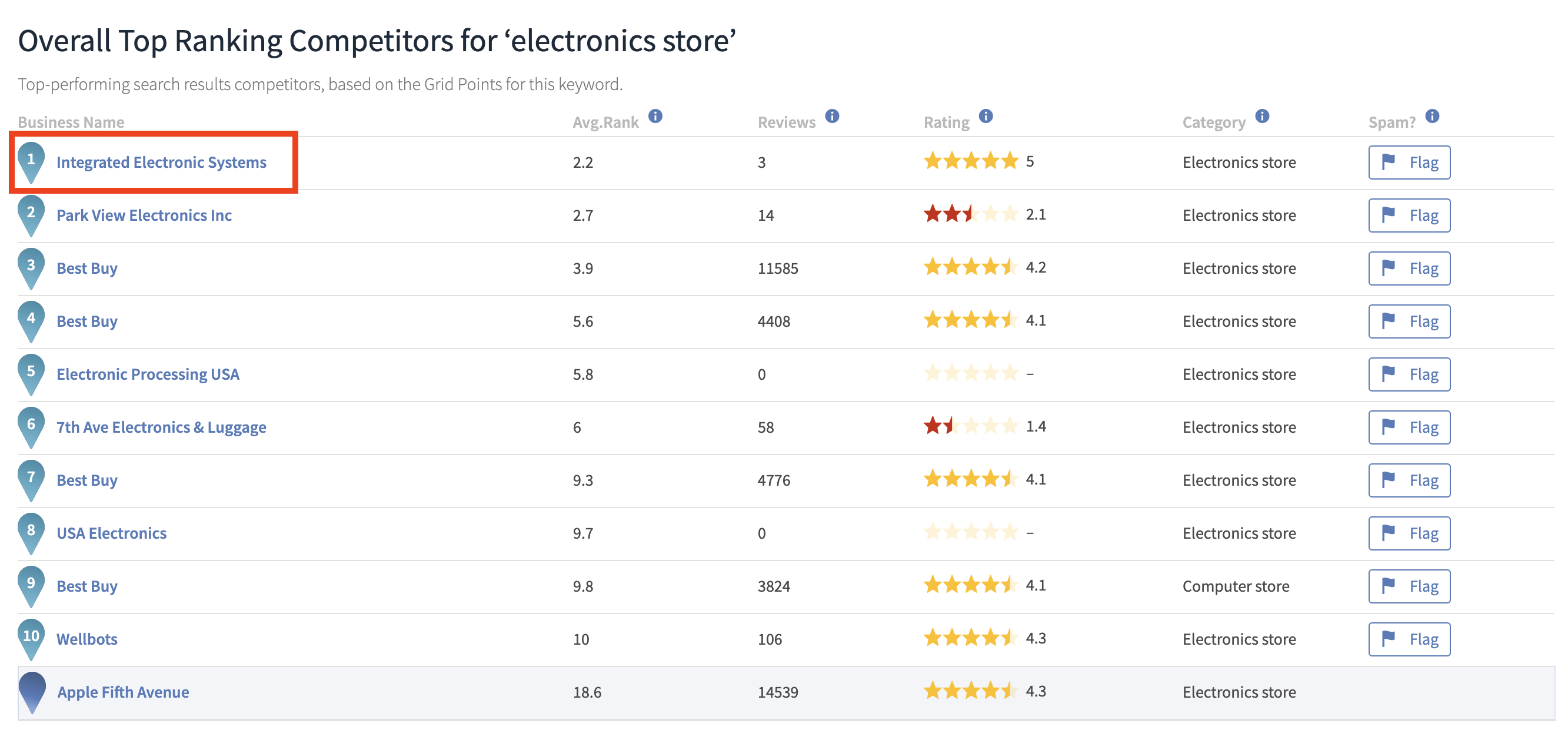 A pop up will appear showing you the competitor's rankings by grid points.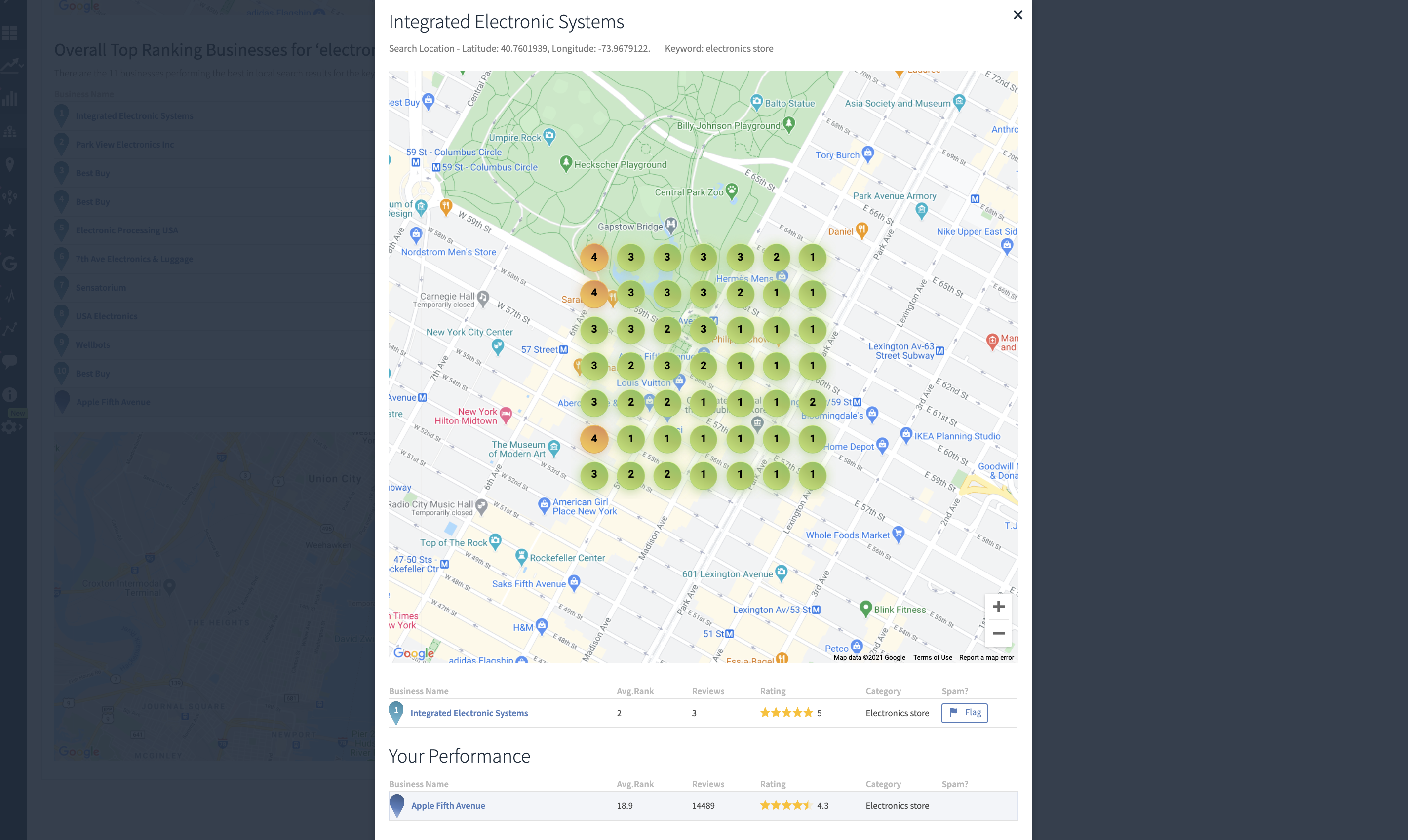 Back in the main report, the map below the table shows you where the competitors in the table are situated, so you can see how close they actually are.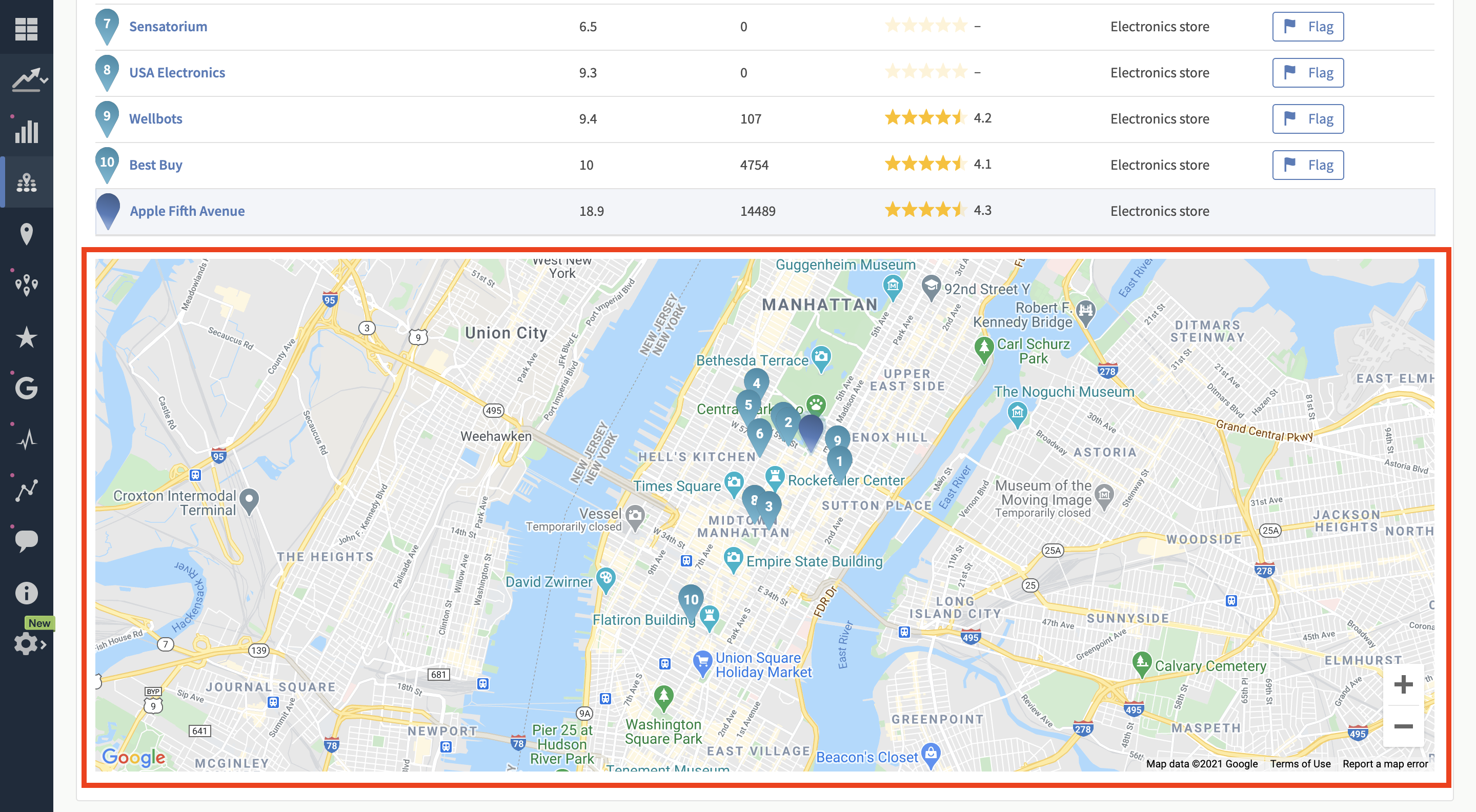 If at any time you want to edit or re-run the report, simply click the 'Actions' button.