In this overview, we explain how to understand the results of your completed Local Search Audit report.
If you prefer to learn by watching videos, check out our free course in BrightLocal Academy that shows you how to set up and understand a Local Search Audit report 👇


Once complete, a Local Search Audit report will look like this:


We will now explain what each section shows, and how to understand the report data.


1. Summary section

When you first open the Local Search Audit report, you are met with the 'Summary' section, which provides an overview of the results, and shows the score of each of the other sections. We use a unique set of formulas to calculate a score for each section and then convert this into an easy-to-read score of 'Good', 'OK', and 'Poor'.
You can click each colored box to see the section (instead of scrolling).


2. Links and Website Authority section

The first section is 'Links and Website Authority', which reports on some key SEO indicators that play a big part in how high your business ranks in search engine results. We generate some of this data through our proprietary systems; other data is pulled in from trusted partners, who are experts in their respective fields.
Each figure from this section is explained here:
Google Index Count: Google Index Count shows you the number of pages that Google has indexed on your site — it's important that Google can do this, so it can 'read' your content to understand what you do / offer, then return your business for relevant searches. You need to ensure that Google (and other search engines) can read all the pages that you want them to.
Link Count: This the number of links that lead from other websites through to yours. Links are very important in SEO — as a general rule, the more inbound links (aka backlinks) your site has, the more authority it has, and the higher it should subsequently rank. Links are an important factor in ranking in organic search results and local pack search results; it's vital that you have more links than your competitors and that these links come from sites that Google trusts. Link count data is provided by Moz.
Linking Domains: This represents the number of websites that link to your website. It's important to get as many different trusted websites to link to you as possible, as Google views these as 'votes' for your site / business. It's more powerful to have 100 links from 100 sites than it is to have 100 links from one site, and these sites must be relevant to your business or location and / or have high Domain Authority (Google trusts these sites more). You should also aim to have more sites linking to you than your competitors do, but ensure that they're sites that Google trusts and thinks are relevant to your business. Linking Domain data is provided by Moz. (Want to know how to get awesome local links? Check out this free course from Greg Gifford in BrightLocal Academy)
Majestic C-Flow: C-Flow is a link-related score, which is calculated based on the number of inbound links your site has — the higher the C-Flow, the better. You should aim to have a higher C-Flow score than your competitors. C-Flow is provided by Majestic.
Domain Authority: This score is similar to 'Page Rank', and is a measure of the 'rankability' of your website, considering over 150 different SEO signals. The higher your site's Domain Authority score, the higher it should rank; having a higher score than your competitors is important. As you improve different areas of your SEO, your Domain Authority should increase as a direct result. Domain Authority is provided by Moz.
Website Age: This is the date your website was registered. Search engines trust older websites more than new ones.
Here you will see the section score (Good', 'OK', or 'Poor'), depending on the results of the section. This will be shown in the top right-hand side of each section.

Learn How to Do Kickass Competitor Analysis with BrightLocal here>
Find out How to Track Your Competitors Using BrightLocal here>
3. Rank Tracker section

This section reports the positions ('rankings') that your website or business appears in for your important keywords. We report on your rankings in the largest search engines (Google and Bing) and within their local offerings (Google Maps and Bing Local).

Within the search results, we look for your website / business name, and show you the position in which you appear. If we find more than one result for your website / business, we will report multiple results in the ranking results table. We look through the top 50 results — if you don't appear in the top 50, we return a result of >50.

You want to appear as high up the search rankings as possible, therefore lower numbers are good. The aim should be for you to appear in positions 1, 2, and 3 as many times as possible. If you have lots of >50 results, that means there is a big opportunity for you to move up the rankings.


4.

Local Business Listings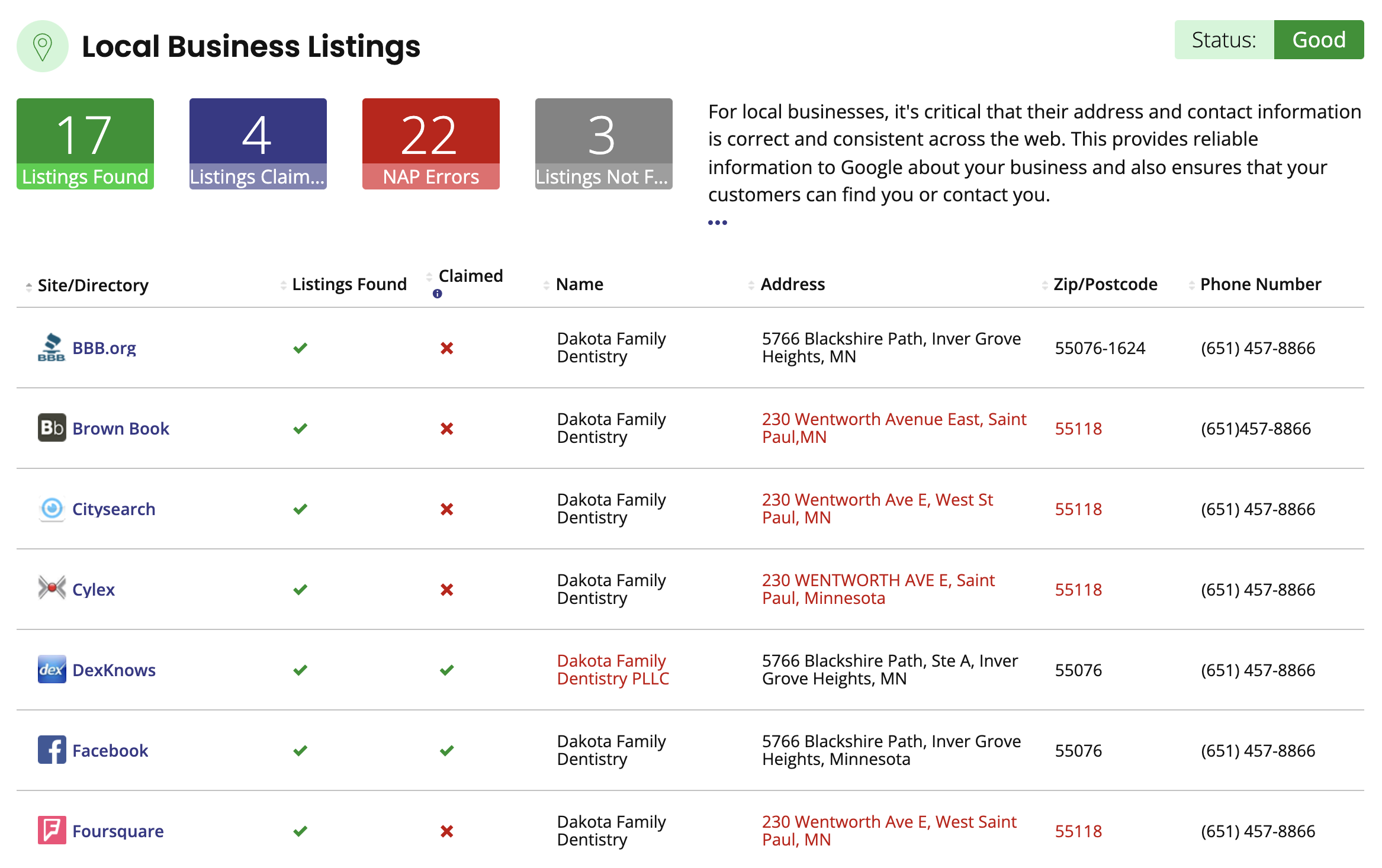 For local businesses, it's critical that their address and contact information is correct and consistent online — this provides reliable information to Google about your business and also ensures that your customers can find or contact you.

This section audits the most powerful online directories, then reports back on whether you have a listing there. If you do, we check if your information is complete and consistent, and highlights in red any errors so you know what needs fixing. These directories can be a direct source of new customers, but they're also able to boost your local ranking within Google.


5. Reviews and Ratings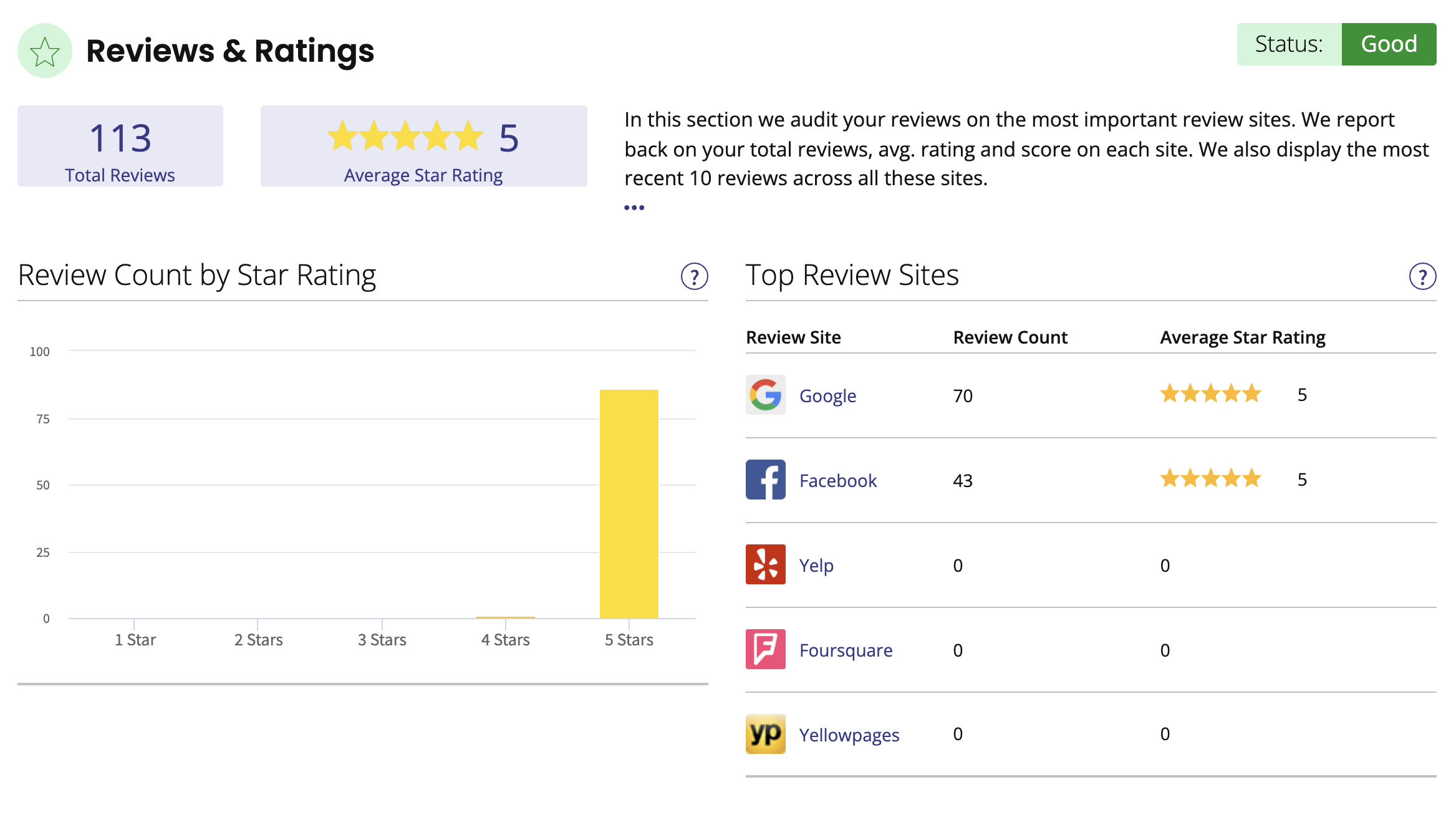 In this section, we audit your reviews on the most important review sites, then report back on your total reviews, average rating, and score on each site. We also display the 10 most recent reviews across all these sites.
Having positive reviews has a huge impact on your reputation — the better your reputation, the more customers you will win online.
Positive reviews can make your business rank higher in search results, increase click-throughs from search, and build consumer trust in your business; all of these generally lead to more customers and increased revenue.
Review Count by Star Rating: This chart shows you how many 1-star, 2-star, 3-star, 4-star, and 5-star reviews you have received across the top five sites.
Top Review Sites: The number of reviews you have on every site is shown here, along with the star rating for each site.


6. Google Business Profile section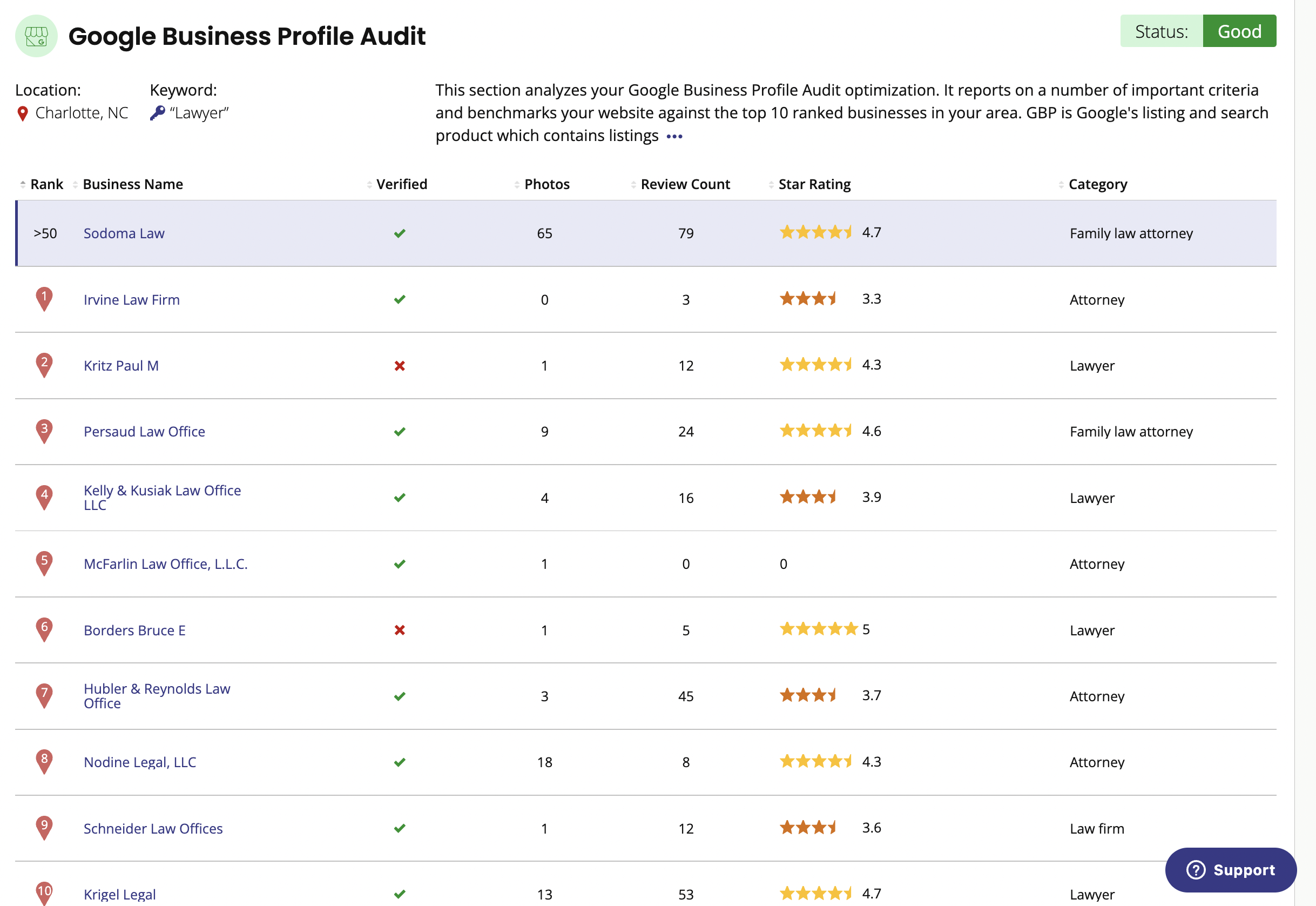 This section analyzes your Google Business Profile (formerly known as Google My Business) optimization, and reports on a number of important criteria, while benchmarking your website against the top 10 ranked businesses in your area.
Google Business Profile (GBP) is Google's local listing and search product, which contains listings of local businesses and places. Listings from GBP appear in organic search results and Google Maps results on both desktop and mobile devices — this is why GBP is a hugely powerful marketing opportunity for local businesses; getting your optimization correct here is critical to attracting new, local customers.


7. On-Site SEO section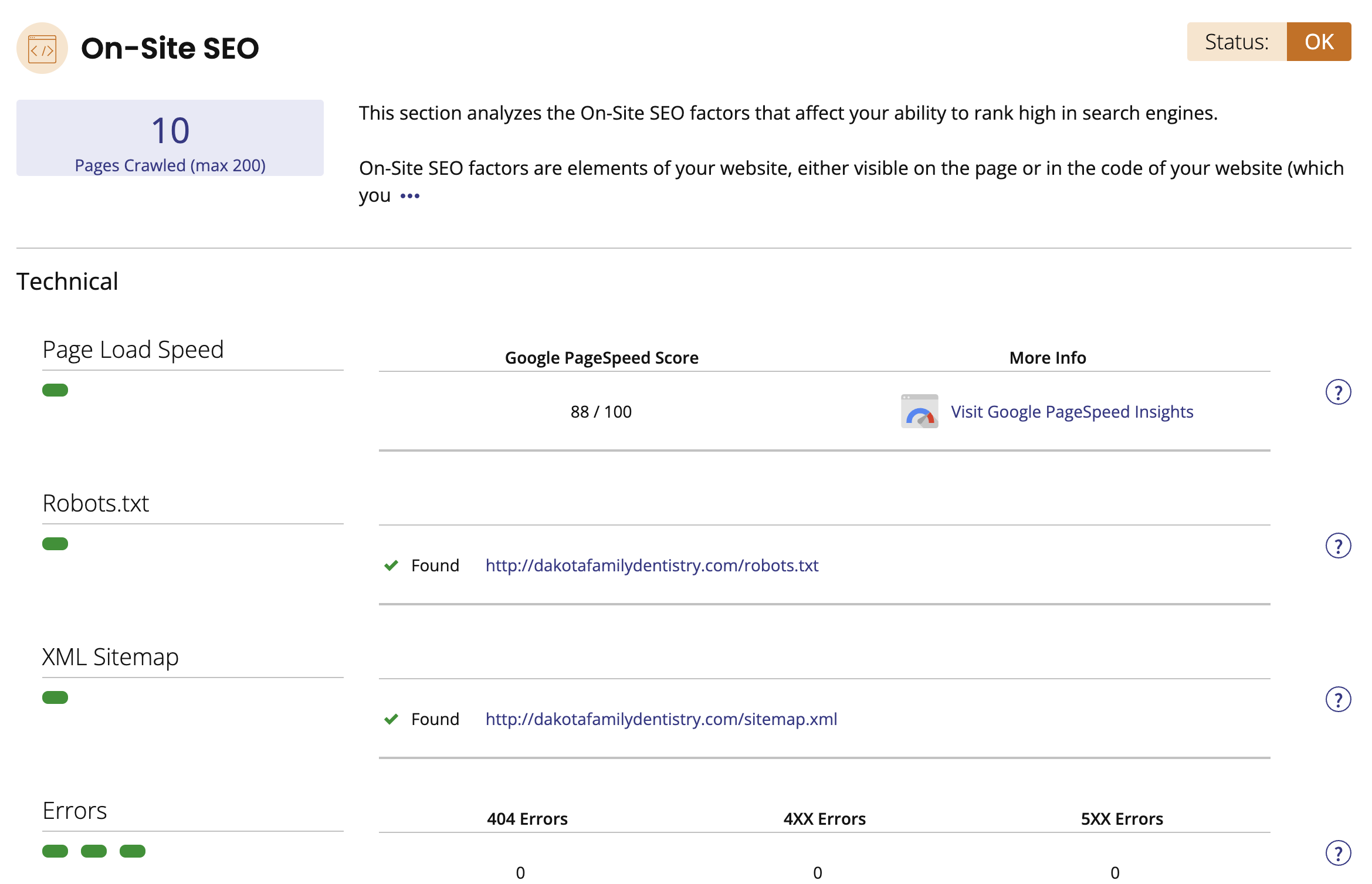 The On-Site SEO factors affecting your ability to rank higher in search engines are analyzed within this section.
These factors are elements of your website — either visible on the page, or in the code of your website (which you can't see, but search engines can), that affect the site's search rankings. It's easier to improve SEO factors on your own site, since you have control over it.
In this section, we summarize the findings from all the pages that we audit on your site (a maximum of 200 pages). You can view page-specific results in the Appendix at the end of the report.
We use a complex formula to calculate your overall score for this section.
a) Technical results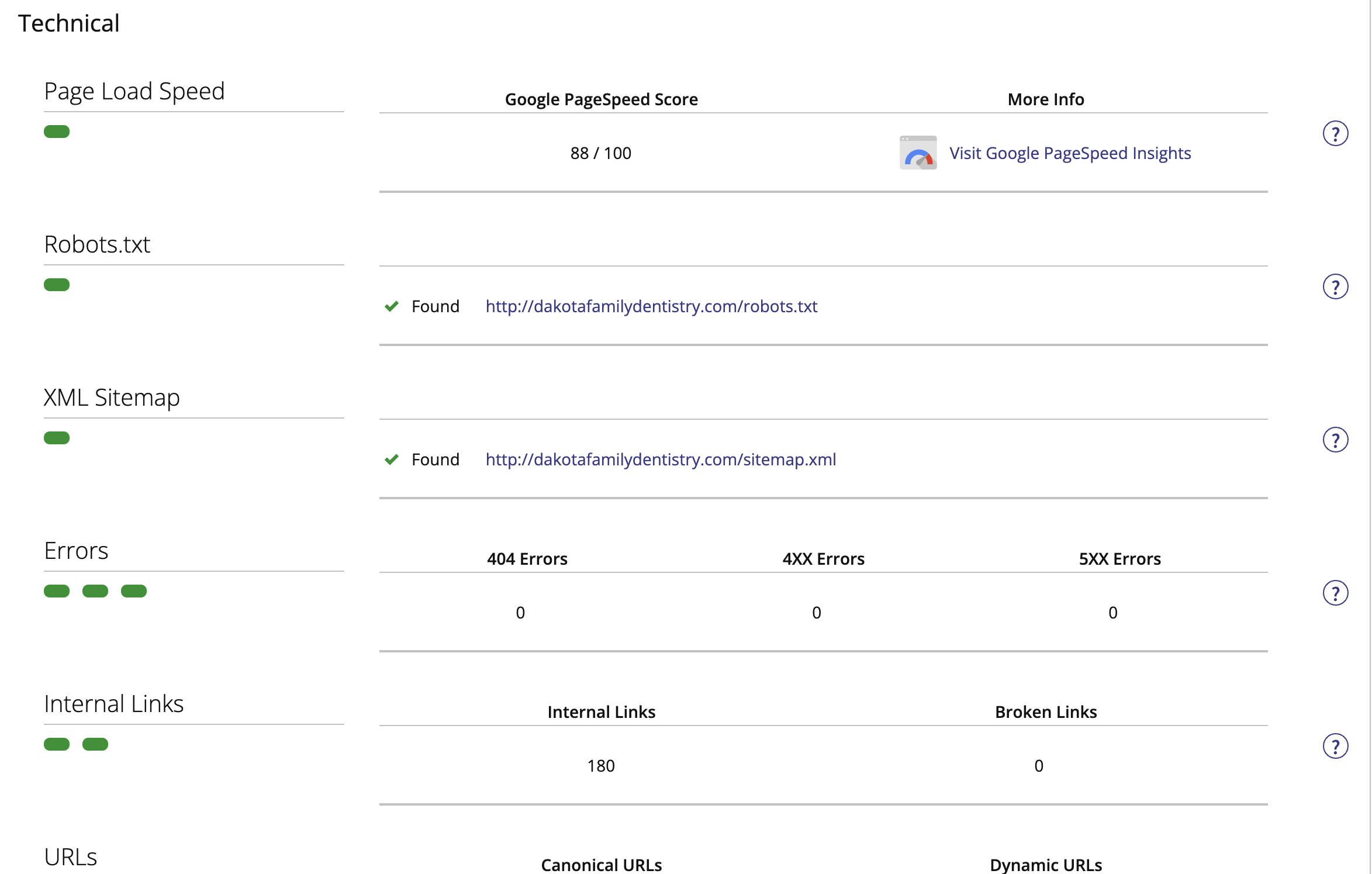 Page Load Speed: This is a measure of how quickly your landing page loads when viewed using a desktop device — we get this score from Google's PageSpeed Insights API, which checks to see if the page uses common performance best practices to load quickly. The faster a page loads, the better the experience for your users. Scores range from 0 to 100 points, where 100 is the optimum score.
Robots.txt: Robots.txt is a file that sits in your website code, and tells Google which pages on your site to look at (and which to ignore). It's important to have a robots.txt file to help Google index all the pages you want it to.
XML Sitemap: An XML sitemap is like a 'Contents' page for your website, helping Google to properly index your site, and thereby giving it the best possible chance of ranking for relevant searches.
Errors: Errors are pages (URLs) on your site that return an error because they no longer exist, or they have a problem. It's important to resolve these errors, so that customers don't go to these broken / missing pages — Google can actually reduce the authority of your site if your error count is high.
Internal Links: These connect pages on your site to each other. You can use links to tell Google lots about the content of your site and how different pages and topics are related.
Canonical URLs / Dynamic URLs: We check your landing page for issues with URL canonicalization, which is used to avoid duplication issues when a website has more than one different URL for the same page (e.g. if http://www.example.com and http://example.com display the same page, but search engines see two different URLs). If this happens, search engines may be unsure about which URL is the correct one to index. Canonicalization tells search engines which page to list in SERPs.
SSL: This is a common way to make websites more secure — by adding an SSL certificate to your site, it makes it safer for users to input data or download data because the transfer of that data is encrypted and, therefore, harder to intercept. Google has said that they will give ranking priority to sites that use SSL.


b) SEO results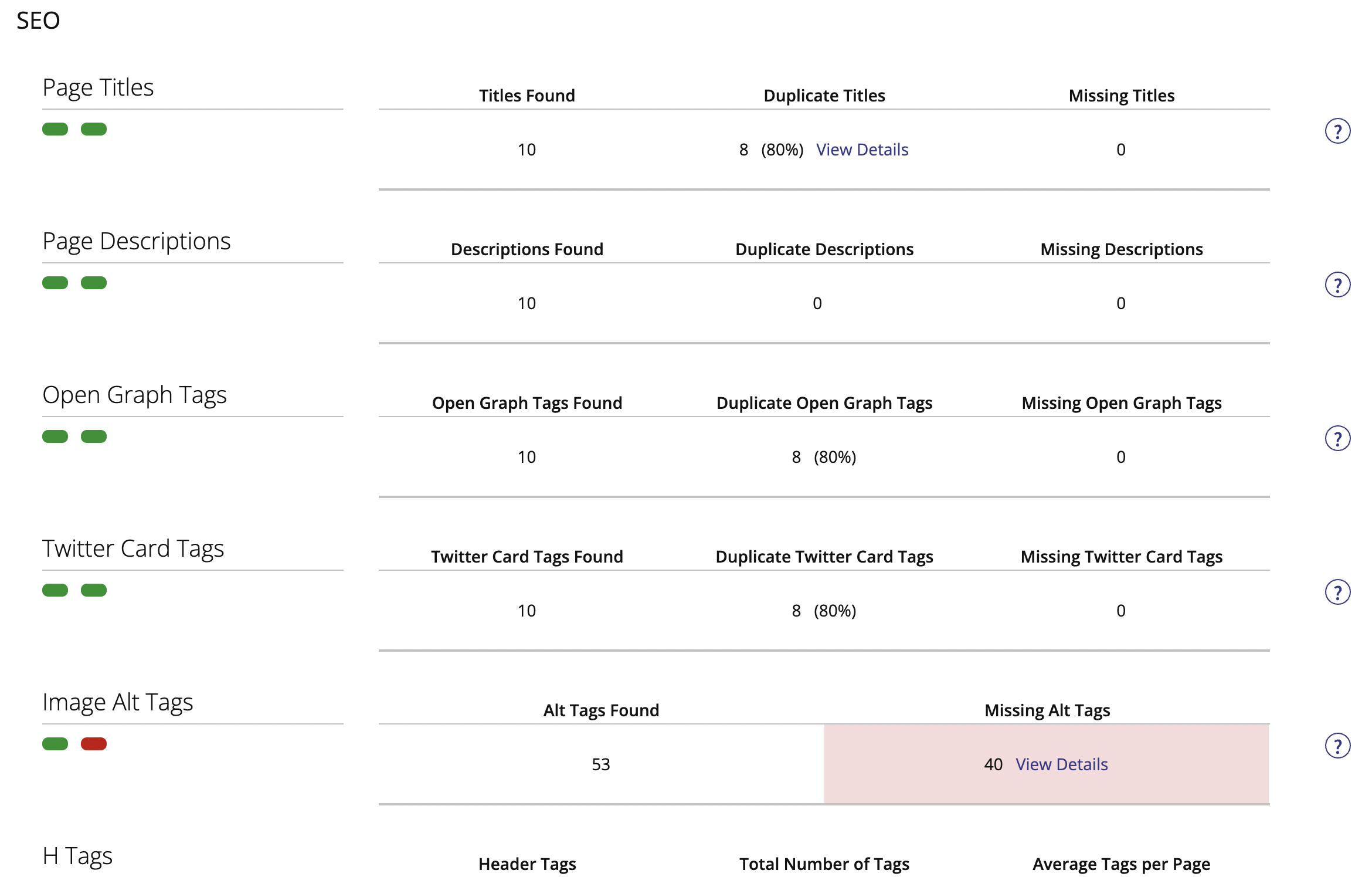 Page Title: Each page on your site has a title that appears in the page code and tells Google what each page is about — it's a visible tag that appears in the search results and on browser tabs, and it's a very important factor in SEO. Page Titles should be unique to each page, containing your most important keywords.
Page Descriptions: Each page has a description that appears within the code of the page, and is visible in search results. Although Google doesn't see these descriptions as ranking factors, search terms appear in bold when they're displayed in search results, which attract the eye of searchers. As a result, Page Descriptions should be unique to each page, containing your most important keywords.
Open Graph Tags: Open Graph protocol was developed by Facebook to give website owners an easy way of describing the content of a page, thereby letting Facebook correctly read and reference it. Using Open Graph tags allows you to control the content that's shown when a page is shared on Facebook.
Twitter Card Tags: Messages on Twitter are currently limited to 280 characters, which isn't much space to communicate your message. To help websites communicate more, Twitter developed 'Twitter Cards', which are based on tags that sit in the code of a web page — these enable website owners to provide a lot more information by including images, video, and download links that appear inside Twitter. This allows your website's content to stand out much more in tweets that include it.
Image Alt Tags: Alt Text is a method for adding a text description to an image. Search engines can't currently read images to determine their content reliably, so adding 'Alternative Text' lets you tell Google what the image is about. A useful way of reinforcing what a web page is about, this gives Google more relevant signals that have a positive impact on your SEO.
H Tags: H tags (or 'header' tags) sit in the code of your site and help to structure your page content in a way that highlights to Google the top-line keywords and topics the page covers. H1 tags (of which there should be only one per page) have a higher SEO value than H2 tags, H2 tags have a higher SEO value than H3 tags, and so on.
Wordcount: We analyze all the pages on your site (a maximum of 200), and calculate the average number of visible words per page. We also track the pages that have less than 500 visible words per page.
Flash: Flash is a multimedia platform that some websites still use, but that is soon to be deprecated by Adobe — we check your landing page to see if it uses Flash. Google can't easily read Flash, and it can block Google from indexing your site. The current website best practice is to avoid using Flash and use HTML5 instead to achieve the same results. You'll also want to avoid the use of Flash because it doesn't work well (or at all) on mobile web browsers.


c) Mobile results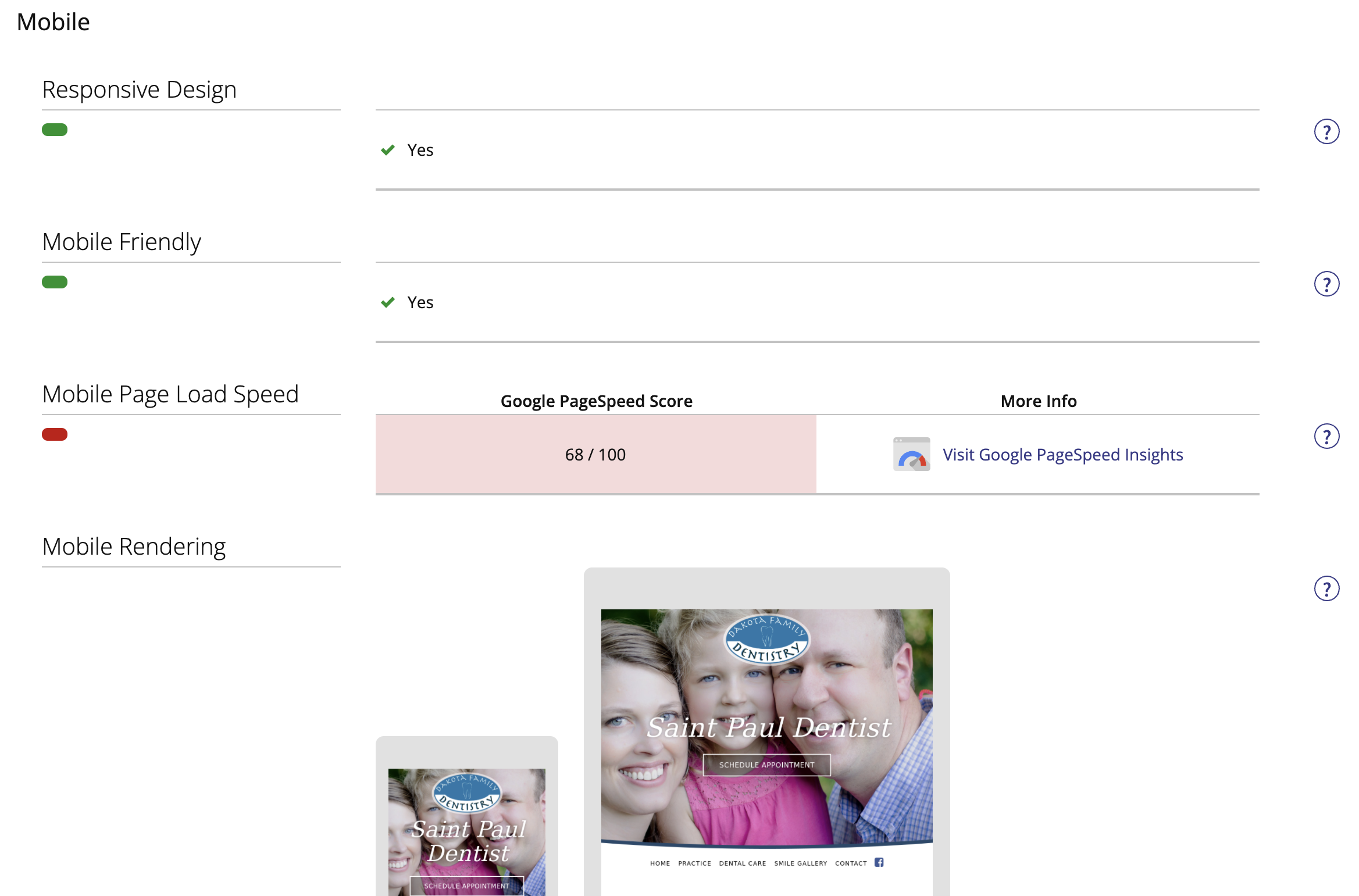 Responsive Design: Having a 'responsive' website means the page width and content of each page auto-adjusts depending on the screen size of the device being used to view it — this gives the best possible experience to users who view your site on mobile devices, tablets, and desktops. As a result, users will typically be encouraged to stay on your site and visit more pages. Google looks favorably on sites that give users the best possible experience, so this can have an impact on your search ranking.
Mobile Friendly: With the majority of web browsing now happening on mobile devices, it's important that your website works well for mobile users. Adjusting the content layout is one way to make your site more usable. Other considerations are text size (bigger is better on mobile) and how easy it is for mobile users to click on buttons and links — we obtain this data from Google's PageSpeed Insights API.
Mobile Page Load Speed: This scores how quickly your landing page loads on a mobile device.
We obtain this data from Google's PageSpeed Insights API, which checks to see if a page has applied common performance best practices, and then reports back with a score of 0-100 points (where 100 is the optimum score).
Mobile Rendering: These screenshots show how your landing page appears on mobile (left) and tablet (right) devices.


d) Content results

Physical Address: Having your physical address on your website is important for Google Local rankings, as Google looks for an address on your site to confirm the address it has on record for you. Google looks for a local phone number to confirm where your business is located, and to make sure it's consistent across all other listings you might have.
Phone Number: Including your Phone Number on your website is important for Google Local rankings — this is because Google looks for a local phone number to confirm where your business is located, and to make sure it's consistent across all other listings you might have.
Schema.org Markup: Schema.org provides a set of common 'tags' that can be applied to common items on a website to make it clear to search engines what that content is. It's important to make your content easy to understand; using schema helps with this. We specifically look to see if your business name, street address, and phone number are 'marked up' with the correct Schema.org tags.
Top Keywords: We analyze all the pages on your site (a maximum of 200), and filter the visible content to determine the most common keywords used — this is useful for ensuring that your site is truly focused on the right keywords, so it's clear to Google what you offer and where you're located.


e) Google Analytics

Analytics Tags: We check your site to see which website analytics solution you use (e.g. Google Analytics), then we report on those that we find, and if you're also making use of Google Tag Manager (GTM), which is a simple way of adding analytics tags to your code.


9. Appendix section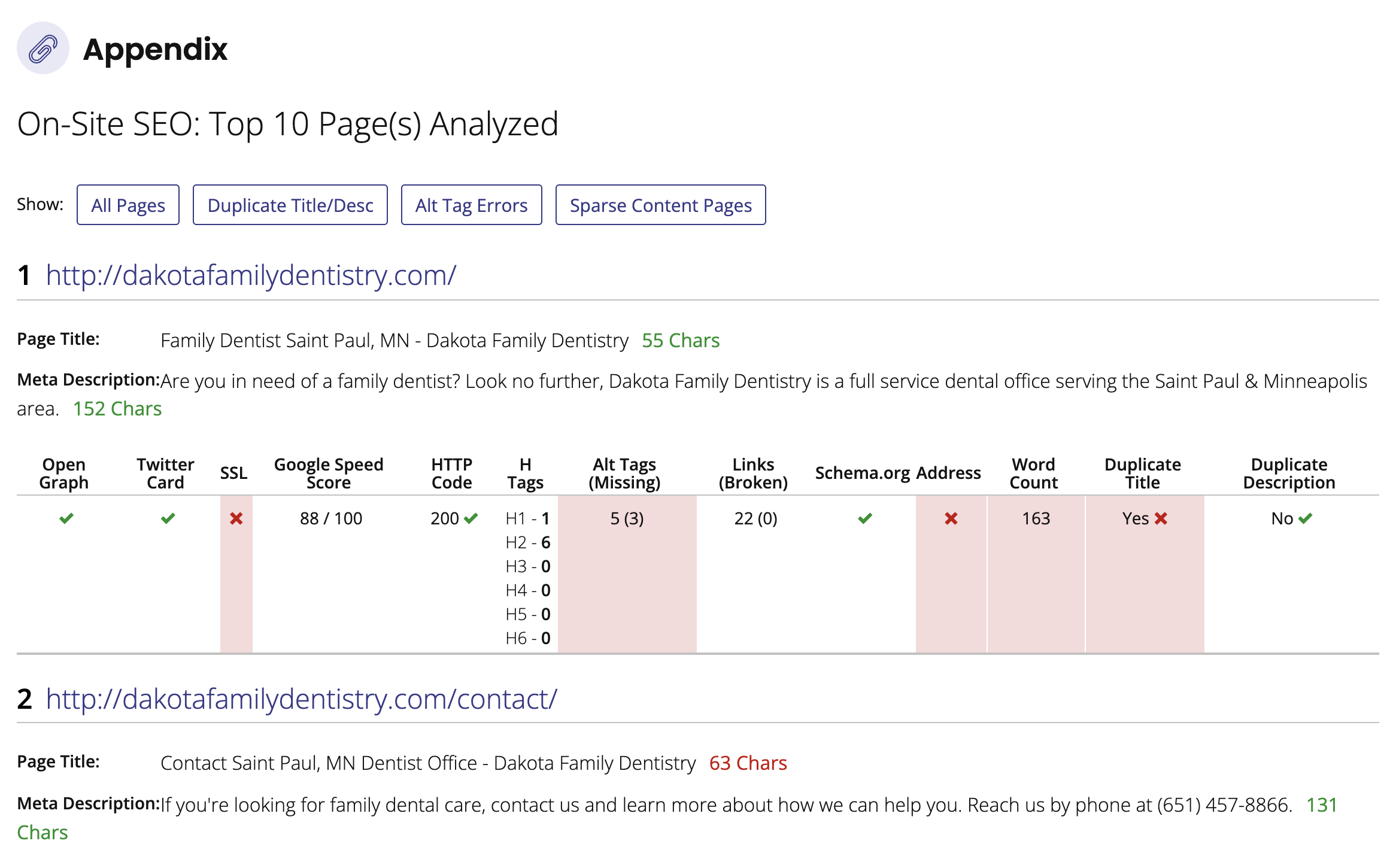 The Appendix is a brief overview of key information for pages of your site. Currently, we only provide appendix information for up to 200 pages of your site.
The following are all recorded by the Appendix:
Page title

Meta description

Meta keywords

Internal links

Headline tags

Outbound links (no follow)

Response code

Load time

Number of redirects

Primary keyword visible
To learn more about how to uncover the biggest optmization opportunities with Local Search Audit, enroll in BrightLocal Academy for free today.