In this guide, we'll take you through the stages of creating a Google Business Profile Audit report.
If you prefer to learn by watching videos, check out our free course in BrightLocal Academy that shows you how to set up and understand Google Business Profile Audit report 👇

1. Initial Setup
There are two ways to create a new Google Business Profile Audit report, depending on whether or not you already have a Location set up.
a) Create a Google Business Profile Audit report with no existing Location
To create a Google Business Profile Audit report without a Location already set up, first, click the ' Local SEO Tools' dropdown in the Top Menu and select 'GBP Audit' (shown below within the red box).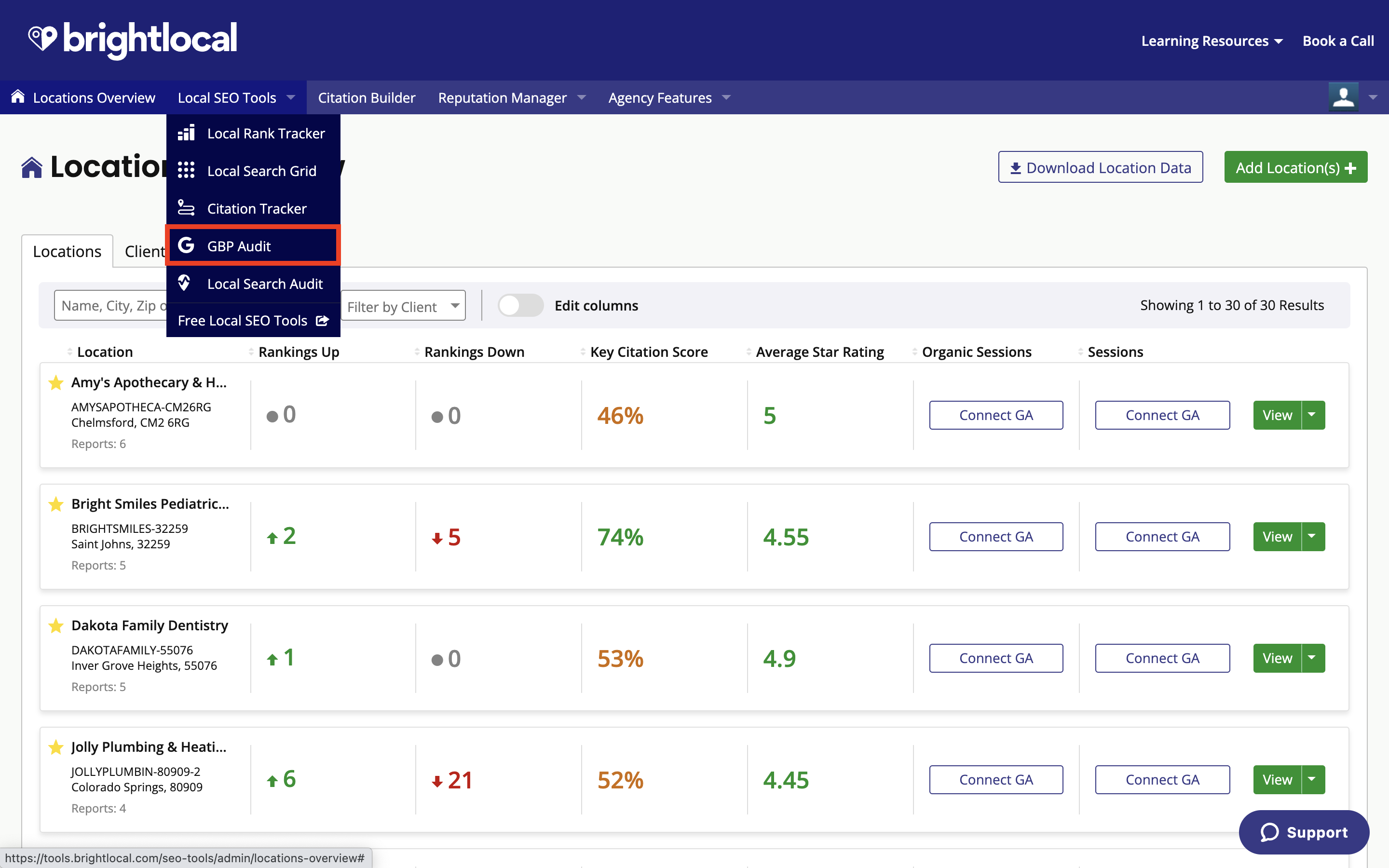 This will take you to a list of all existing Google Business Profile Audit reports — if any have been created.
Next, click the green 'Add New Report' button (indicated below in the red box).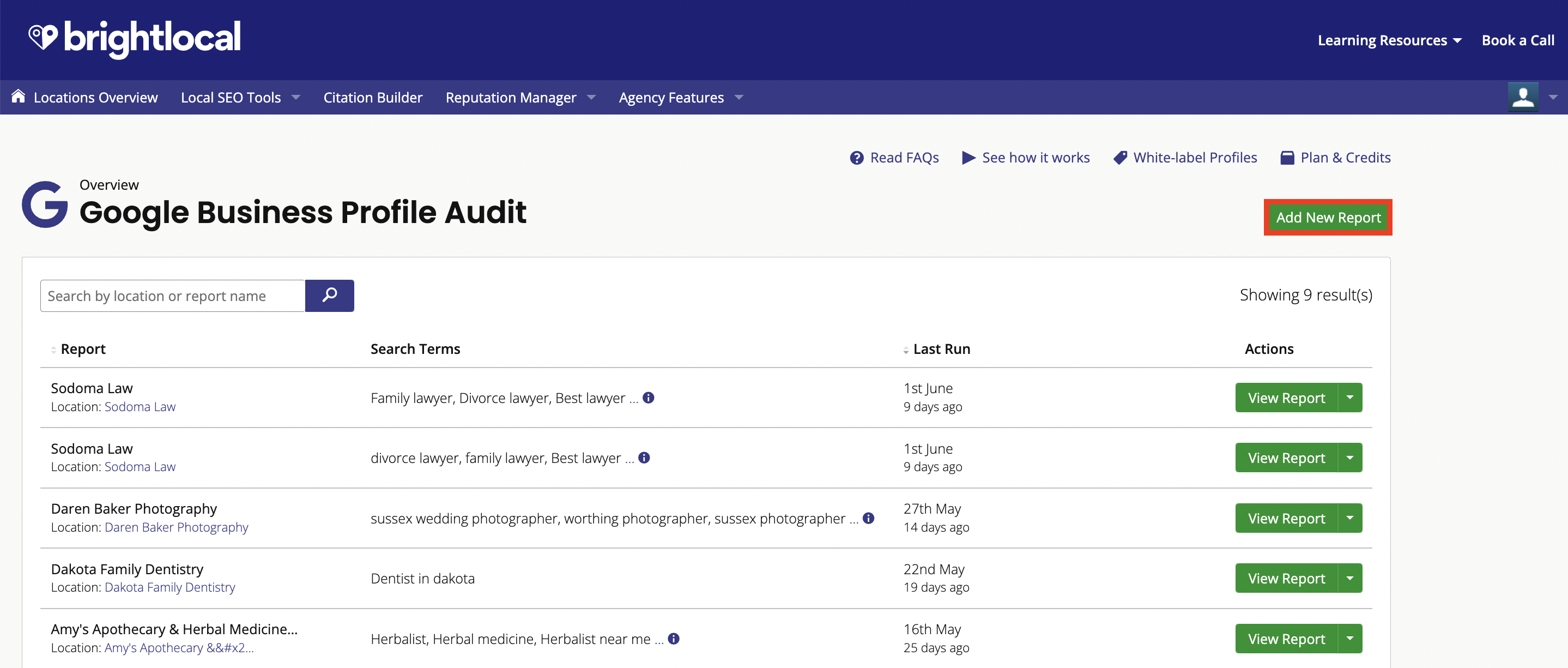 b) Create a Google Business Profile Audit report with an existing Location
If a Location has already been set up, and you want to create a Google Business Profile Audit report for it, please follow these steps:
Click 'Locations Overview' in the Top Menu — you will then see a list of Locations.
Click the 'View' button to the right of the Location for which you would like to create the Google Business Profile Audit report.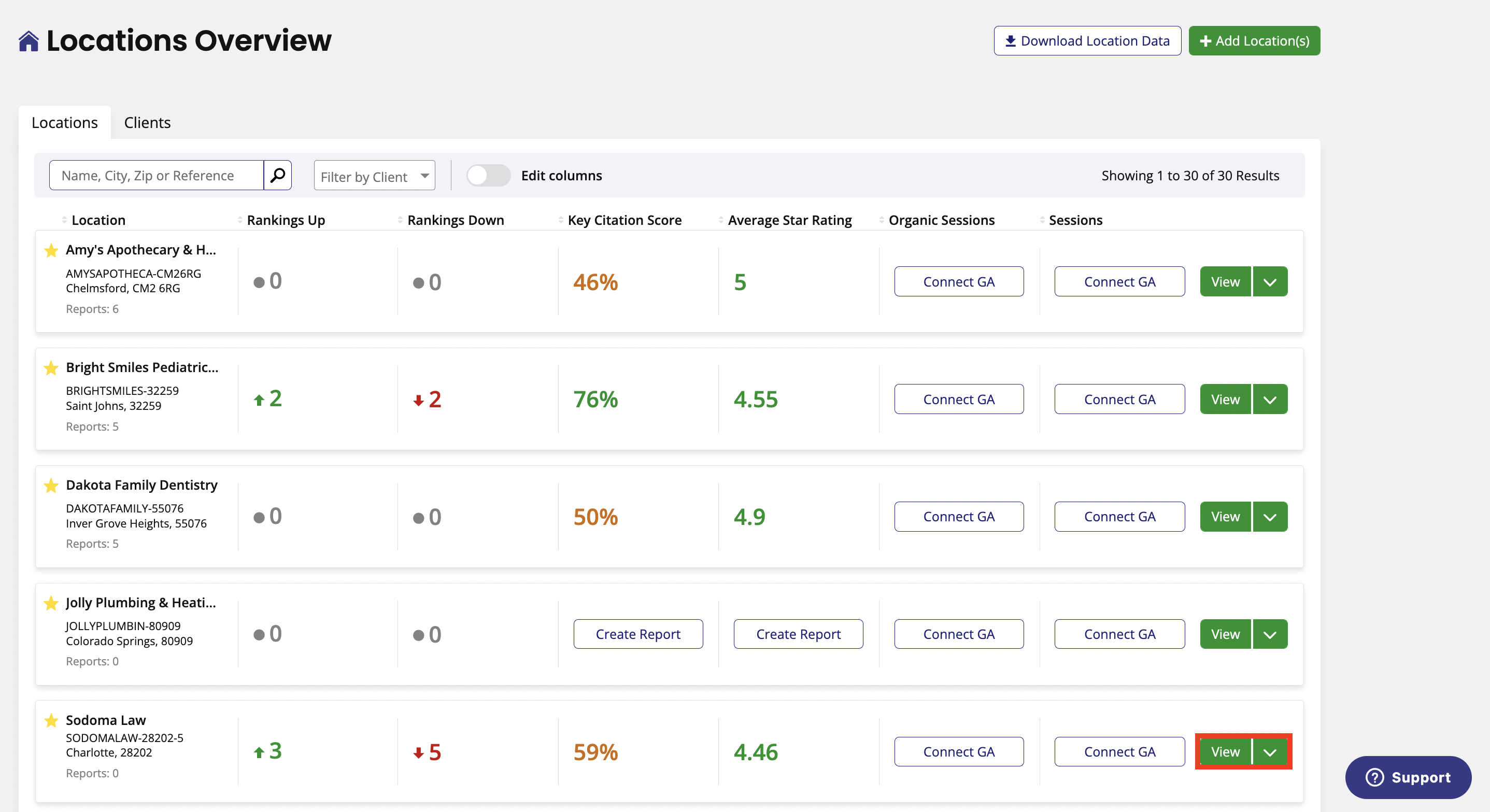 The Location sidebar menu on the left will show a list of all of the reports for your Location. Click 'GBP Audit' from this menu.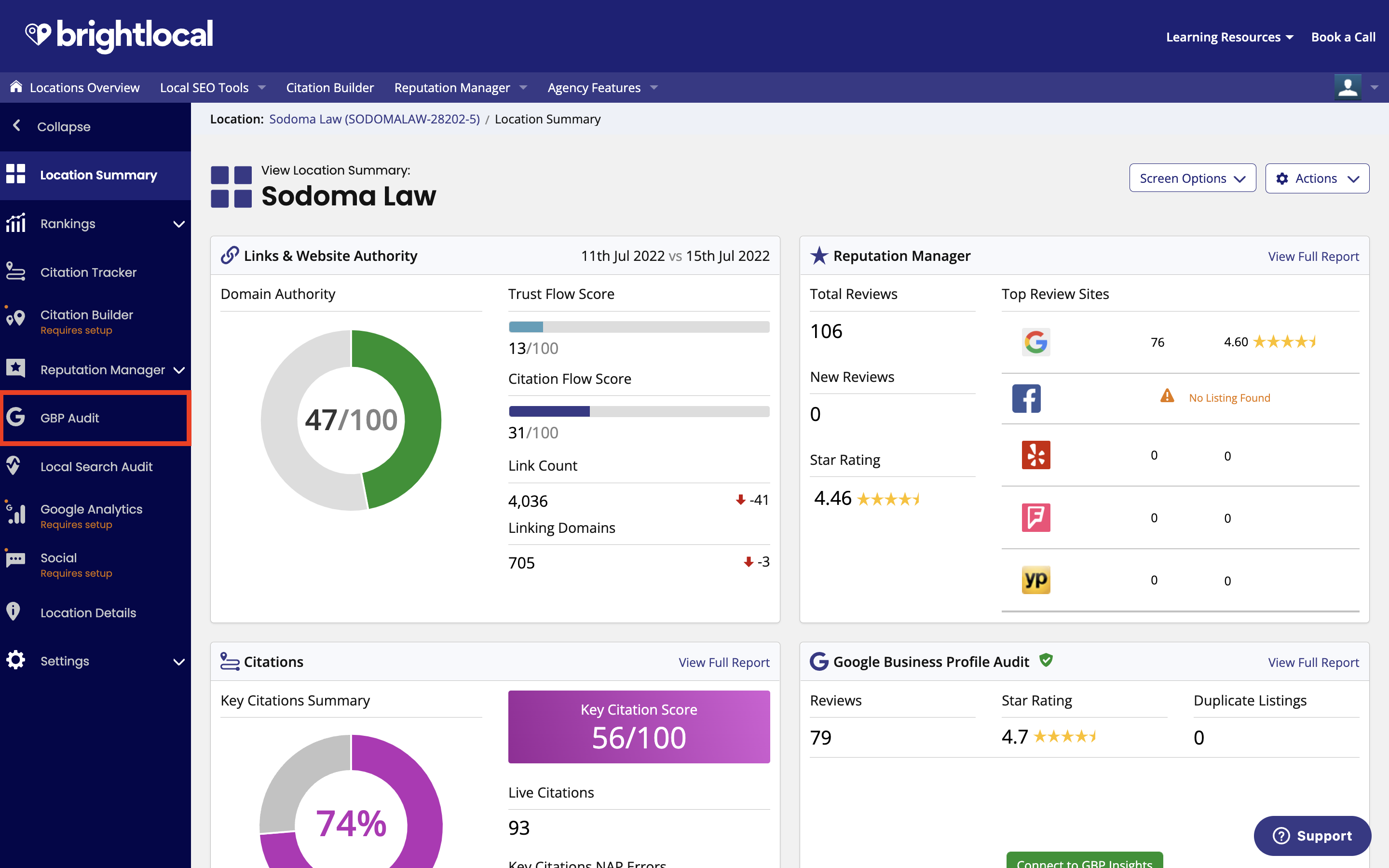 To set up a report to monitor your Google Business Profile data and benchmark yourself against local competitors, just click on the green 'Monitor Google Business Profile Audit' button.
To monitor GBP Insights, click on the green 'Monitor GBP Insights' button. If you would like to choose both, simply set one of them up first, and you will have the option to set the other one up afterwards.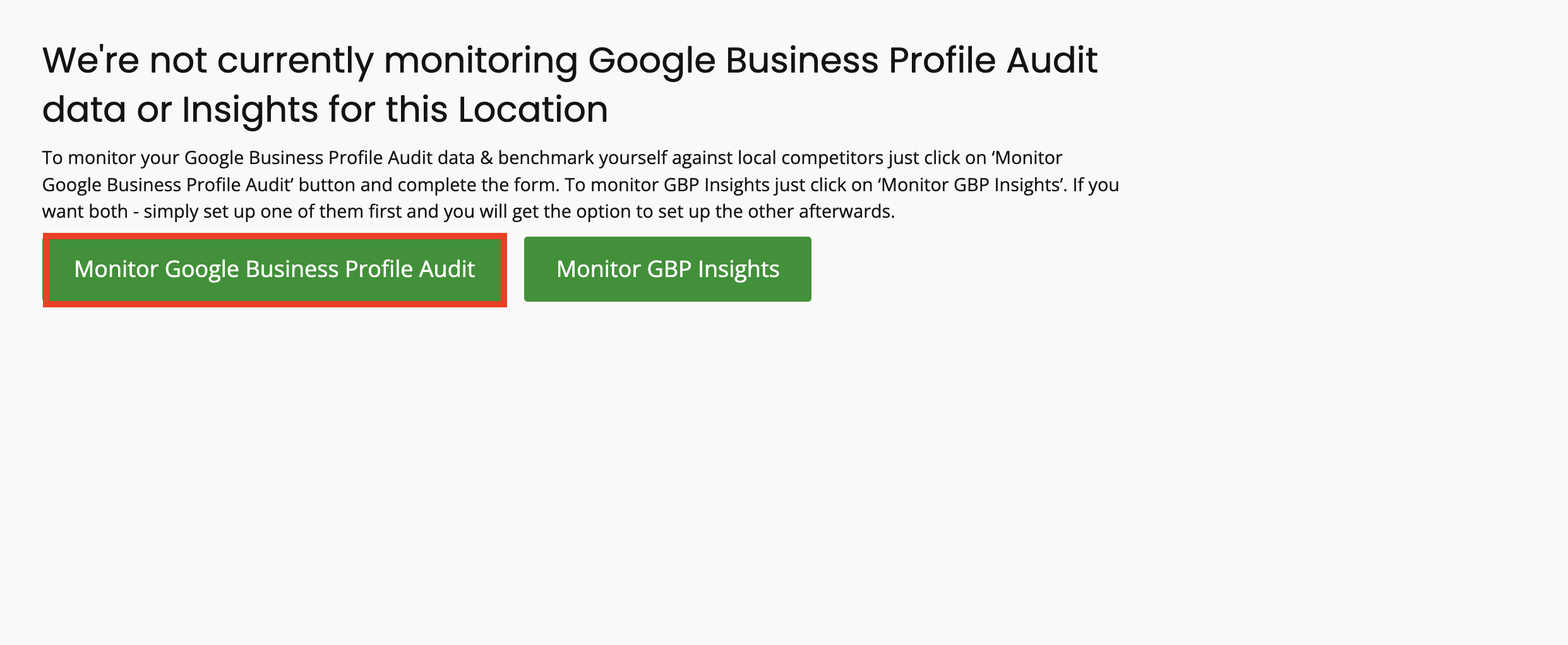 You'll now see a popup asking whether you want to monitor all your data at once, or just stick with Google Business Profile. If you want to set up multiple reports, you can select 'Monitor All My Data'.
However, in these guides we'll be focusing purely on Google Business Profile Audit reports, so click 'Monitor GBP Data Only' for now (you can always come back and choose to monitor more data later).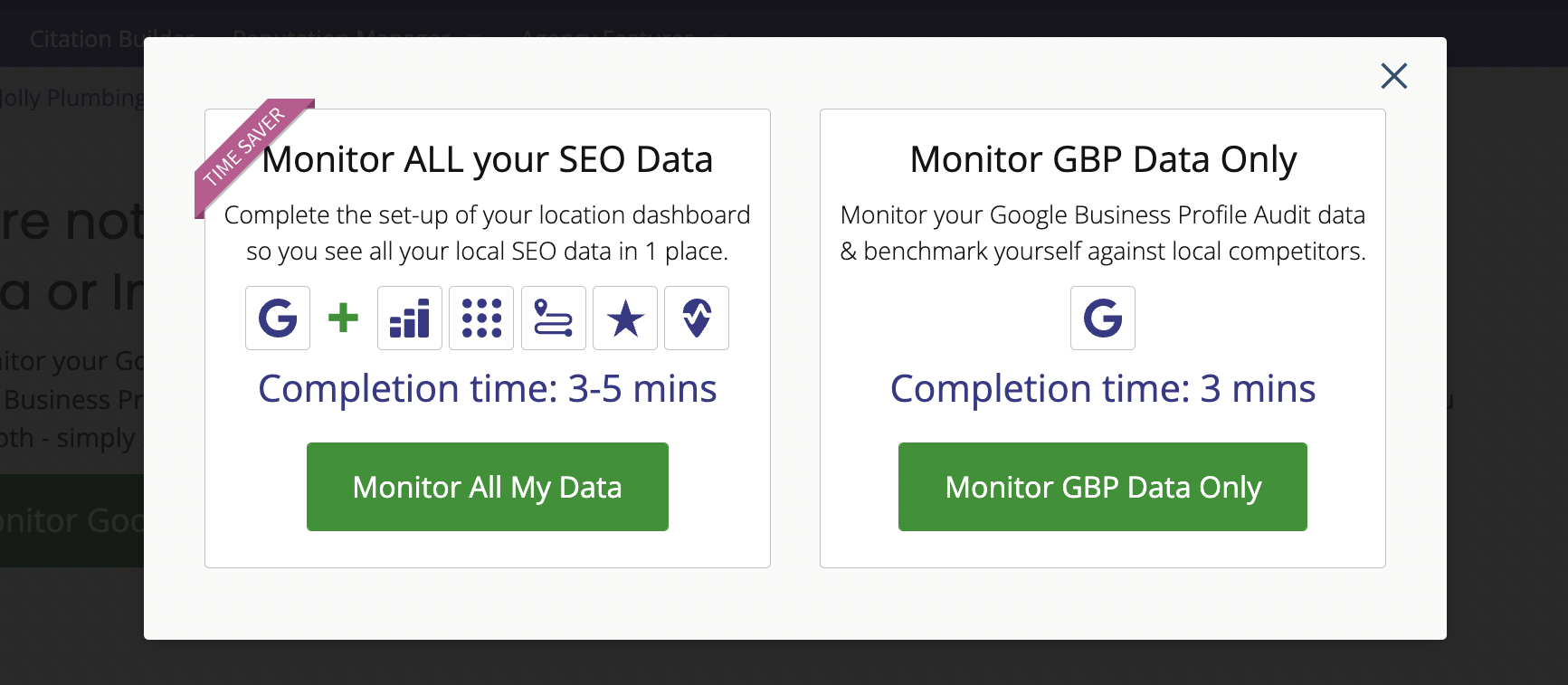 2. Report Settings
The next step of setting up your report is to select your Report Settings. Here's an overview of the Report Settings section, which highlights what's required for each field.


Which Location is this report for?: Here, you can select the location for this report — this will be auto-filled if the Location already exists.
Do you want this report to be available on an external URL?: You can publish this report to an external URL (outside of brightlocal.com), which makes it easy to share with clients and others who don't have a BrightLocal login. Reports are published to an anonymous URL (localmarketingreports.com) and can be white-labeled with your existing white-label profile.
Discover more about white-labeling reports here.
Select white-label profile: You can have multiple white-label profiles set up at once. Here you can select the white-label profile you'd like to use for this report, if applicable.
How often do you want this report run? Choose from these two options:
Ad hoc: The report only runs when manually triggered.

Monthly schedule: Select which day of the month you'd like the report to run.

3. Your Business Details
Below is an overview of the section titled 'Your Business Details', highlighting what needs to go into each field: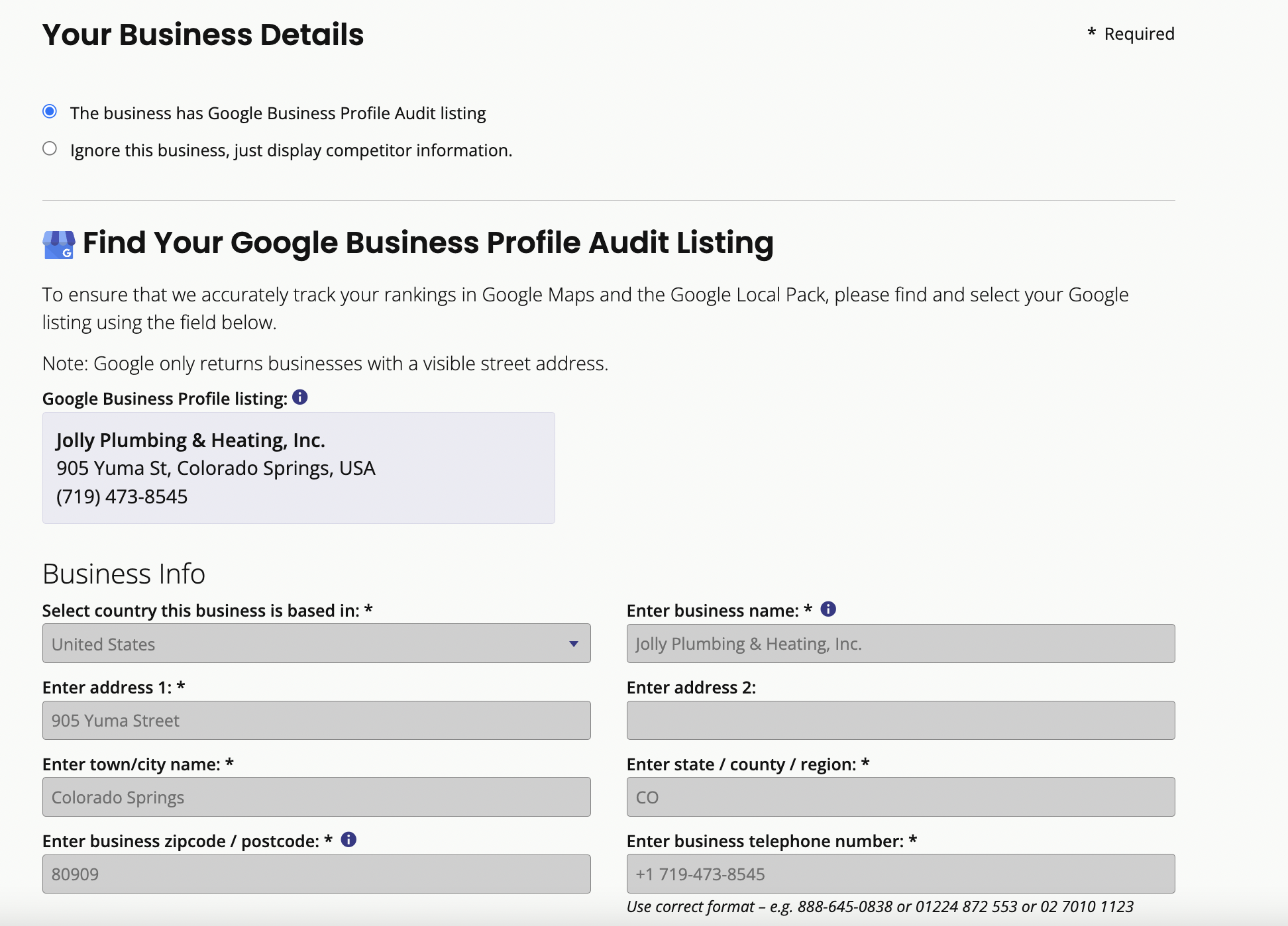 It's important to ensure that the data entered in this section is accurate, and that it reflects your registered business details, as this is the data we will use to search for existing citations.
If the business has a Google Business Profile (GBP), ensure that this option is selected. If the business does not have one, choose 'Ignore this business, just display competitor information'.
If you're a service-area business and you don't want your address to be shown in your Google Business Profile, you'll need to change it in your listing and not in BrightLocal as we don't currently feed data into GBP. You can find information on how to create and change a Google Business Profile here.
Find Your Google Business Profile Listing: To ensure that we accurately track your rankings in Google Maps and Local Pack, please find and select your Google listing in the field marked 'Find your listing using Google'.
Business Info
You'll notice that the boxes are greyed out in this section. To update any of the info outlined below, click the 'Update in Location settings' link.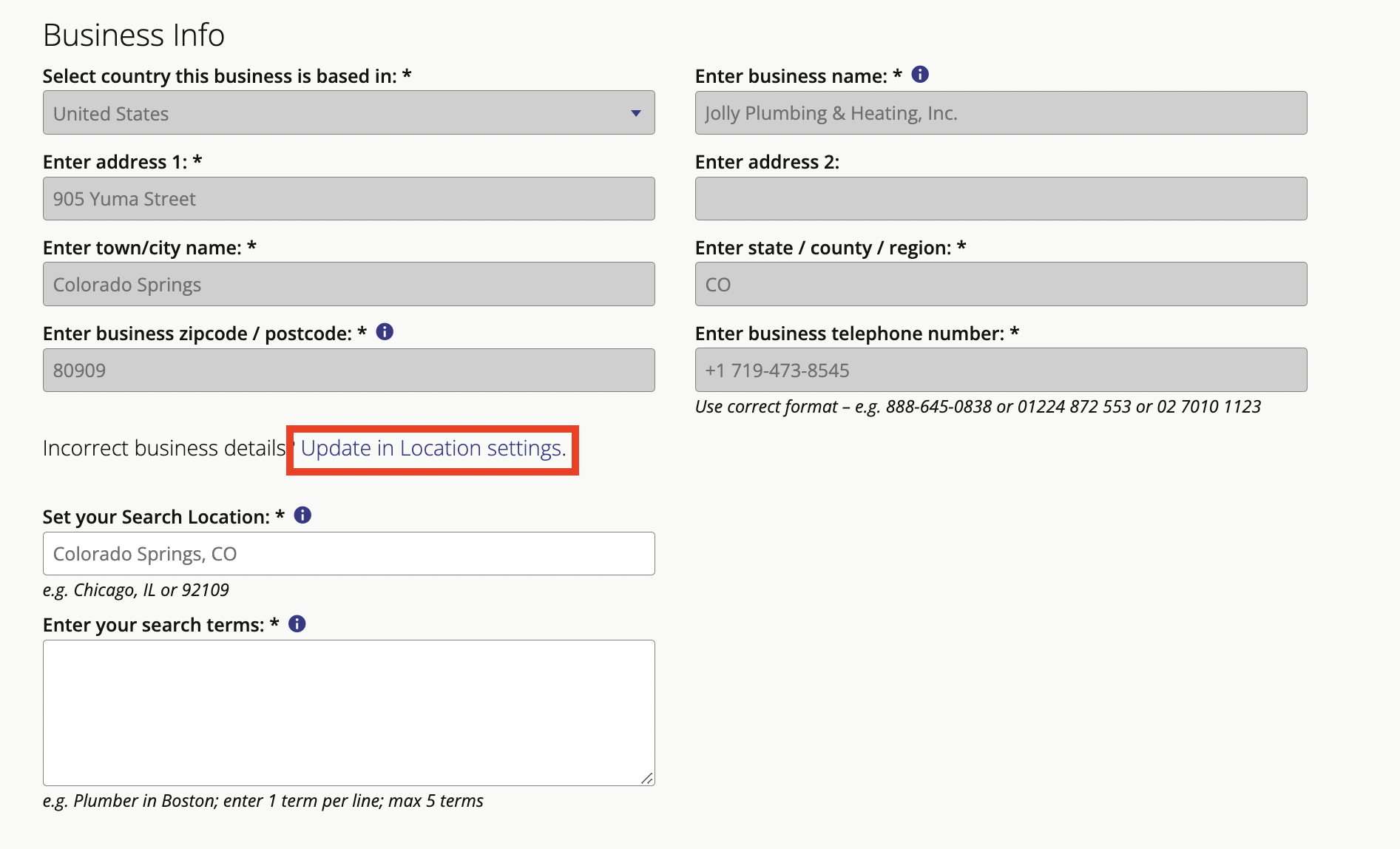 Select country this business is based in: Click the dropdown menu and select the country.
Enter business name: We use your 'Business Name' to find Active Citations which exist for your business. Please enter your exact, registered business name without any extra words or phrases, as these can skew the results and reduce the accuracy of this report.
Enter address 1: Enter the 1st line of the business address.
Enter address 2: Enter the 2nd line of the business address (if applicable).
Enter town / city name: Please enter the name of the town or city in which this business is located (e.g. Tulsa, or Denver, or Pasadena).
Enter state code (US only): Please enter the two-letter state code (only for USA addresses).
Enter business zip code / postcode: This is a required field for all countries.
Enter business telephone number: Be sure to use the correct format here (e.g. 888-645-0838 or 01224 872 553 or 02 7010 1123).
Next, you need to set your search location and search terms.
Set your Search Location: Enter the location where you want to search from — this enables you to see the search results which a local searcher would see in the city or zip code they are located in.
Enter your search terms: Enter the search terms that you wish to compare Google Business Profile data for — you can enter a maximum of five search terms, and each one must be on a separate line. If you'd like some help finding search terms to compare check out this course in the BrightLocal Academy: How to Master Local Keyword Research.
4. Receive Email Alerts
Here, you can set up the notifications you'd like to receive each time the Google Business Profile Audit report is completed. You can add up to five email addresses to receive a notification — if you don't wish to have notifications sent, just select 'No' from the dropdown menu. You can come back to change this setting at any time.
You can also choose to receive an email alert when we spot any changes on your Google Business Profile.

5. Running / Saving the report
At the bottom of the settings page, you'll see the green 'Monitor Google Business Profile' button — simply click this to save your settings and run the report, which will then be saved to the Location Dashboard.

Please note: You won't see any changes in the data from the other reports until they are re-run.


6. After the report is set up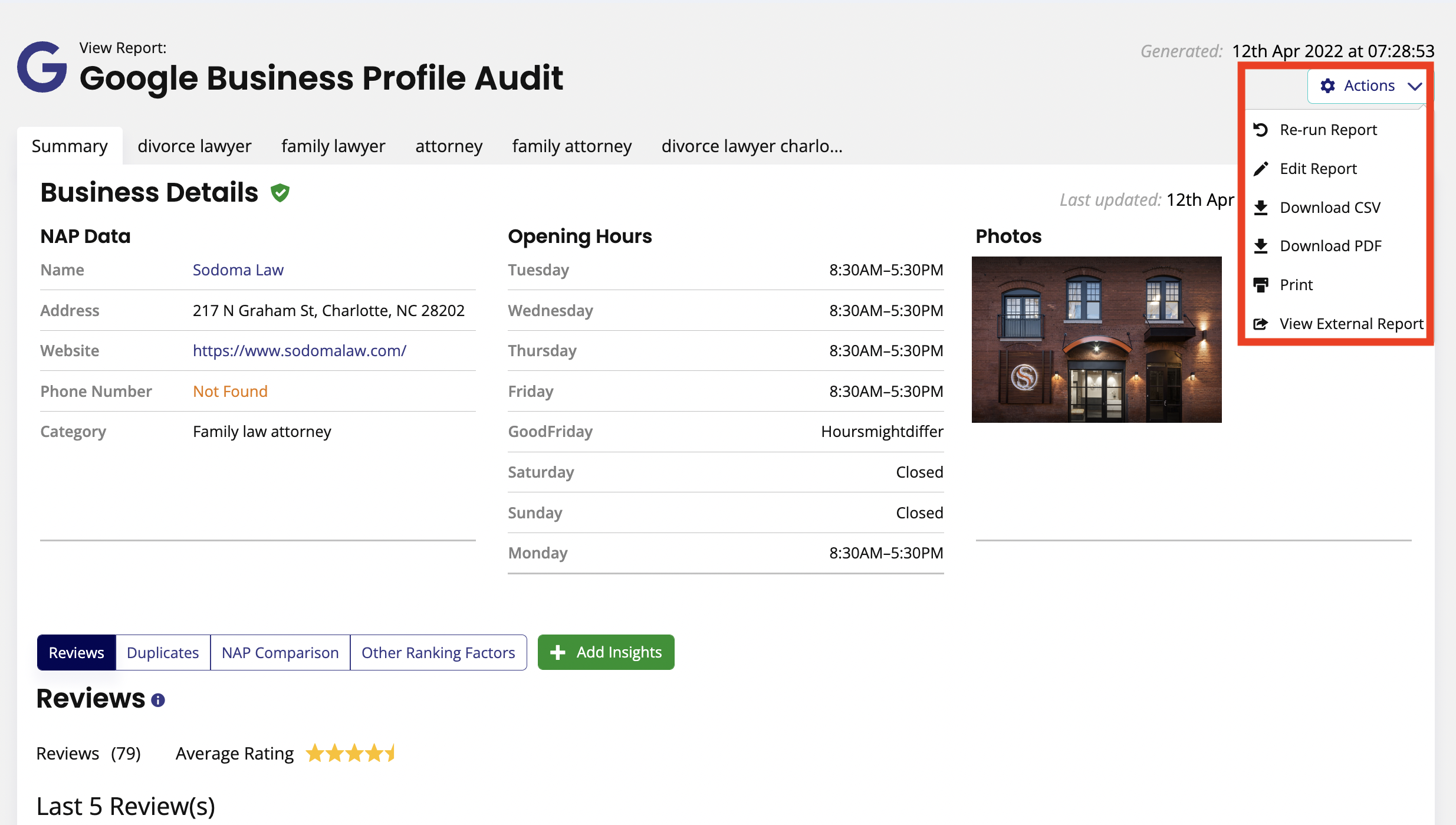 Once your report has completed, there are several further actions you can take to get more from the data — you can access these by clicking on the 'Actions' button (shown above within the red box).
Re-run Report: You can manually re-run the report here. Once you have made any updates in the settings, or if you'd like to see new results without waiting on a schedule, you can manually re-run the report.
Edit Report: This takes you to the report's settings page, where you can make any necessary updates.
Download CSV: You can download the data in the Google Business Profile report in CSV format.
Download PDF: Choose this to download the Google Business Profile Audit report in PDF format, which can be white-labeled, if required.

Learn more about white-label reporting here: Read our white-label section in the Help Center.
View External Report: This opens the interactive report in a new tab of your internet browser, with no mention of BrightLocal in the URL — this is perfect to share with your clients and colleagues when you'd like to showcase local marketing progress. These reports can be white-labeled with your own branding.
7. Add Google Insights
Once the report has run, you'll see the green 'Add Insights' button below the 'Business Details' section (shown below within the red box) — click this and a pop up will appear, allowing you to connect the insights pulled from your Google Business Profile.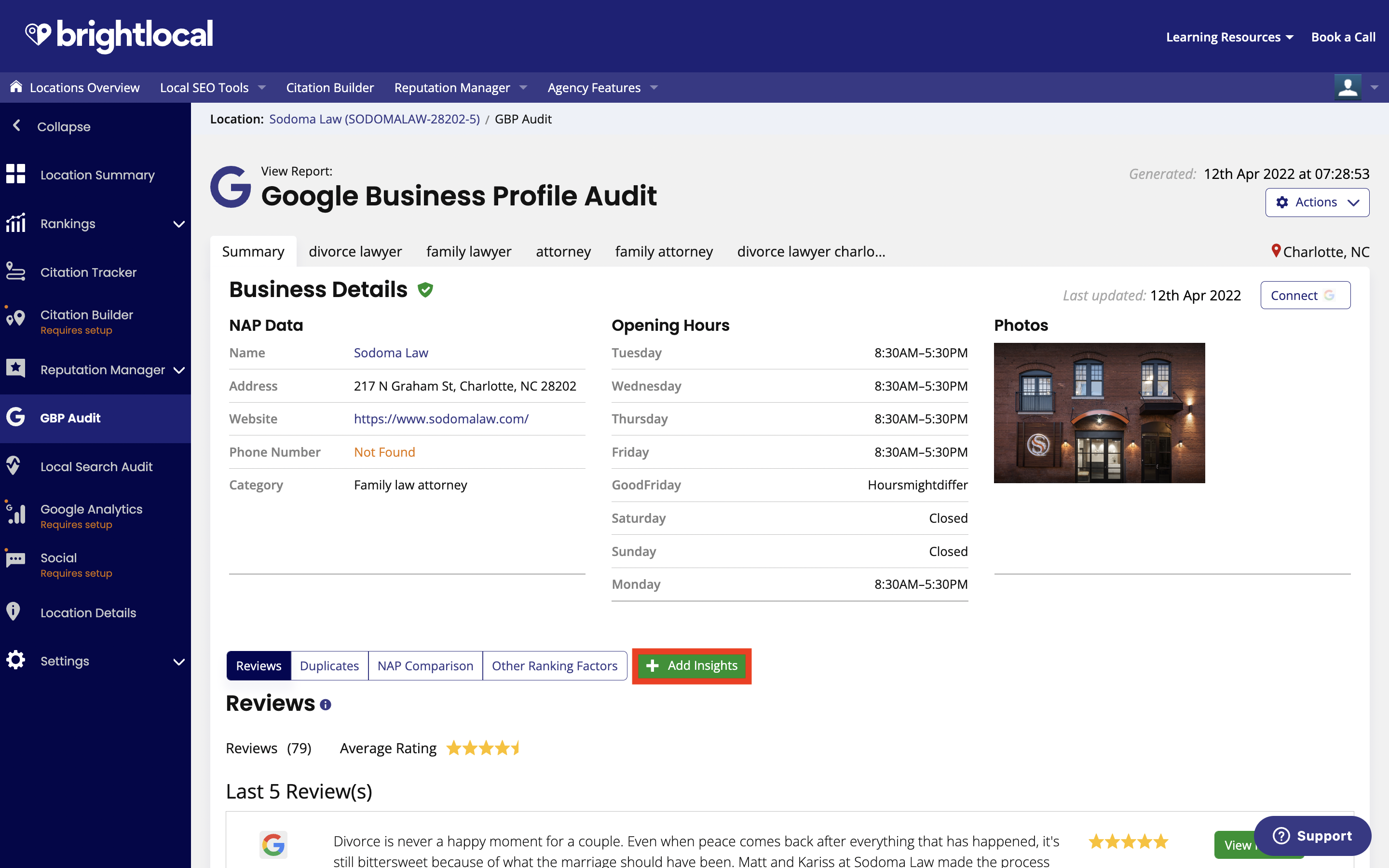 You'll then see the following data on the report:
To discover more about this information — or any other data on this report, please read our 'How to understand a Google Business Profile Audit' guide here or enroll in BrightLocal Academy for free today.