Roll-Up reports allow you to aggregate data from multiple ranking reports into one overview report. This tool is used by multi-location businesses to assess performance at a location level. This makes it easy to see things like which locations are ranking better than others alongside overall brand performance over time.
1. Initial Setup
To create a Roll-Up report, click 'Local SEO Tools' in the top menu and select 'Local Rank Tracker'.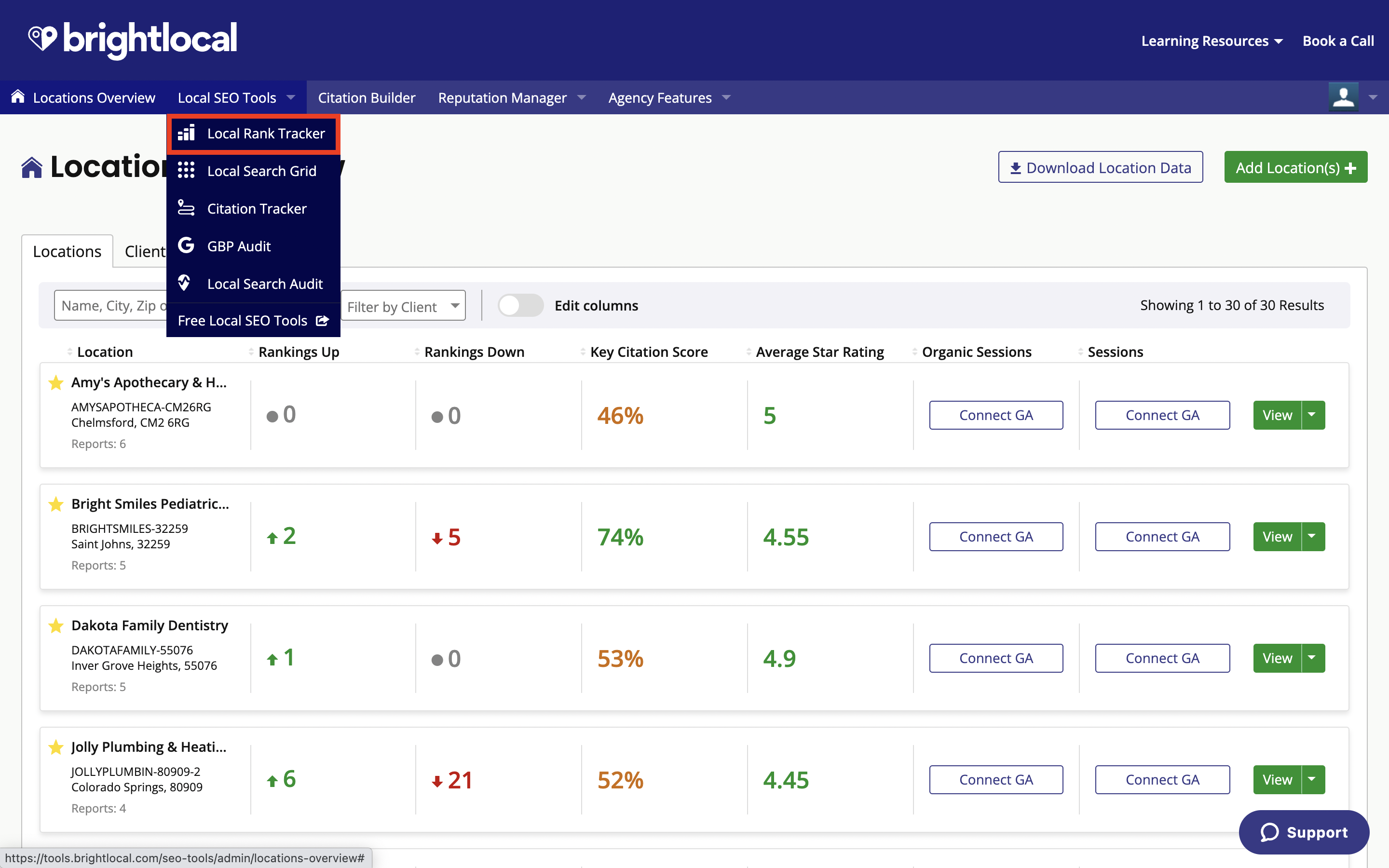 You will then see a list of all existing Rank Tracker reports.
Next, click the 'Roll-Up Reports' tab.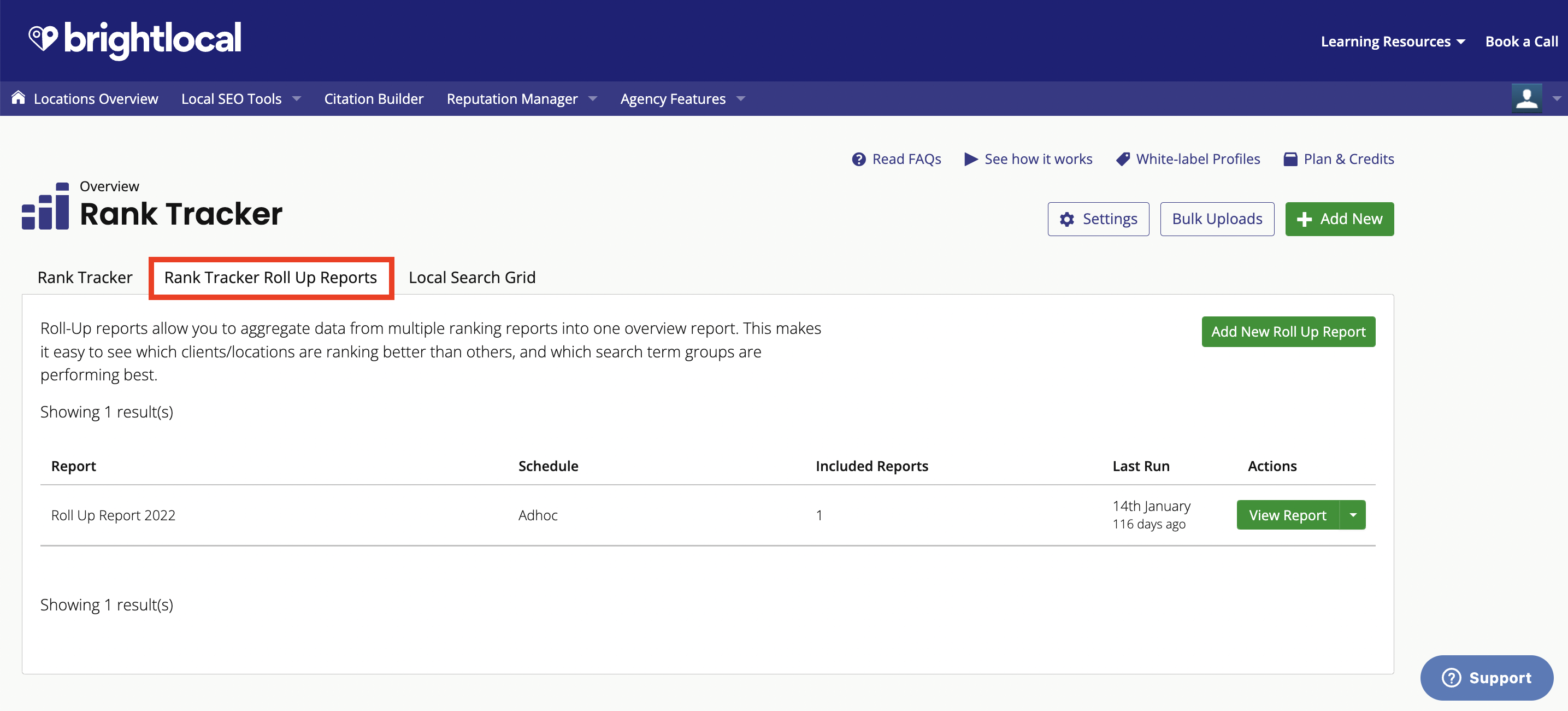 Then select 'Add New Roll-Up Report'.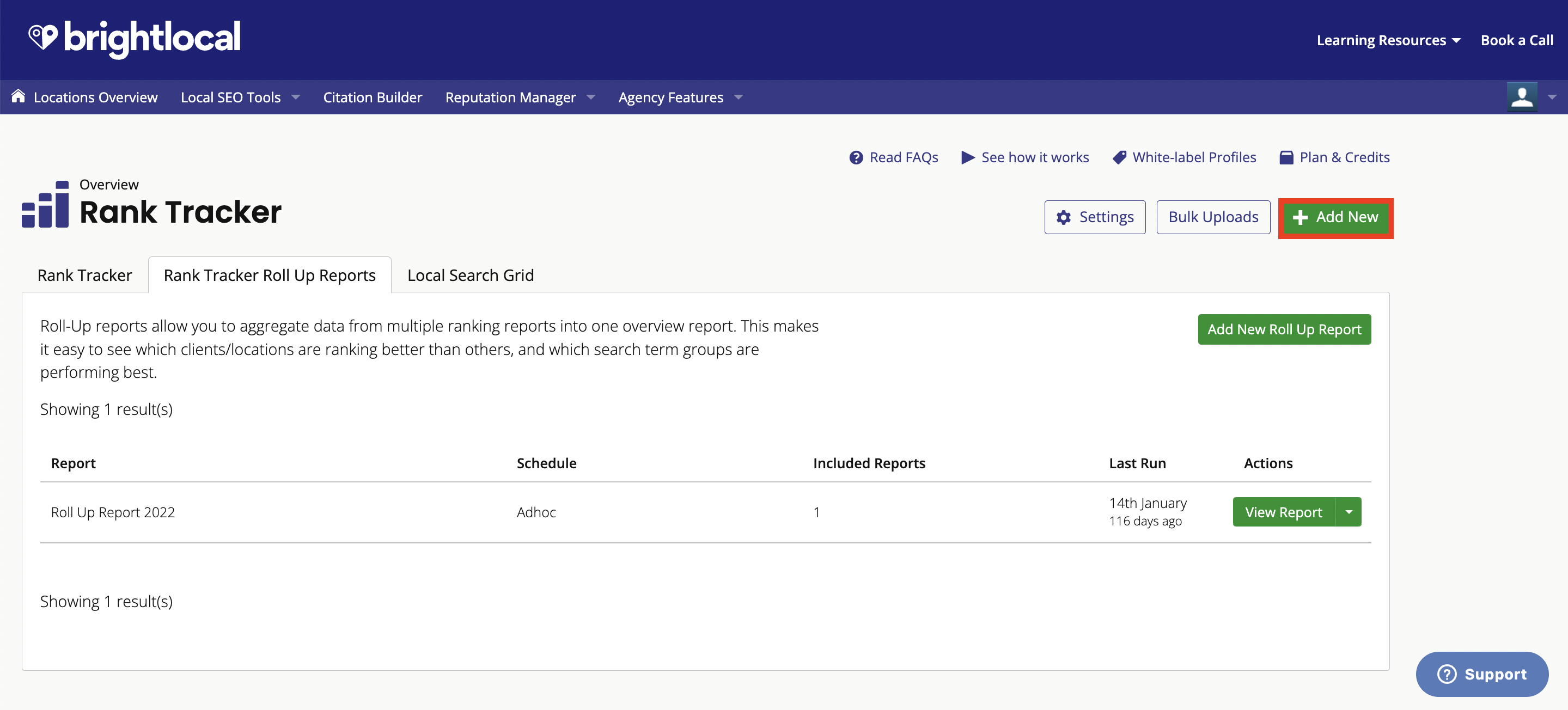 2. Report Settings
Next, fill out the report settings. Here is an overview of this section which highlights what is required for each field.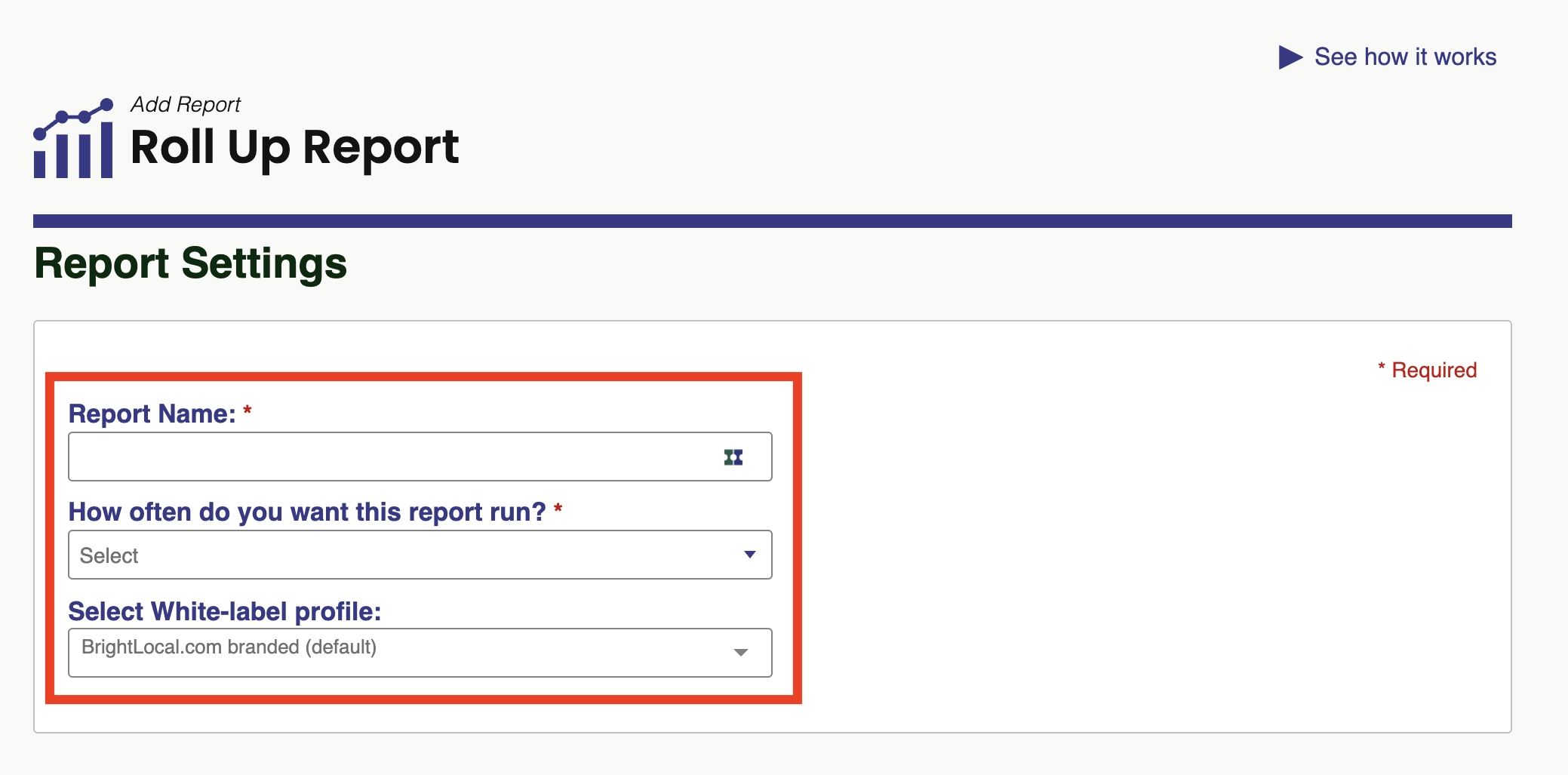 How often do you want this report run?: You have three options here:
Ad hoc: the report will only run when manually triggered

Weekly schedule: select which day of the week you'd like the report to run

Monthly schedule: select which day of the month you'd like the report to run
Select white label profile: You can have multiple white label profiles set up at once. Here you can select the white label profile you'd like to use for this report, if applicable.
3. Ranking Reports
The next step is to select which Ranking reports you'd like to include in this Roll-Up report.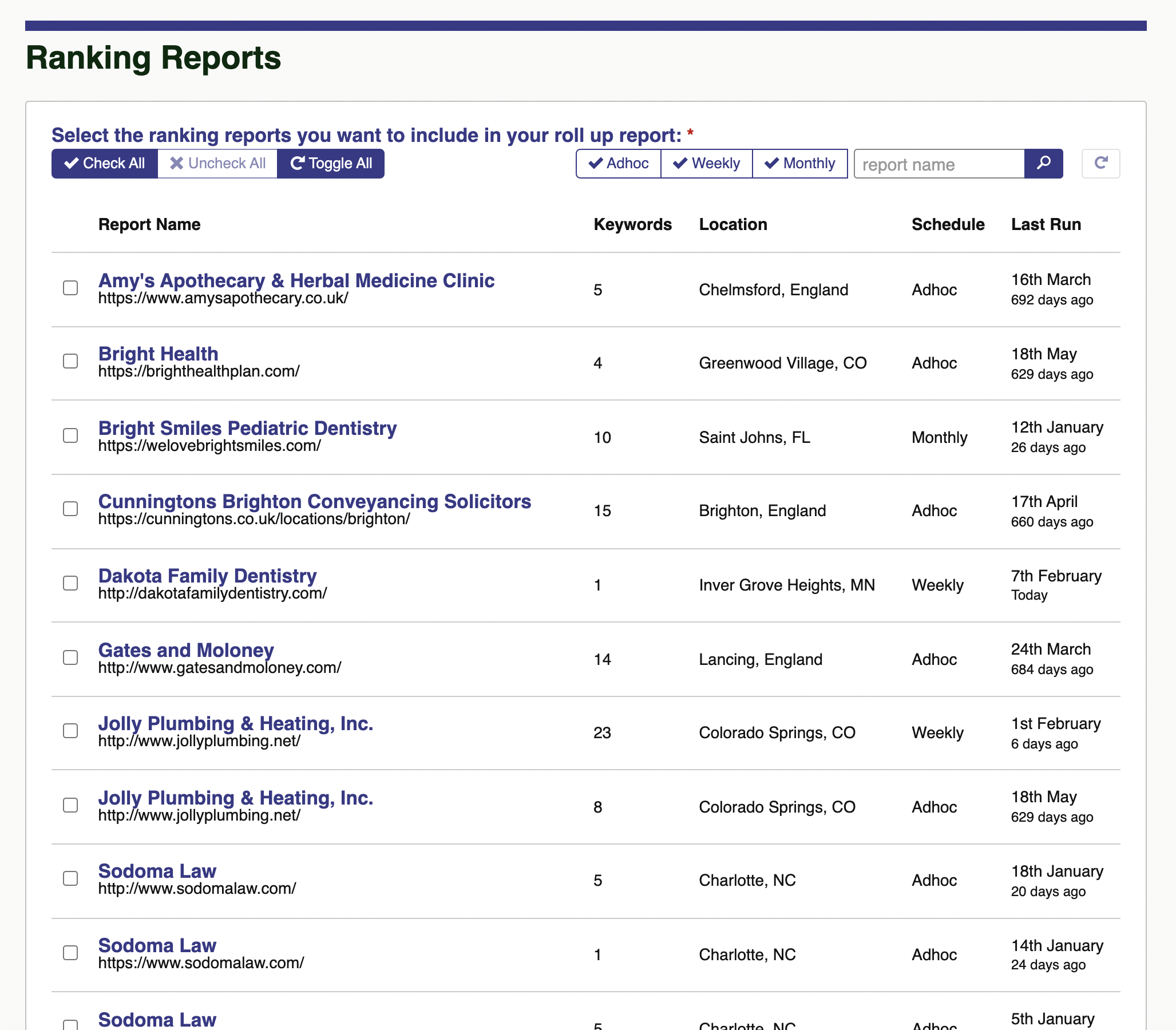 Select which reports you'd like to be included in the Roll-Up report. There are various ways you can filter the reports shown in this list by using the filters above the report list:
Search Field: This allows you to search for reports by name. It is helpful to do this search and then use the filters listed below to pull in the results you need.
Check All: Clicking this box will select all reports.
Uncheck All: This will deselect all selected reports.
Toggle All: This will toggle between selecting or deselecting all reports.
Adhoc/Weekly/Monthly: This allows you to filter reports by schedule to show all reports, or perhaps only show monthly reports, for example.
4. External URL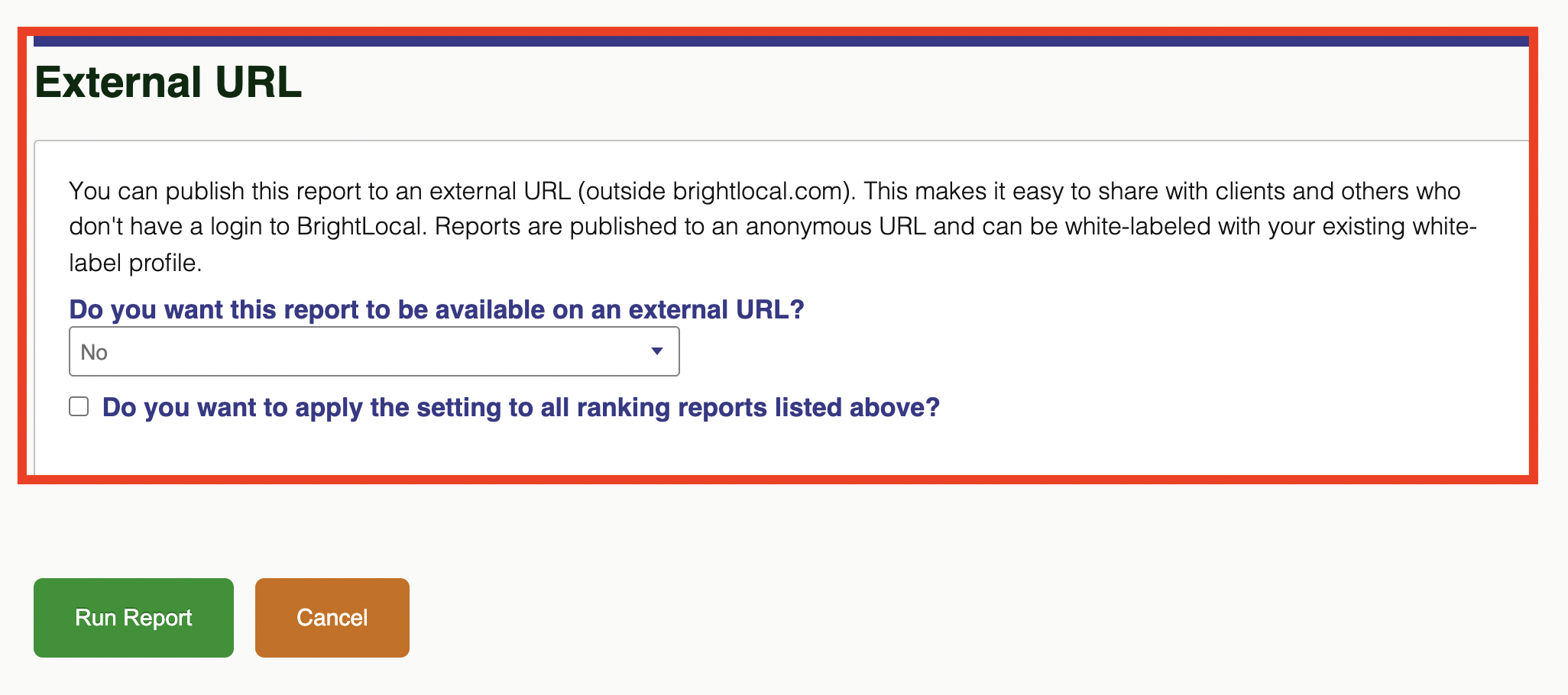 Do you want this report to be available on external URL?: You can publish this report to an external URL (outside brightlocal.com). This makes it easy to share with clients and others who don't have a login to BrightLocal. Reports are published to an anonymous URL (localmarketingreports.com) and can be white-labelled with your existing white-label profile.
Learn more about white-labelling reports here.
5. Running/Saving report
Click the 'Run Report' button at the bottom of the page. The report will be saved to your account once completed.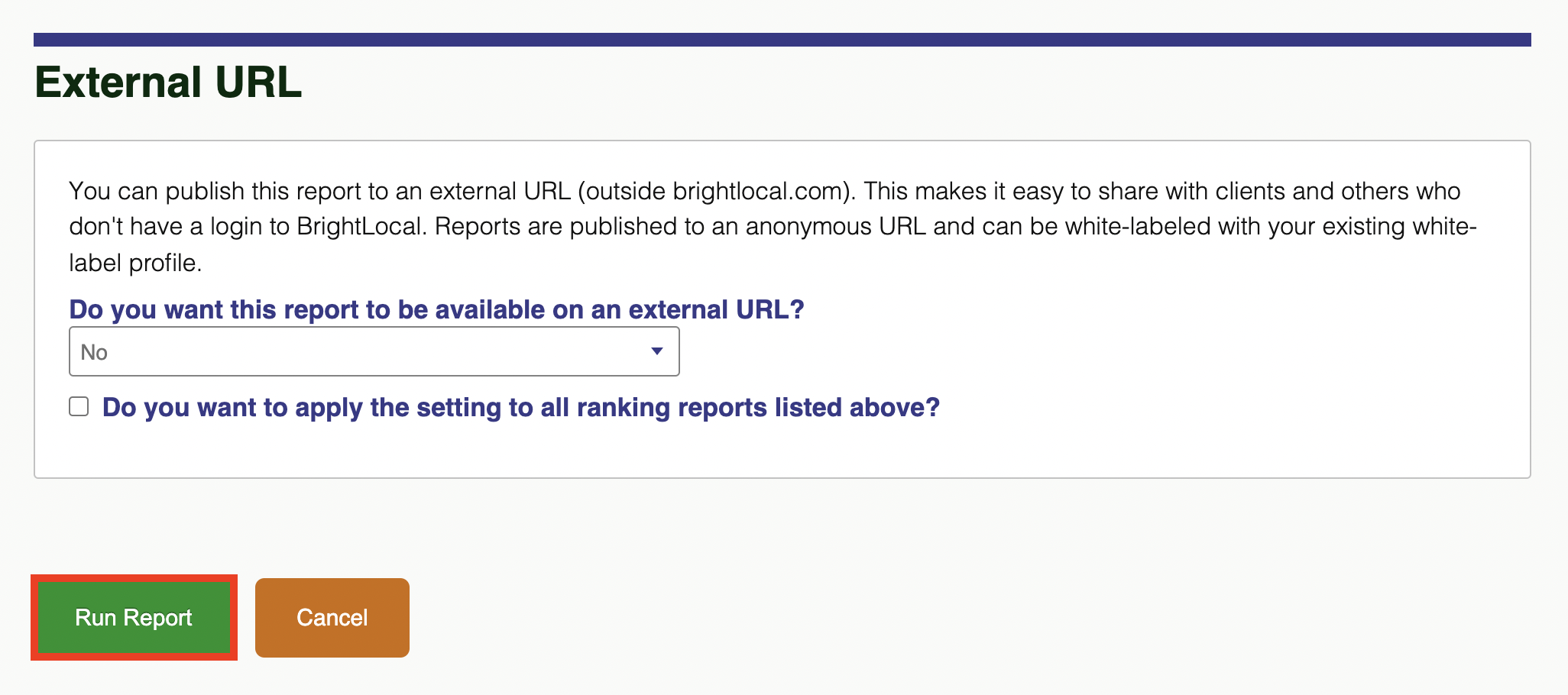 6. After your report is set up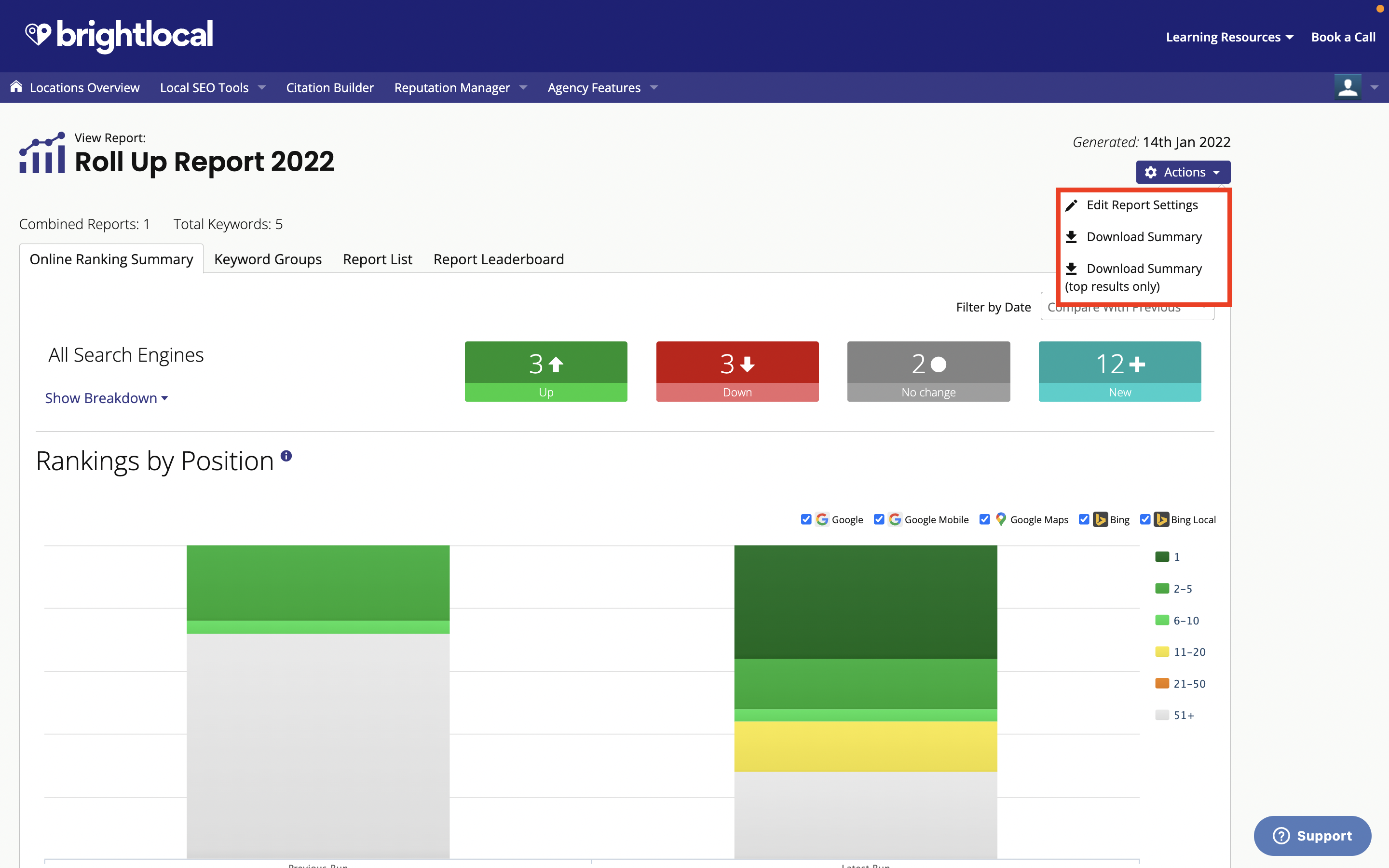 Once the Roll-Up report has completed, there are several further actions you can take to make more use of the data. You can access these by clicking on the 'Actions' menu.
Edit Report Settings: This takes you to the report's settings page where you can make any necessary updates.
View External Report: This opens the interactive report in a new tab of your internet browser, with all mention of BrightLocal removed, including in the URL. This is perfect for sharing with your clients and colleagues.
Download Summary: Click this to download a spreadsheet of the entire data set of the report. This summary is in Excel (XLSX) format.