You can update your keywords/search strings in your report settings. Once your Rank Checker report has completed, there are several further actions you can take to make more use of the data. You can access these by clicking on the 'Actions' dropdown.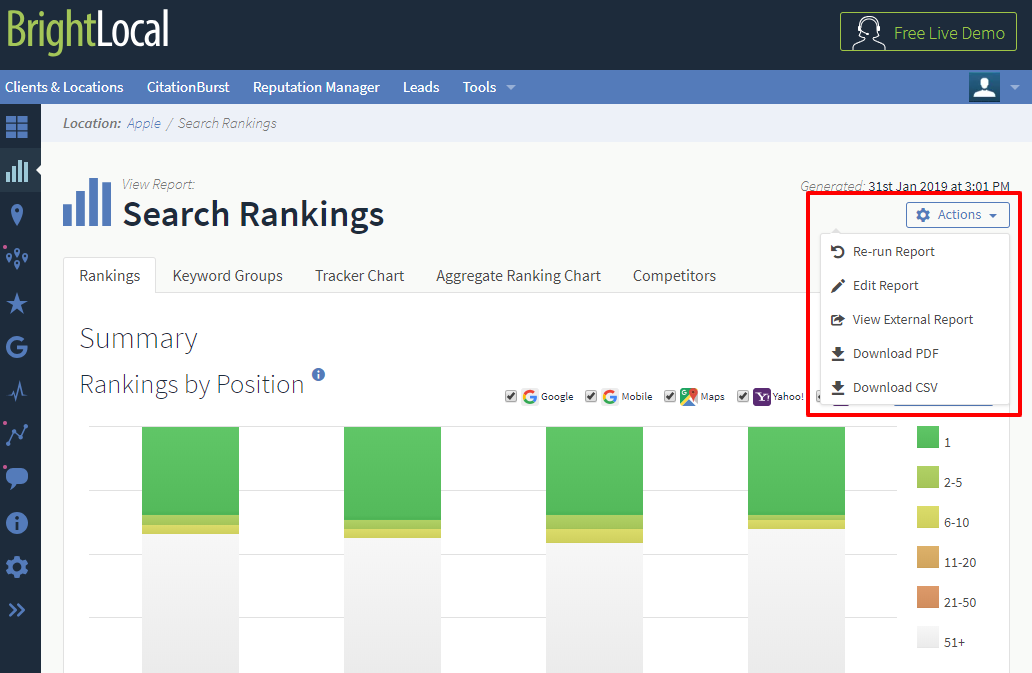 Click on 'Edit Report' and this takes you to the 'General Settings' of the report where you can make updates.
Scroll down the 'Search Settings' section.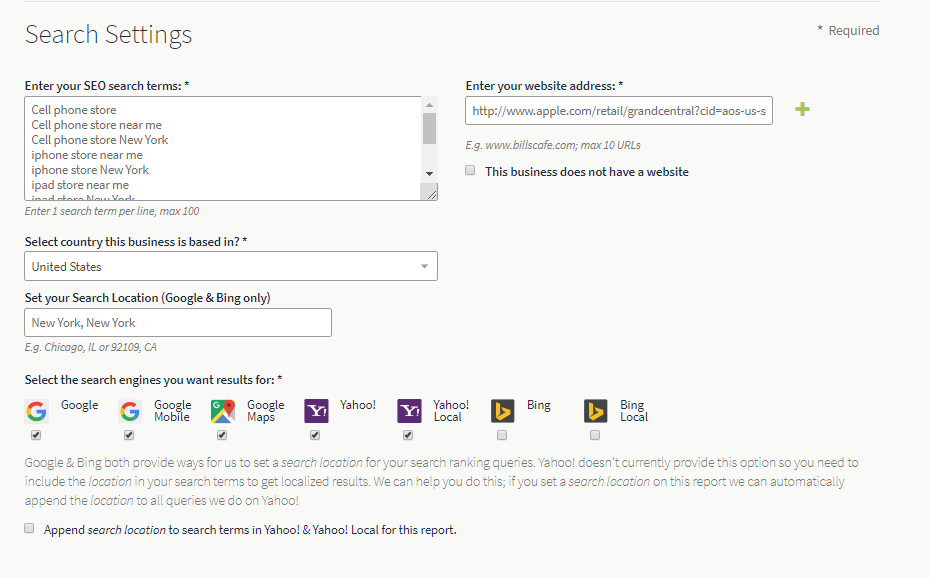 Enter your SEO search terms: Here you can fill in/edit the search terms you wish to track for this location. Please enter one search term per line, and there is a max of 100.
Enter your website address: Here you can enter the website URLs you want to be tracked. You have the option to add 10 different URLs here, by clicking on the green plus side next to this field.
Note: If you enter the main domain URL then we will find the subpages in the results. If you put a subpage here then any subpage under this will not be tracked in the results.
This business does not have a website: Please select this checkbox if there is not a website address yet for this location.
Select country this business is based in: This has a dropdown menu for all the countries that work for our Rank Checker reports. Select the country for this location.
Set your Search Location (Google & Bing only): Here you can input your search location as a postcode/zipcode or town. Your results will show your search terms in these locations. Please note that if you input the town, you also need to add the state code (for US locations) and the county (for UK locations). Google and Bing both provide ways for us to set a search location for your search ranking queries. Yahoo! doesn't currently provide this option so you need to include the location in your search terms to get localized results. We can help you do this; if you set a search location on this report we can automatically append the location to all queries we do on Yahoo!.
Select the search engines you want results for: Here you have a checkbox of all the search engines we provide results for: Google, Google Mobile, Google Maps, Yahoo!, Yahoo! Local, Bing, and Bing Local.
Append search location to search terms in Yahoo! & Yahoo! Local for this report: Tick the checkbox for the search location to be appended to your keywords for Yahoo! searches.
Once you are happy with your updates, at the bottom of the report you'll see the 'Update Report' button. You'll need to click this to ensure any changes you've made to the report setup are saved.
Note- You will not see any updates until your report has re-run.