In this overview, we explain how to understand the results of your completed 'Get Reviews' campaign.
If you prefer to learn by watching videos, check out our free course in BrightLocal Academy that shows you how to set up and understand a Reputation Manager report 👇

How to locate your campaign in Reputation Manager
There are two ways to locate your campaign within Reputation Manager, and they depend on whether you are currently within a 'Location' — if you are, just click on the star in the left-hand menu. Otherwise, click 'Reputation Manager' in the top menu (both options are shown below within the red boxes).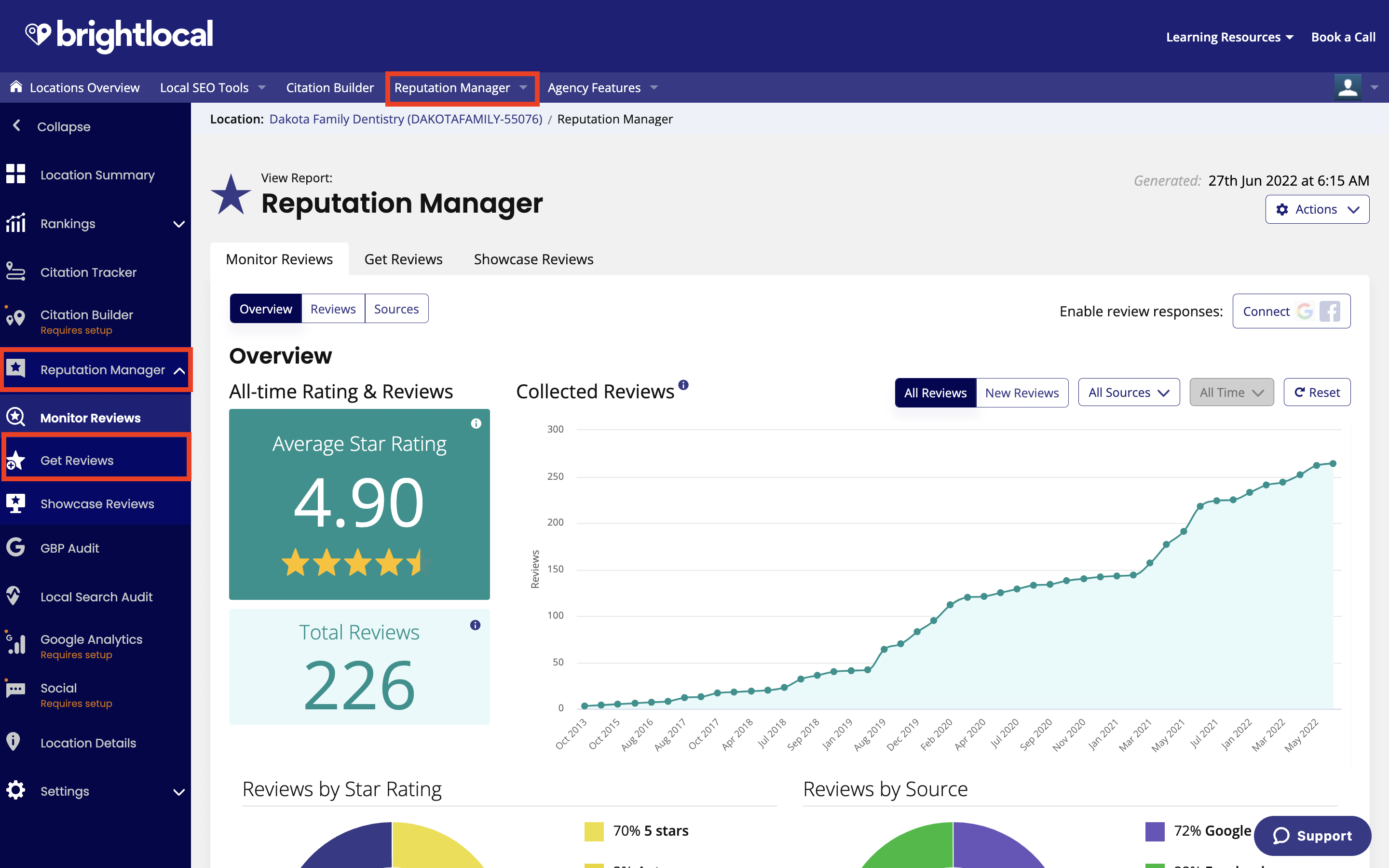 Click the 'Get Reviews' tab (highlighted below by the red box) to see the campaigns that you've run.
Here you'll see a clear breakdown of each of the campaigns you're using to generate reviews, split into different sections, one for each type of campaign sent (i.e. Email Mode, SMS Mode, Link Mode, Kiosk Mode).
The tables in each section show you the following overview for that specific campaign:
The date the campaign was sent

The template used

Campaign type (i.e. public review + internal feedback or public reviews only)

Rating type (i.e. stat, NPS, or thumb)

The average feedback score for the campaign
Clicking the 'View' button next to a campaign will reveal more information about how it performed.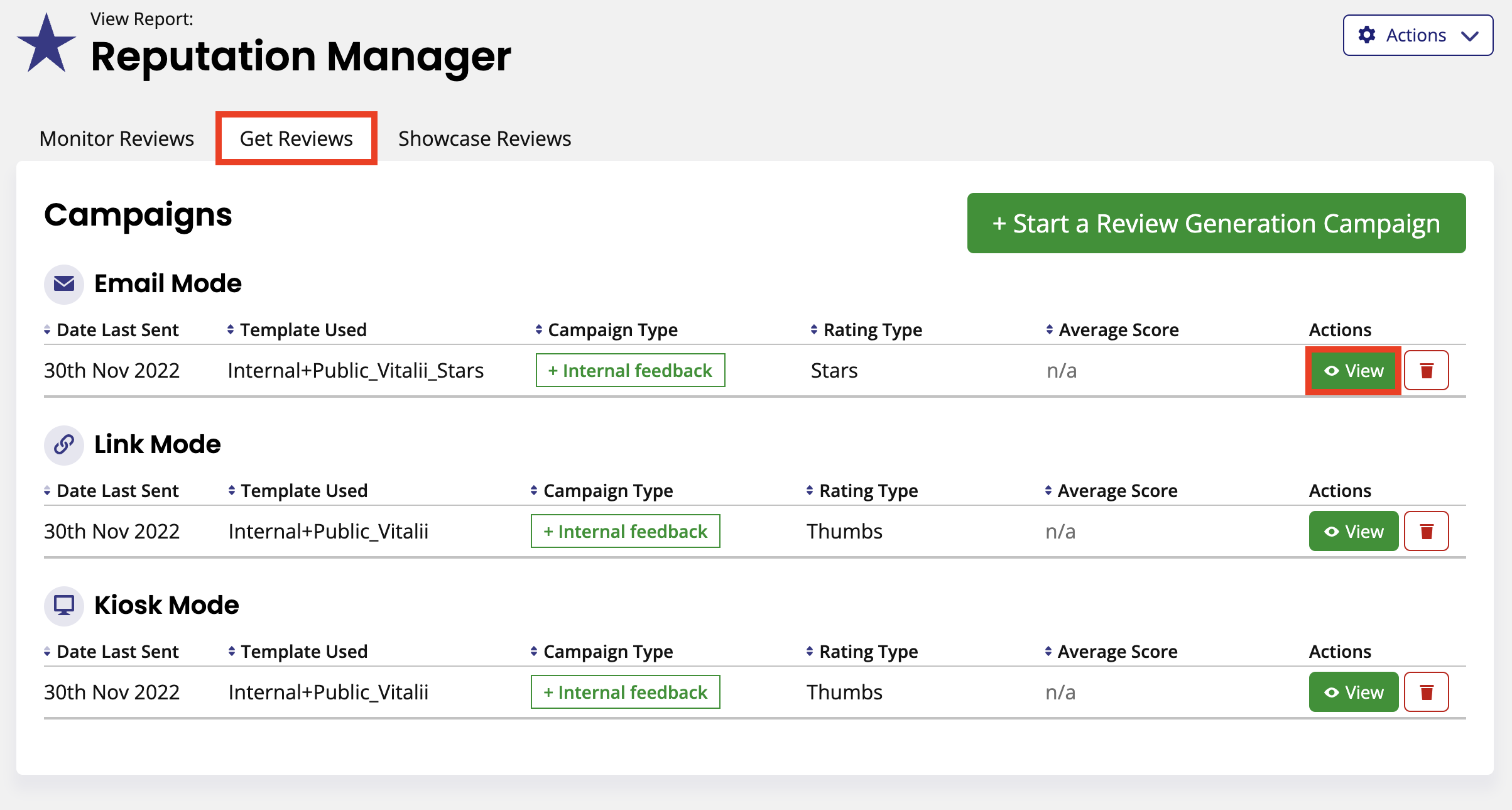 'Feedback Score' chart
When you click through to a specific campaign you'll get more information about its success.
On the left-hand side, you'll see a feedback score chart, this will vary depending on if you set up your campaign using NPS, stars, or thumbs. This chart shows you the average feedback score of this particular campaign.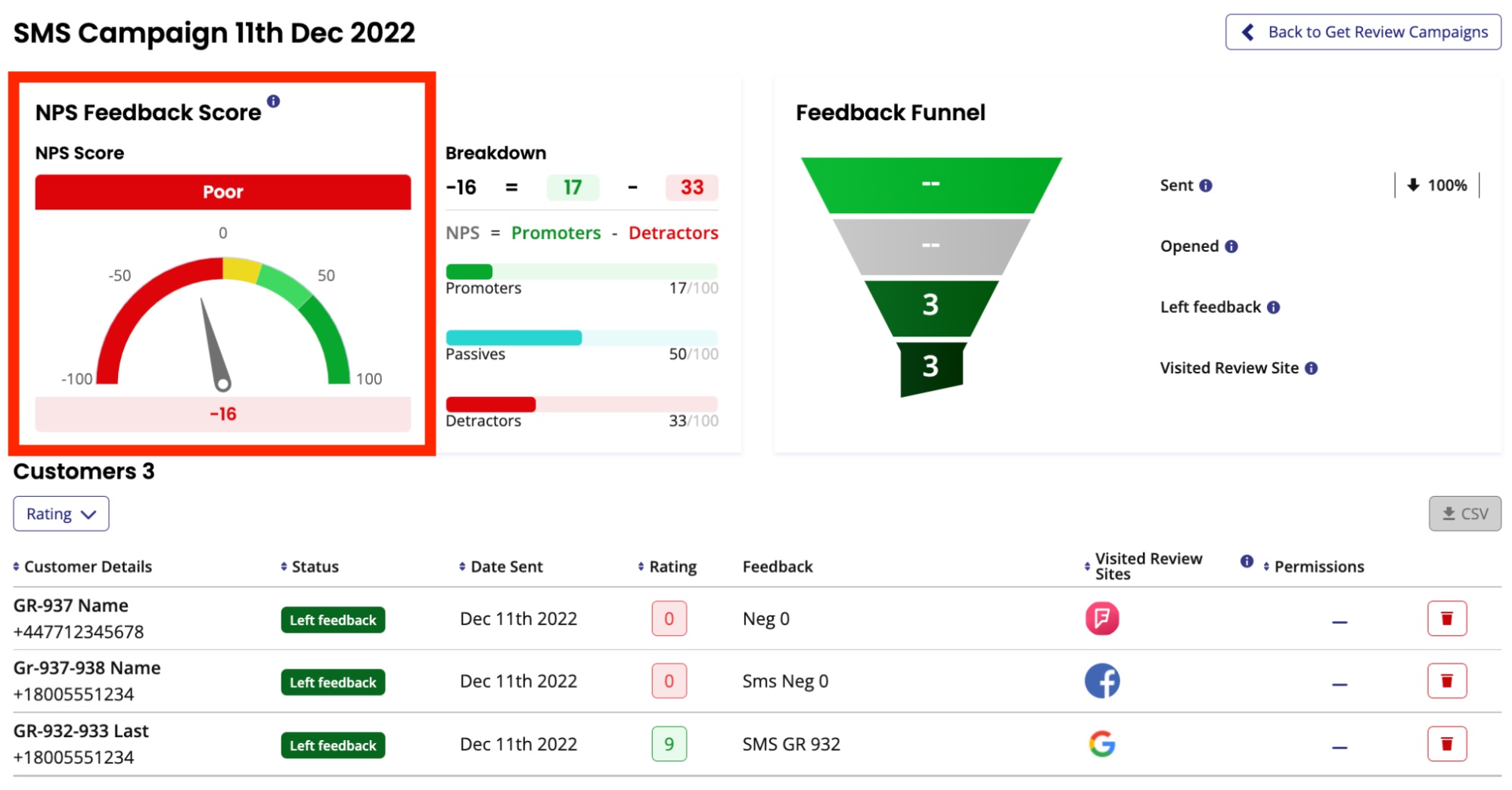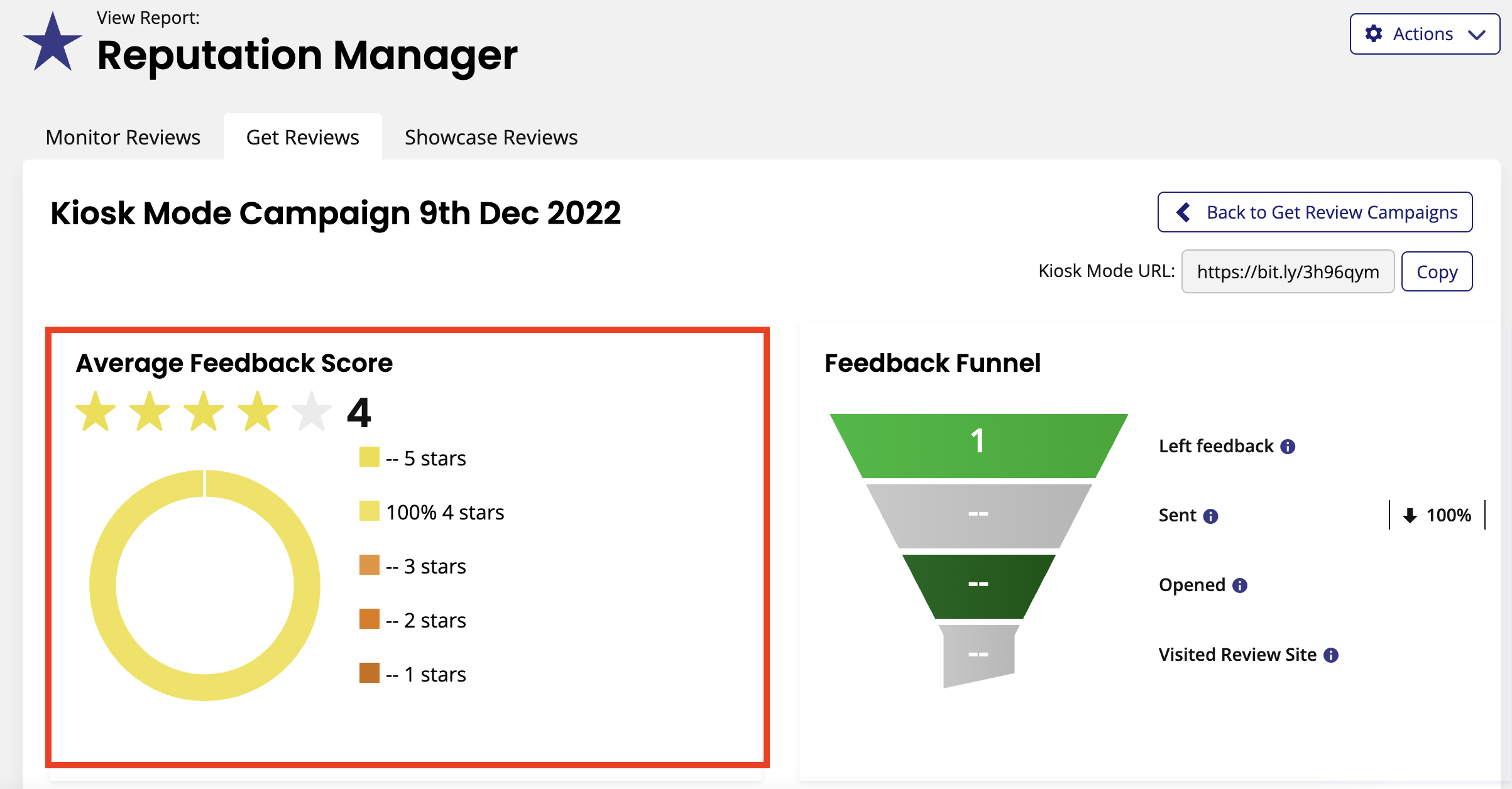 Next to the NPS chart, you'll also see a breakdown of your Promoters, Passives, and Detractors scores together with a total of how many you have for each.
Next to the stars chart, you'll see a breakdown of how many 5, 4, 3, etc, stars have been left.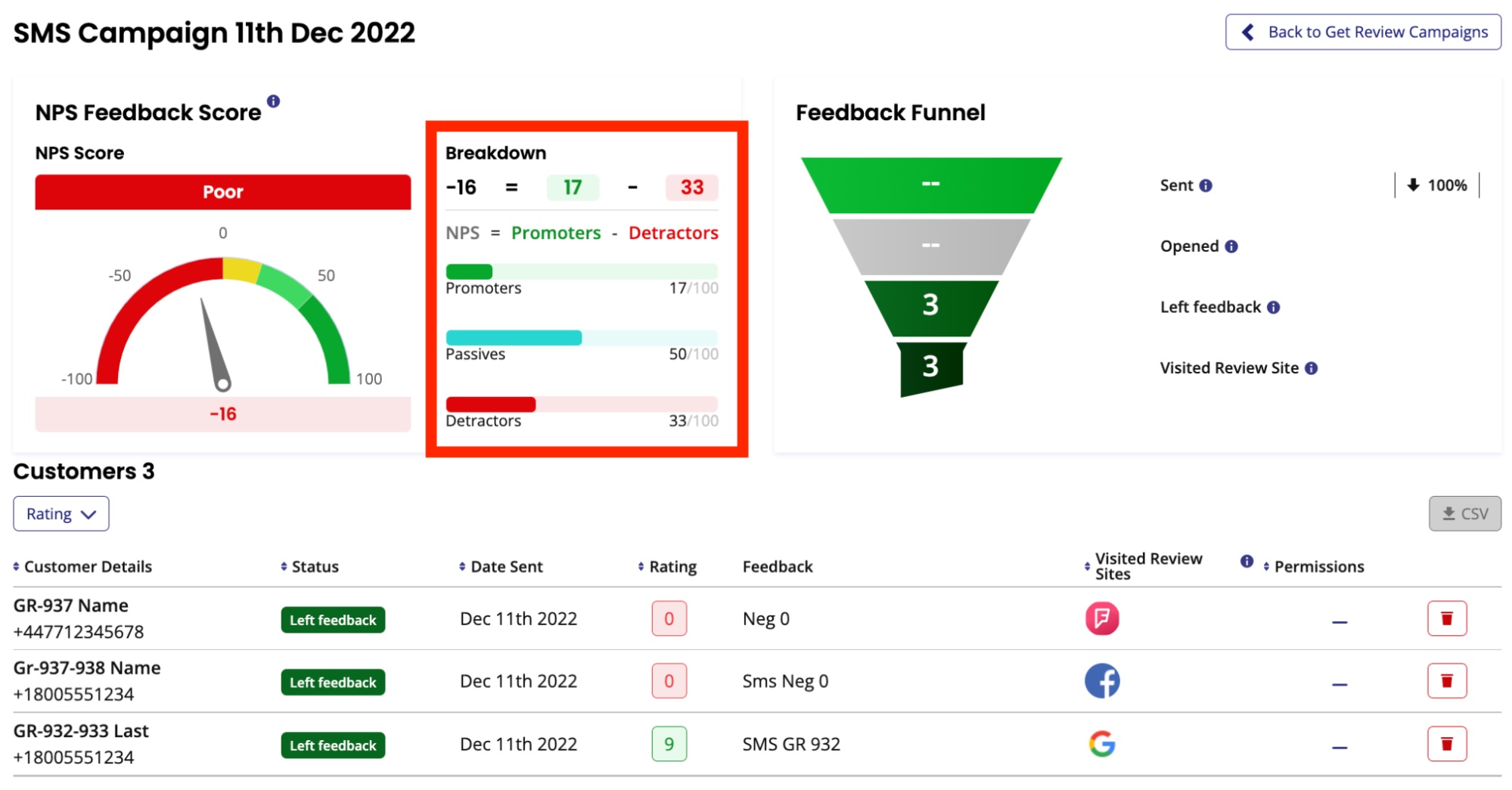 'Feedback Funnel' chart
The 'Feedback Funnel' chart shows you:
How many people the campaign was sent to

How many people opened it

How many people left feedback

How many people visited a review site
This will look different depending on the type of campaign that was sent (i.e. public review + internal feedback or public reviews only).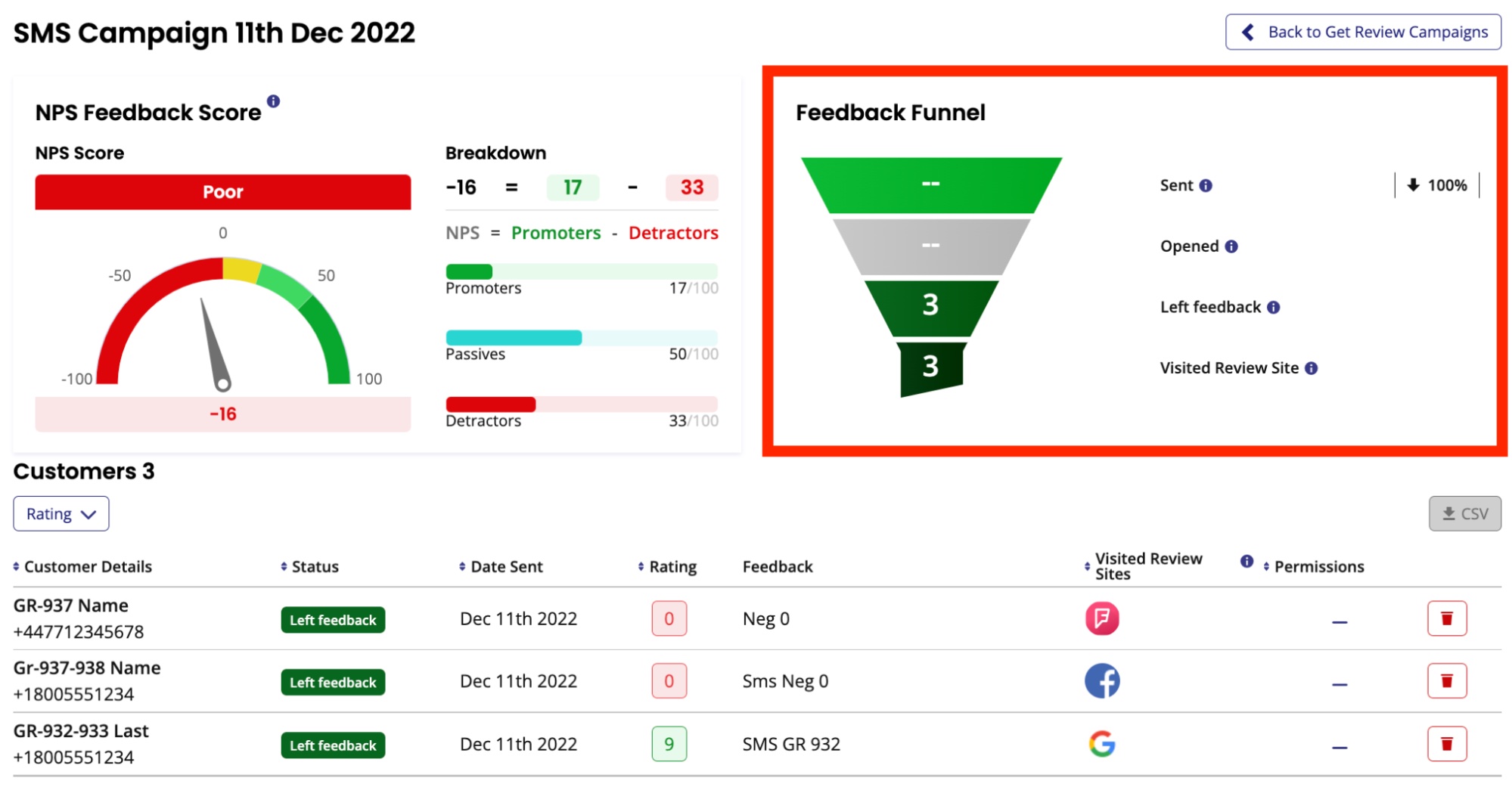 Campaign Table
This table neatly displays the list of the people the campaign was sent to and the following details for each customer:
Name - the customers name

Status - if they left feedback or not

Date sent - the date sent

Rating - rating they gave

Feedback - the feedback that they left

Visited review sites - the review sites that they visited

Permissions - if they gave permission for their feedback to be used in marketing materials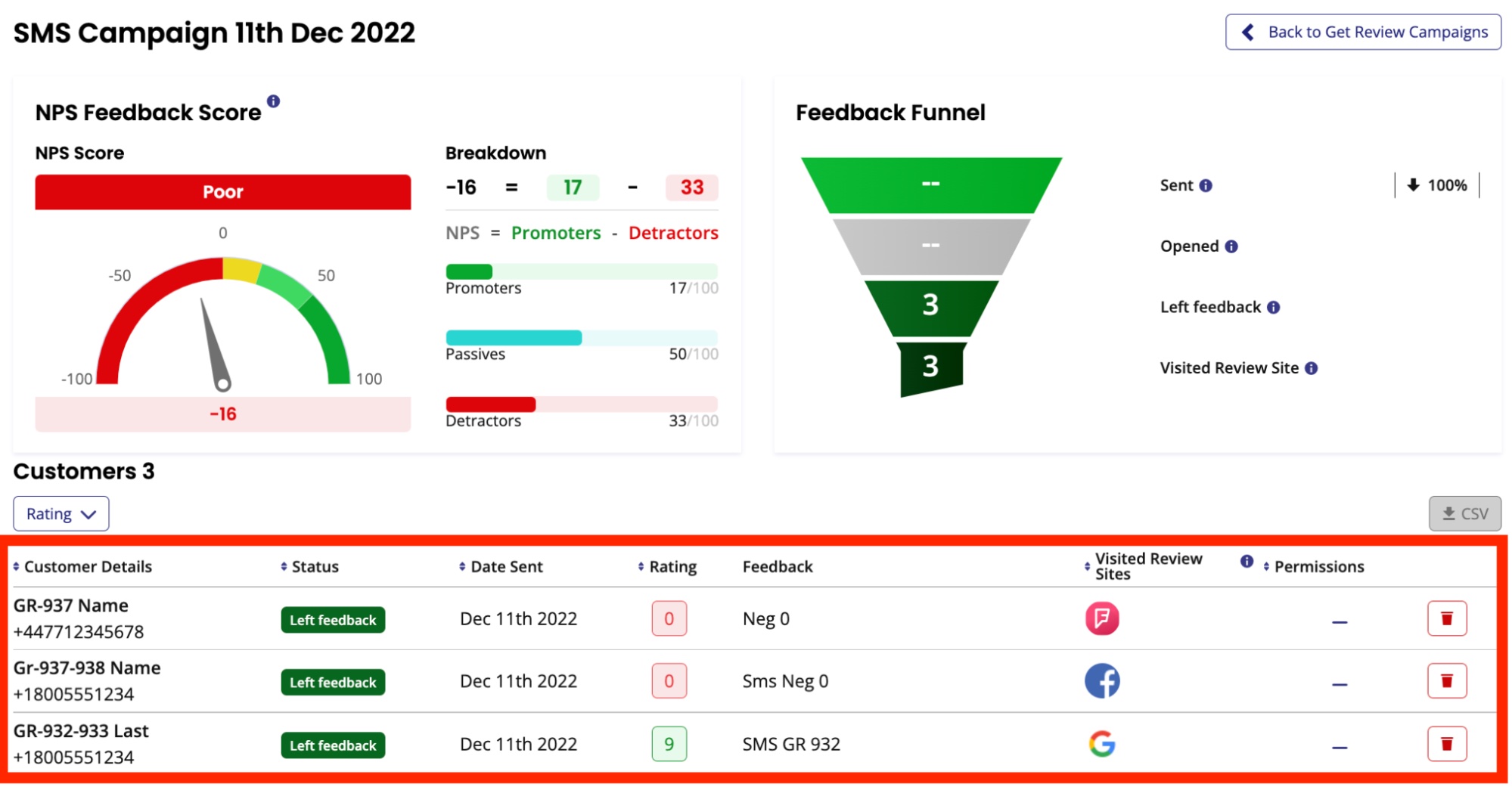 All of this feedback can be downloaded as a .csv file by clicking the 'CSV' button.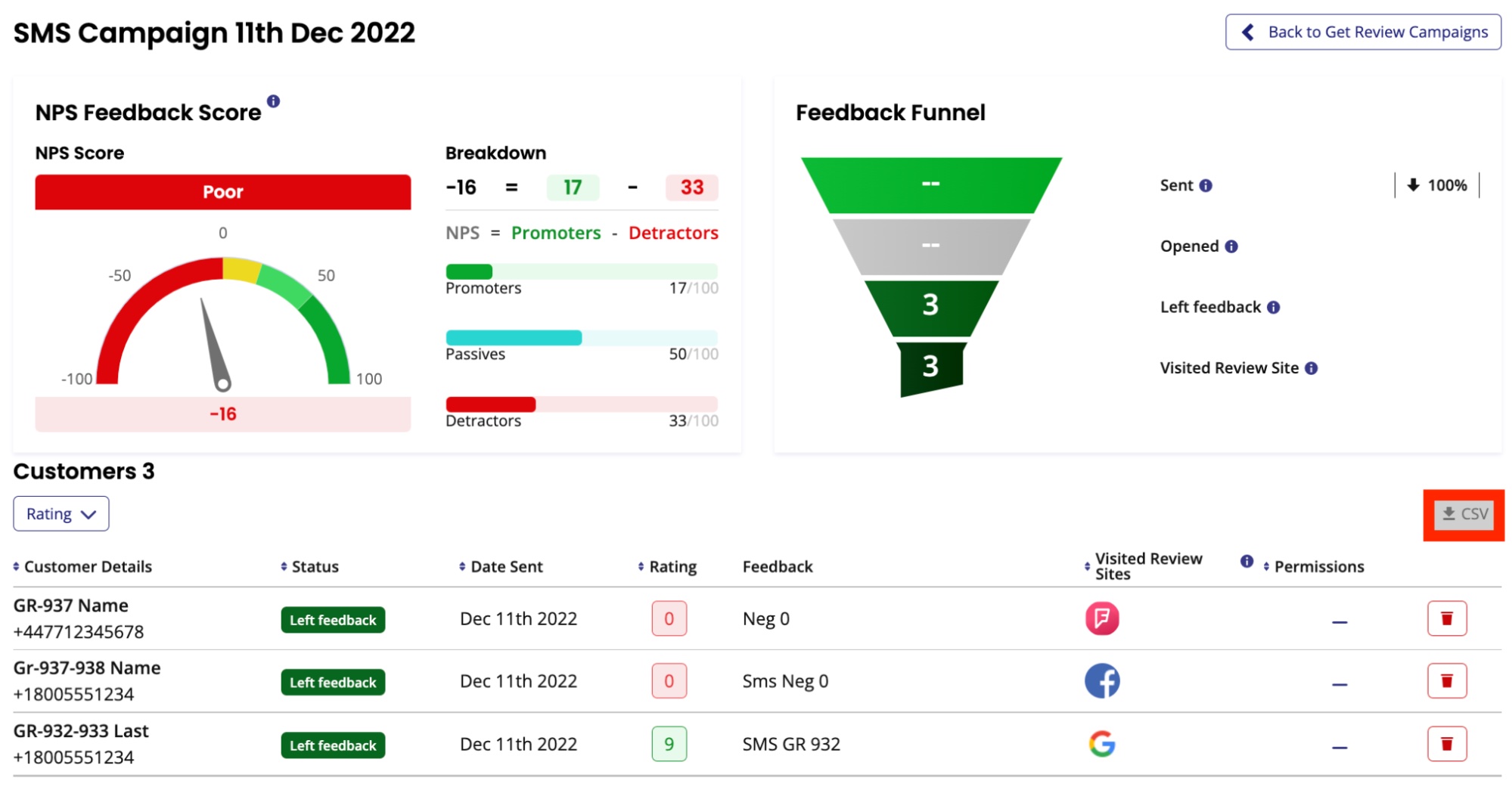 If you have a lot of feedback to look through and would like to specifically target a certain score, you can click the dropdown and filter the table.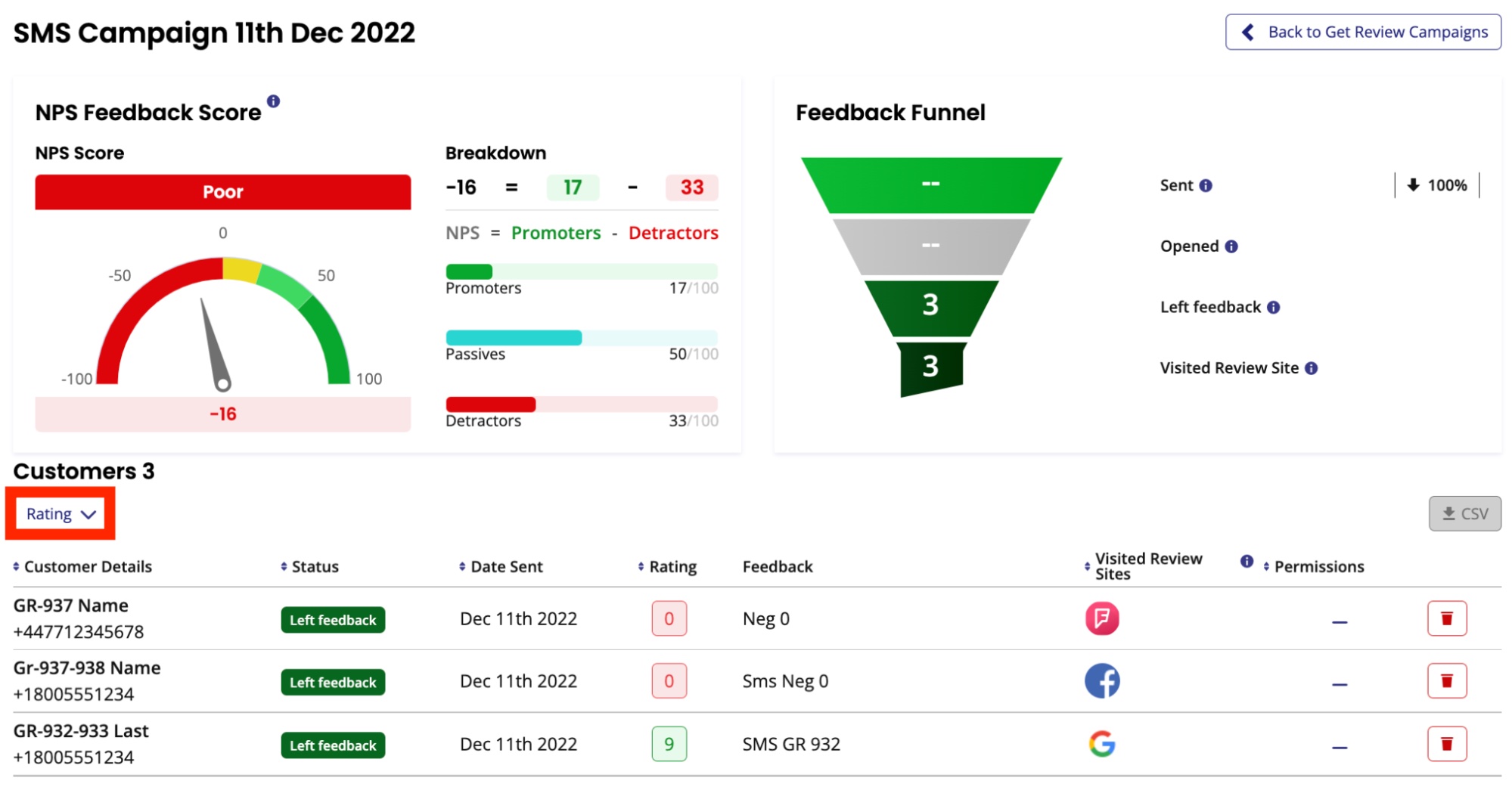 To leave this campaign and return to the overall stats of every 'Get Reviews' campaign, just click the 'Back to Get Reviews Campaigns' button.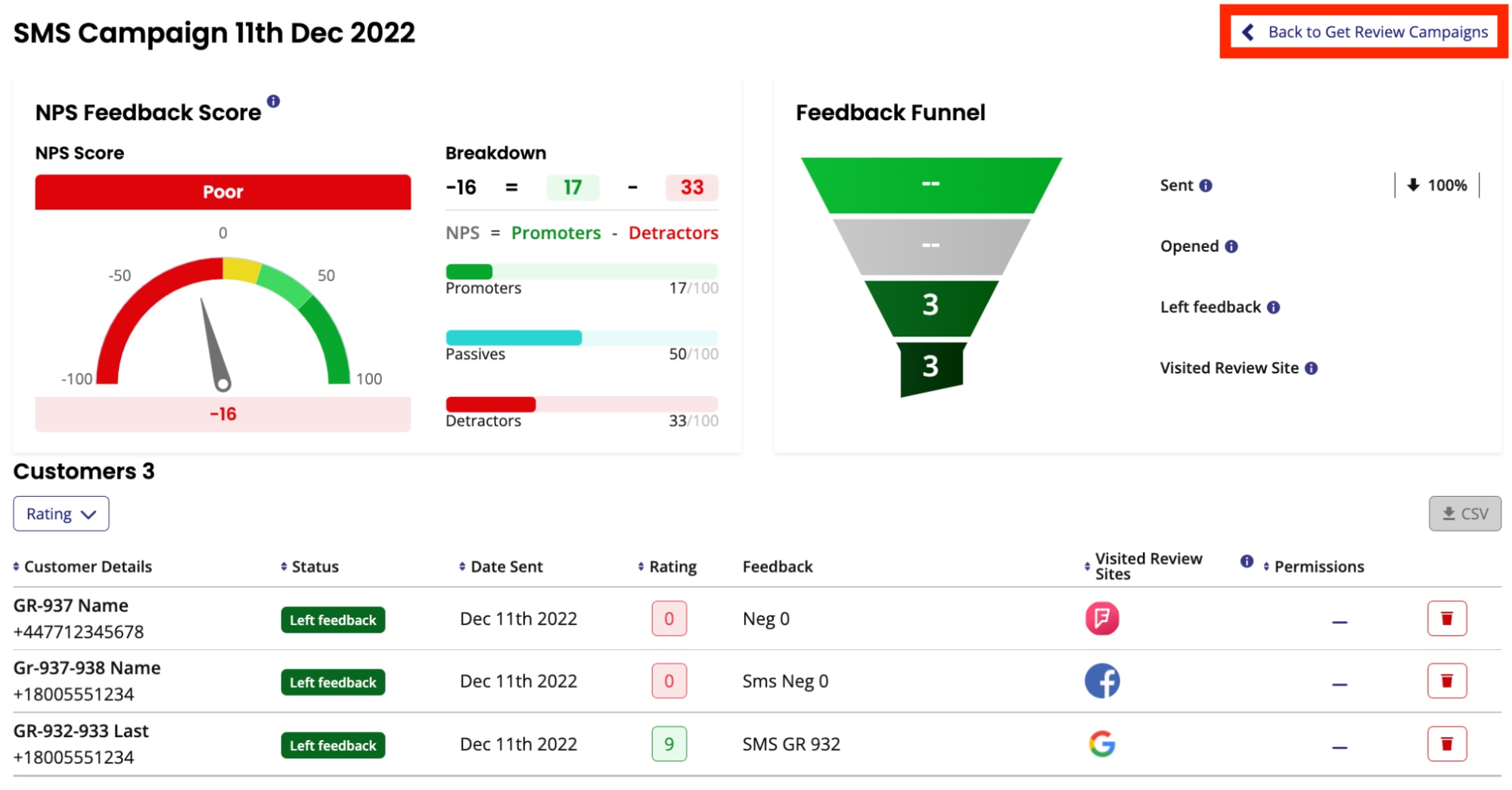 You also have the ability to delete responses from your campaign performance reports.
In most cases, you'll likely want to delete responses that are part of test campaigns. To delete a response, simply click the 'trash can' icon at the end of the column.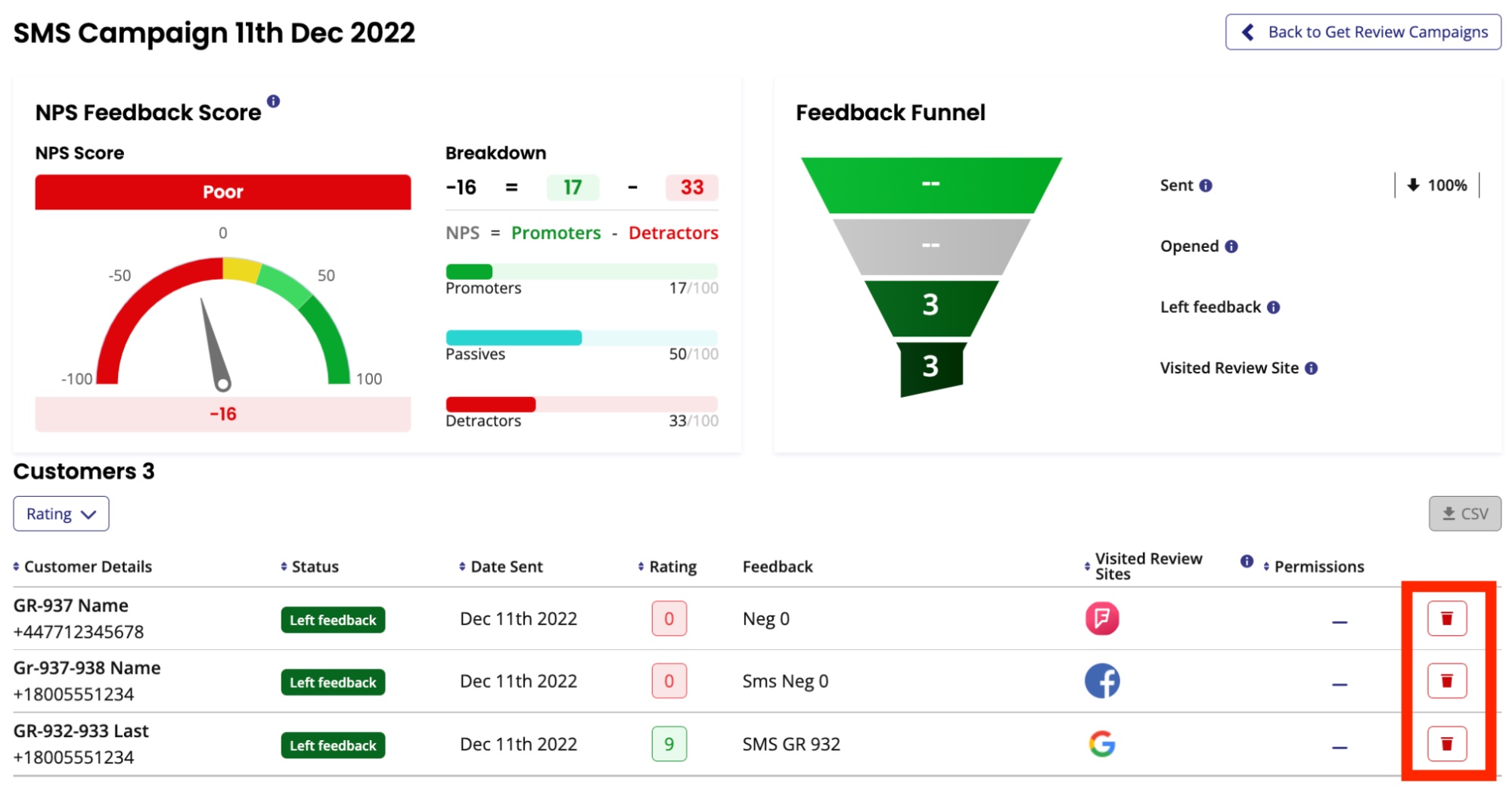 Do you want to learn how to improve your local SEO reports for clients? Our free How to Create Relevant and Engaging Local SEO Reports course will teach you all you need to know! Enroll in BrightLocal Academy for free today.