In this guide, we'll show you how to streamline your multi-location reputation management with Review Inbox. You can view, sort, and filter every customer review by status or rating, for every location you manage in BrightLocal, via a single feed.
If you have integrated your Google Business Profile (formerly known as Google My Business) or Facebook Pages to your reports, you'll also be able to respond to reviews from these sources directly from Review Inbox.
If you prefer to learn by watching videos, check out our free course in BrightLocal Academy that shows you how to set up and understand a Reputation Manager report 👇
Getting Started
You do not need to set up the Review Inbox page, but you will need to have at least one Reputation Manager report set up. Simply click 'Reputation Manager' in the top menu (shown below within the red box), and you'll see the 'Review Inbox' tab sitting alongside the 'Overview' tab.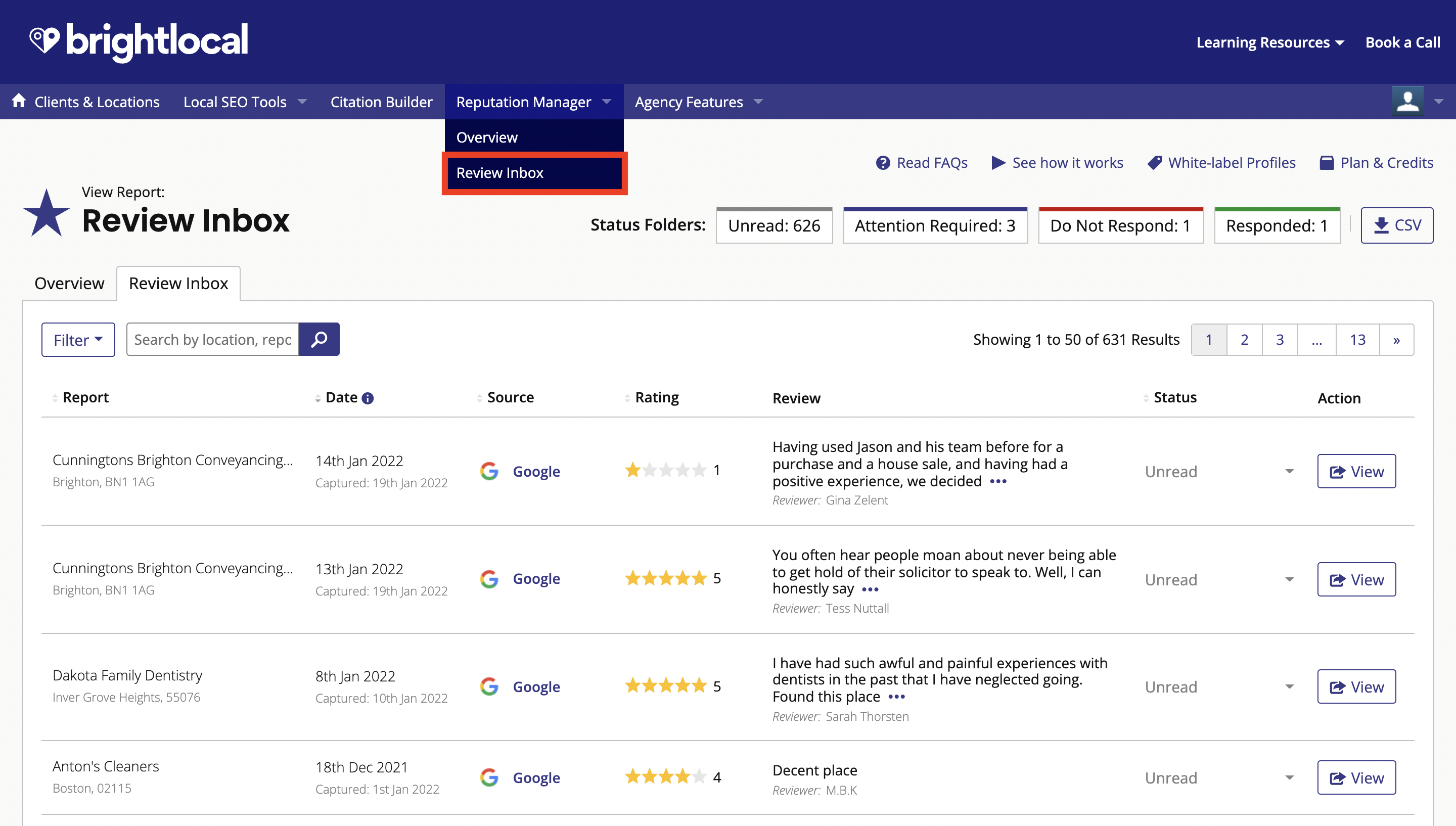 General Overview
Click the 'Review Inbox' tab (indicated below by the red box), and you'll see a feed containing reviews from every report you've created within your BrightLocal account. We've chosen to display the most important data points from each review in columns, including:
Which report the review belongs to

Date

Source

Rating

Status
Just click the column headers to sort the entire feed by any of these categories.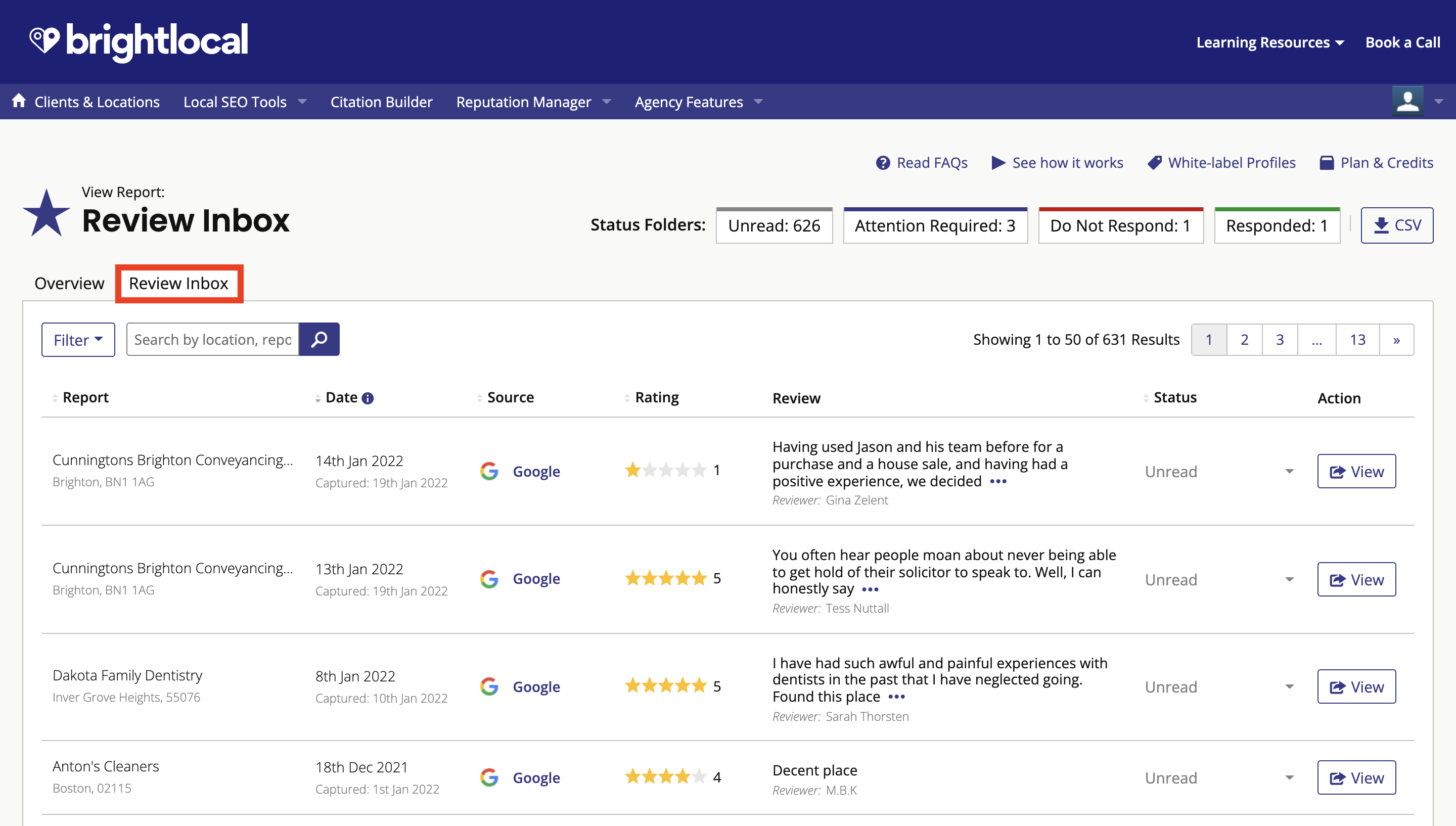 Searching and Filtering
Click the 'Filter' button (top left of the red box below) to open a dropdown menu that allows you to filter the reviews presented in Review Inbox. You can scroll within this dropdown as there is a section for each type of filter. You can also filter by any combination of the following, to quickly and easily focus on the high-priority items:
'Review Status'

'Rating'

'Date'

'Review Source'
Once you're happy with your selected filters, click the 'Apply Filters' button to see only the results you need in Review Inbox. Hit the 'Reset' button at any time to reset the feed and bring all reviews back into view.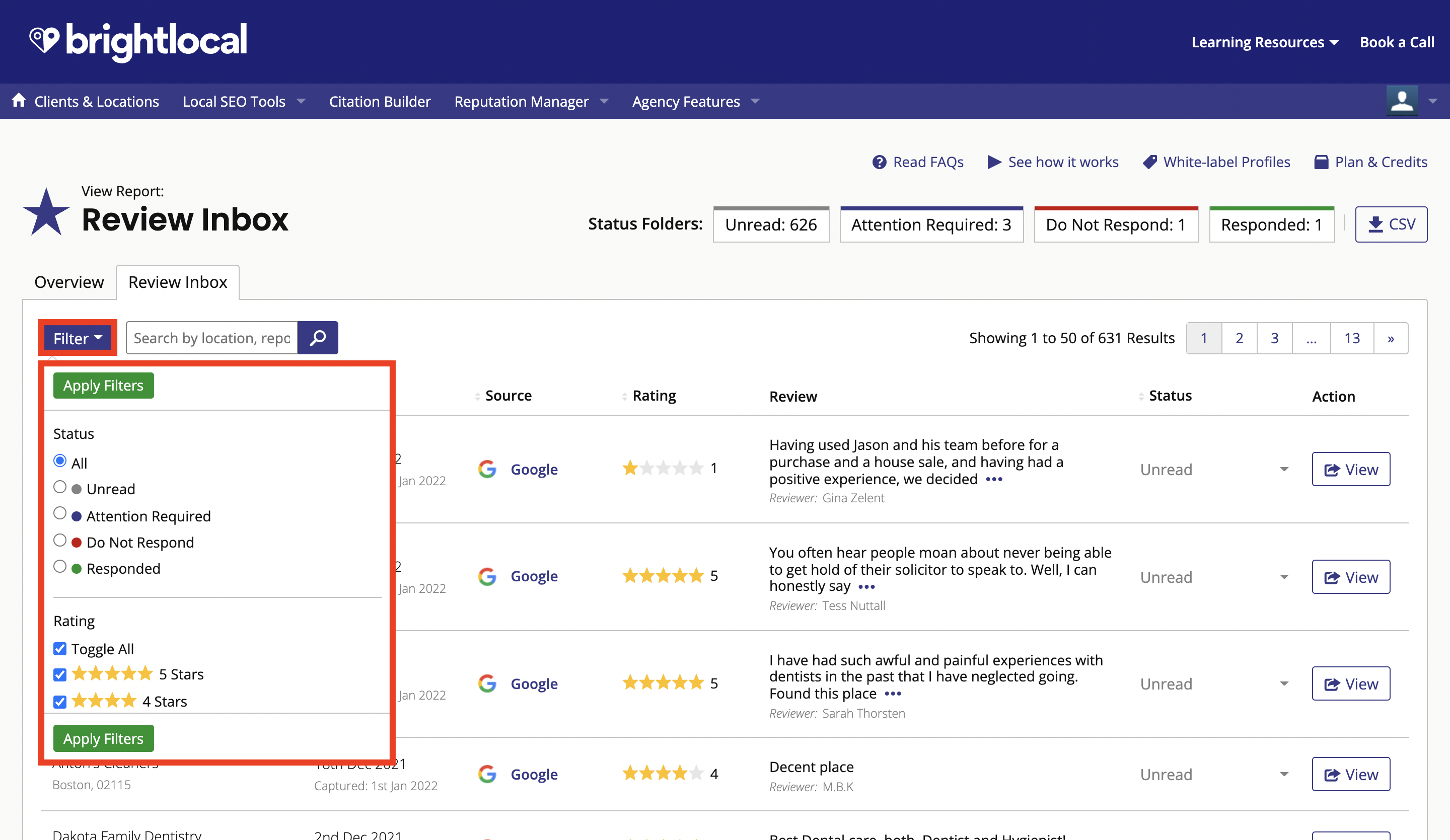 View and Respond
In the 'Action' column of each review line (shown below to the right of the red box), you'll see either a 'View' button or — for Google Business Profile or Facebook Pages that you've connected to reports — an in-app 'Respond' button.
Click 'View' to be directed to the review on the source site and compose your response, or hit 'Respond' to reply directly from inside Review Inbox. You can also use the 'Status' column to keep track of how you are getting on.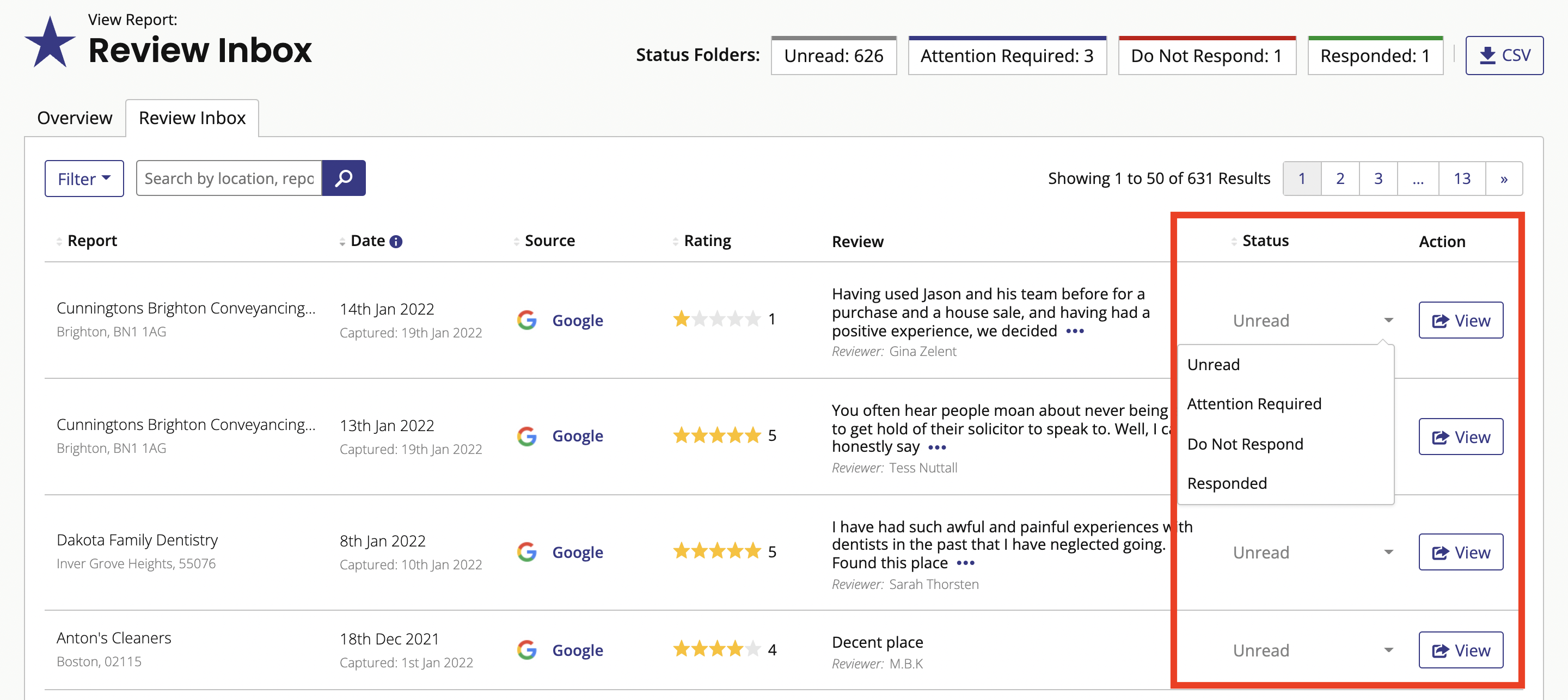 Status Folders
Status folders can be found at the top of the page (see red box below), letting you see a quick summary of how many reviews of each response type you currently have.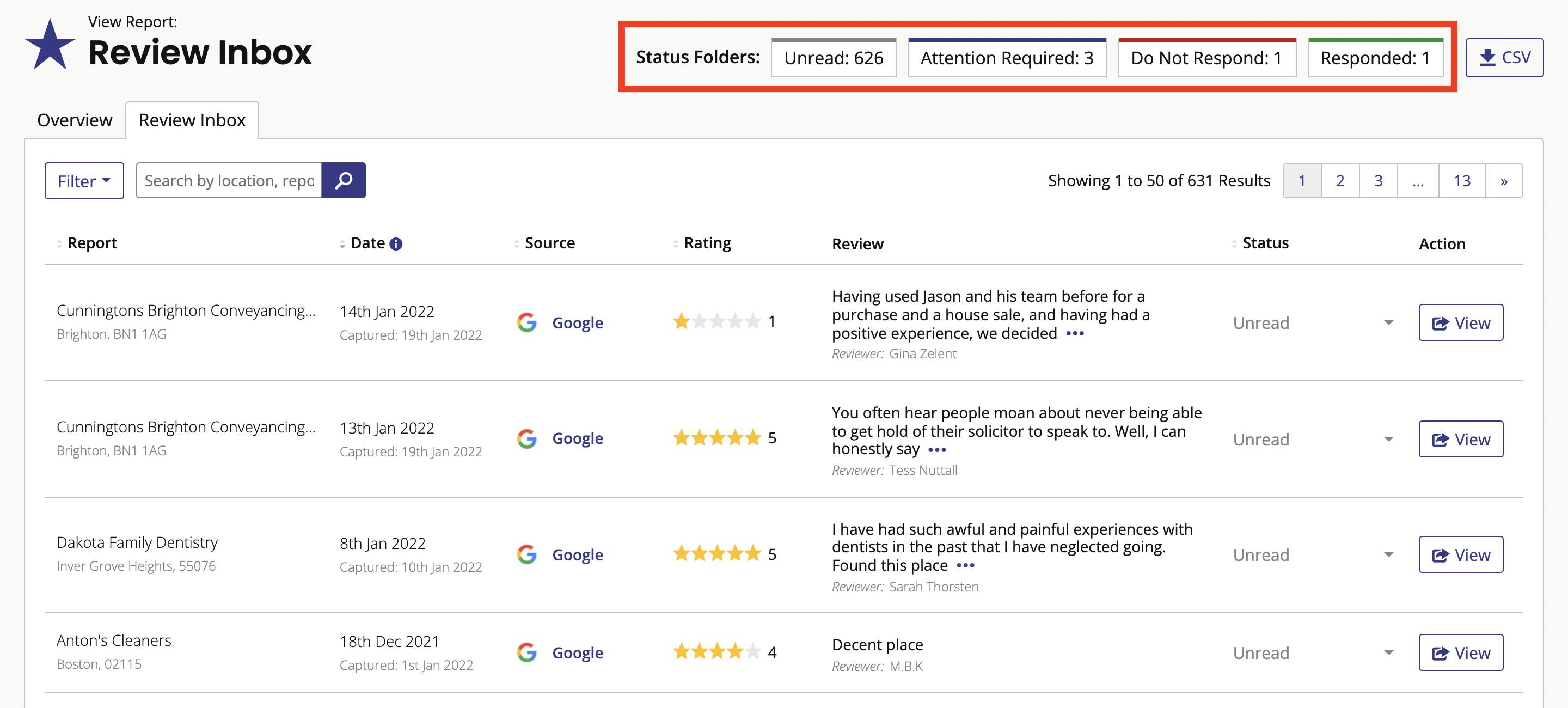 CSV
You can download any of the raw data that you need from your reviews using the 'CSV' button at the top right of the page (within the red box below). If you've already applied filters to Review Inbox, these will be reflected in the download.